Quick navigation in this article:
---
Overview
We can easily get trapped and say that we did not do a lot of stuff this year, but the truth is that we did plenty and it's more than enough. We try to make comparisons only with our past selves because it's healthier and more relevant — previous versions of both the organization and its people to mirror our evolution.
While we narrowed it down in some areas and explored a lot in others, in between, we put our values at the forefront, and this helped us navigate through it all.
Since the last report, we dare to say that we become better people. We practiced patience and resilience, even though in different ways. We embraced uncertainty even more and accepted that it's part of life. We understood what empathy and kindness could do to humanity — a lot! 
Without further ado, please grab yourself your favorite drink and read till the end. There is a good chance you already know how generous we are when it comes to sharing our lessons. Contextual transparency is quite a powerful tool, and we are happy to say that we've been practicing it since the early days.
We are excited that people both within the WordPress ecosystem and our local community take a lot of value out of these transparency reports. Okay, let's dive in! ☕️
Product and support
Over 30 themes and 25 plugins updated with various improvements and fixes making sure they run flawlessly
We considerably evolved ↬ the system of site creation and improved the entire stack of its components
Reimagined our blog under the new "Upstairs" concept and subsequently restructured all its categories
Started the "Upstairs Community" with stories that make us better people
Kept a steady pace on our Upstairs blog with 26 new long-form articles and a more focused approach to writing either from our experience (educational content) and the customers' (interviews to inspire the world)
19 customer interviews taken via video call to get more insights about how they experience our products from top to toe
Collected 91 new reviews through our custom review system that promotes in-depth feedback for our products
Reinstated most of our themes back on WordPress.com, after all of them have been suddenly suspended due to their lack of Gutenberg integration and poor communication
Answered over 3,500 customer service inquires with an 85% great happiness score
Team and culture
We kept all players aboard and we're super happy for that because we're a great team (we are eight: seven guys and a gal)
We continued to have leaderships talks, even though more informally and with a shorter list of topics on the agenda
Fewer 1:1 sessions to remain in sync with the reality from the trenches (we guess this is what happens when all our people share the same values and trust our mission)
We ran a pilot project within our local community (în Iași, Romania) to help three local businesses reinvent themselves during this pandemic and build beautiful websites with our products
We experienced remote work in quite a hybrid way: Alin and Alex are customer support folks and they've been working in this way from the beginning; Răzvan, Mădălin, and Andrei stayed home most of the time, with spontaneous ins-and-outs; Oana, Vlad, and George used to come to the office on a daily basis
We've been paying more attention to the psychology of the Romanian people for a better understanding of both our past and present
Fun facts
🛵 George bought a beautiful Vespa from 1974, with a story worthy to be told to future generations.
🎾 Oana is having fun on the tennis court, where she plays like a champ aka she's working hard to win against her colleagues. 
🤓 Vlad has been writing long-form articles on his blog. It's full of food for thought, give it a go.
🛴 Răzvan dumped his car and is using an electric scooter to promote eco-friendly transportation and a healthier lifestyle.
📸 Alin captured daily moments of his village's mood and shared them with the world.
👩‍❤️‍👨 Andrei taught his wife some PlayStation games to have fun and enjoy the time spent home during this pandemic.
💇🏻‍♂️ Mădălin is like a soldier who keeps his haircut short and sharp; he does not miss any salon visit. 
🗺 Alex relocated from western Romania to the east; he's closer to us and our office, so we can't wait to catch up over a beer.
---
Revenue
Things started to get better with the start of the new year — "Up and to the right", as they say. More so, once the current pandemic kicked in, the revenue took off in stark contrast with what happened around the world.
When it comes to actual numbers, the last six months look like this:
→ $35,422 total monthly average revenue (+21% up from $29,182)
↳ $18,508 monthly revenue from Pixelgrade.com shop (+99% up from $9,258)
↳ $11,933 monthly revenue from WordPress.com marketplace (+10% up from $10,811)
↳ $4,732 monthly average from Envato marketplace (–60% down from $12,110)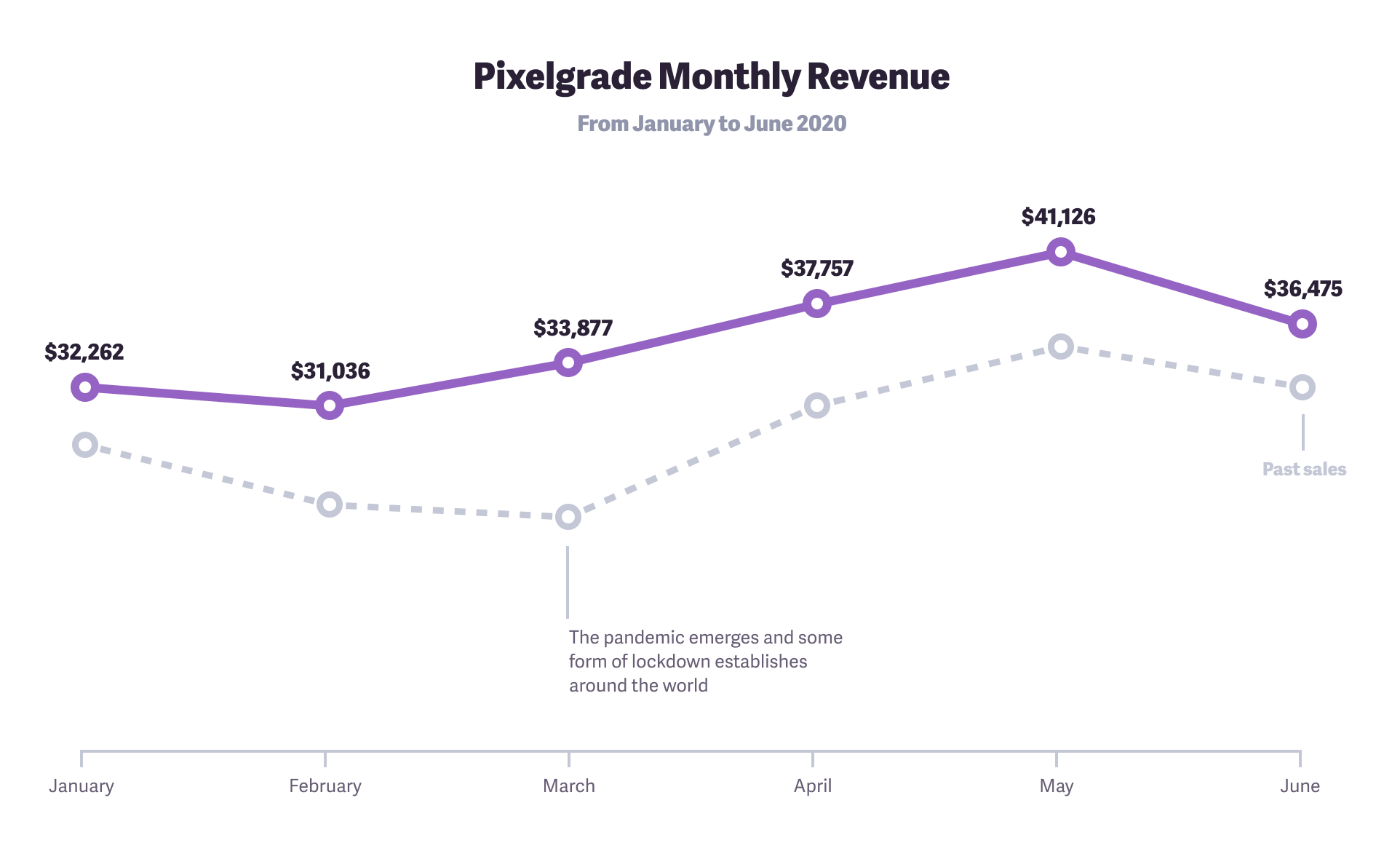 The various forms of lockdown had a positive impact on our numbers, like on most other tech businesses. We expect that in the long run (the next two years or so) this excess revenue will subside and growth will depend solely on our own efforts.
So, the landscape helped, but we genuinely believe that we would not have got the same results without everything we've done in the past few years.
On the other hand, it's great to see the upside of our decision to focus our efforts on in-house distribution and strengthening the "Pixelgrade" brand. Our shop sales percentage is growing steadily and, for the first time, we crossed the 50% mark.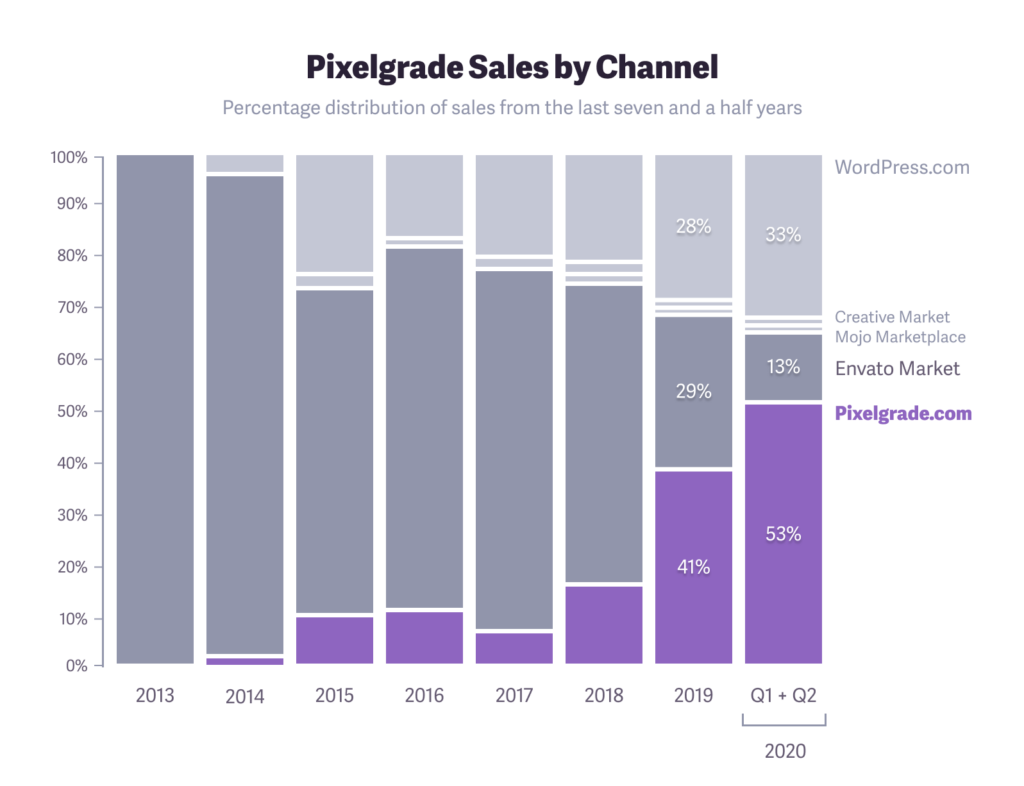 It's a lesson that we're aware now more than ever:
Marketplaces help you with sales but do nothing to help you build a long-term brand and sustainable business. Be aware and choose wisely where you sell your services and products!
---
Expenses
Six months ago, we took some hard decisions to restructure our running costs, and it seems to pay off already. We caught a breath of fresh air, relaxed a little bit, and were able to navigate comfortably through the turmoil and chaos of the last few months.
We like to believe that we have a particular discipline regarding how we spend money. We strike a healthy balance between making valuable investments and ensuring savings as well.
Life showed us that nothing is guaranteed. Things can, and will turn upside-down quite quickly.
So, our average monthly expenses hovered around $25,002 (-5% from $26,500), broken down into:
→ 71% of salaries
→ 20% maintenance (rent, software, accounting fees, suppliers)
→ 9% occasional expenses (office remodeling, hardware)
Numbers aside, we're in the early stages of rethinking the first floor of our office. 🏡 It's exciting and a privilege to have a space that better reflects our values and how we changed in the last six years since we moved in. It's an update that will positively impact our way of working and evolving.
On top of that, our approach is wonderfully aligned with our values and mission: we chose to work with a local architecture studio that was up for the job. But more about this when we're done with it, in the next transparency report. 🤞
---
A step further in the site creation process
Our bet for the future of site creation is a system of individual components, each one accountable for a specific task and able to work together to create a coherent visual experience.
We imagined our latest theme Rosa2 to be a foundation upon which various components come together and control the entire site system. We built custom editor blocks (deposited in the Nova Blocks plugin) that provide the necessary structure for the user's content, while Style Manager offers an interface for styling consistently across the site.
With the new block editor (Gutenberg) and the explosion of available blocks, we believe complexity is becoming overwhelming for regular and professional users alike. While achieving a great level of flexibility, the complexity of building a site has gone through the roof.
This is a serious threat on how we envision the site creation process: users are accountable for the content, while we provide the context. We took this as an opportunity to make the process better.
At Pixelgrade, we have a large variety of customers with wildly different sets of skills and goals. While some of them are very technical and need to control the layout on an in-depth level, others simply want to enter their content and rely on an intuitive system to lay it all out with minimal interaction on their side.
Are they different types of users, or are they at different points on the learning curve? From our experience, the latter seems to be more plausible. Within WordPress, each user starts as a newbie that wants to build their site as easily as possible and only later dig deeper and tinker with all the bits and pieces.
How do we use this insight and create an interface that makes sense of it?
Researching the current options available in the site-building ecosystem, we observed that all strive to cover the entire spectrum by aiming for the lowest common denominator: giving the user all the possible options. Do you want to change a CSS margin? You have a text field to set your value. Do you want to change the font of a paragraph? You have a selector with hundreds of fonts — and you can have a different font for each paragraph. Sounds easy… or overwhelming?
For this project, we chose to challenge the status quo and explore a solution that would allow the user to smoothly navigate between high-level and low-level options, at the same time, within the same system.
Think of the difference between (1) a manual and (2) automatic gearbox: both systems help you move the car forward, but only one comes with the option of using it without too many technical skills.
Or think of having dinner by (1) going to a restaurant and ordering your favorite dish: it's easy and plausibly a great experience too. Or, (2) you can get your friends together and order through food delivery and still enjoy the same dish from the comfort of your home. And (3), if you have some cooking skills, you can prepare the whole dinner yourself. All three options have the same outcome (considering that you're a good chef), and it's great to have access to all of them, but having the freedom to choose the right one depending on your context.
These examples are analogies for the solution that we propose in better structuring the block options throughout the new WordPress editor.
| Level | Name | Description | Output |
| --- | --- | --- | --- |
| Lvl 3 | Maestro | Agrees to be interrogated, but only after the concert. Piano piano 🎹 | High-level controls for quick but impressive results (eg. presets). Available for customization on a lower level. |
| Lvl 2 | Architect | Focus on the creative intent by guiding the form, space, and atmosphere. | Controls that consider the intent of the user and interpret it by automatically changing the options from the next level. |
| Lvl 1 | Specialist | Conceive the building system with mathematical precision. | Base and granular controls. The last level of access for the user. |
| Lvl 0 | Developer | A system to compute and hand over the final result to the site's front end. *Not available through the user interface | CSS code |
We want to tackle sites that aim to be above-average in terms of aesthetics and visual coherence, and we bet that such a system will greatly contribute to the quality and raison d 'être of information in digital space.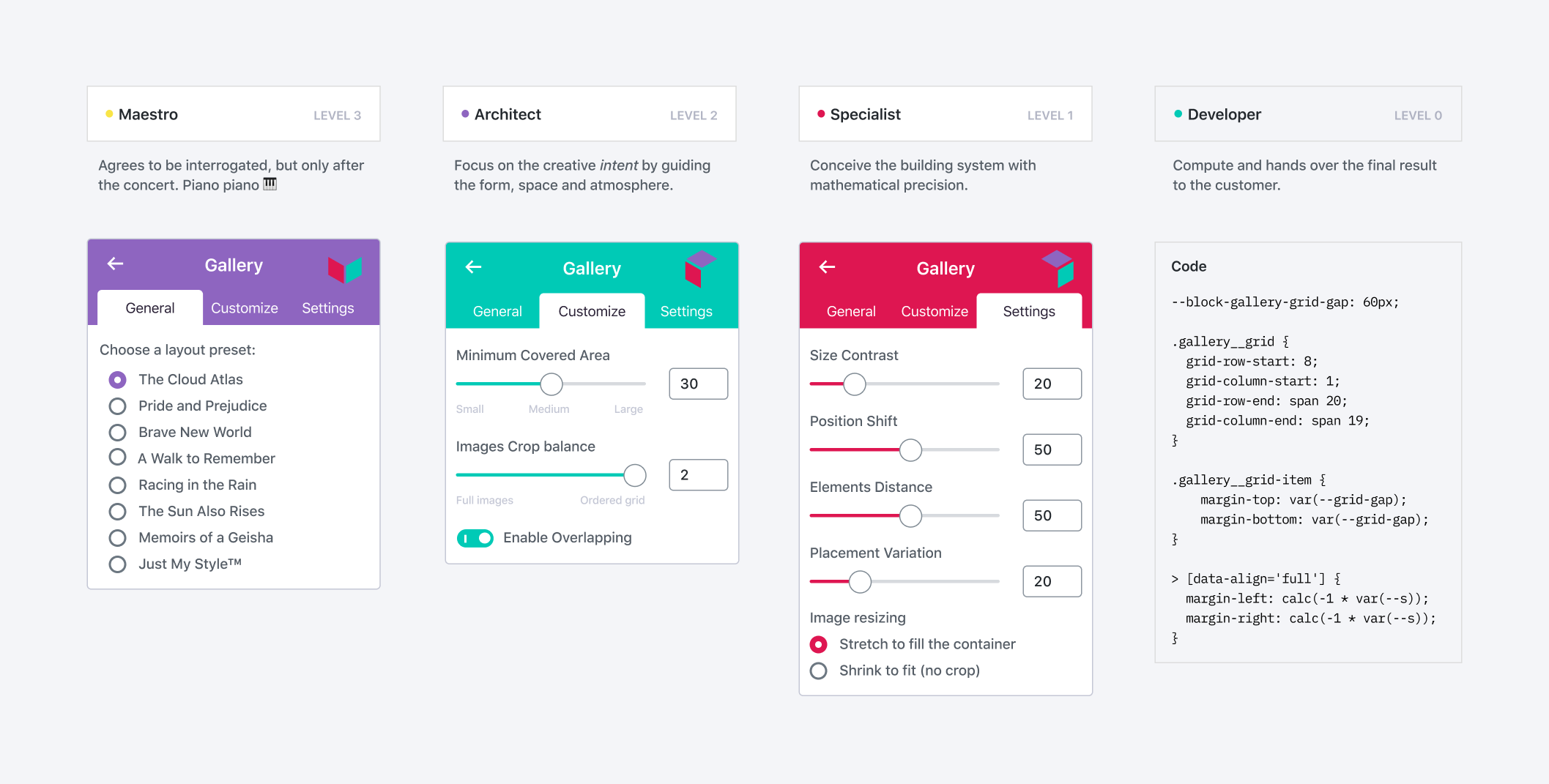 We're currently offering this expanding set of tools for users to install on their own self-hosted WordPress installations. At the same time, we're considering making it available as a fully-fledged service and assist people in creating their WordPress sites without worrying about maintenance, security, or other technical jobs.
---
Customify is getting stronger and more reliable
Customify is one of the first and most important site building blocks we've released, more than four years ago. And it started to show. We've learned plenty from those days, both in terms of development and what we wanted out of this WordPress plugin.
With the start of the new year the time felt right to embark on a serious overhaul of the code base. While wary of not overdoing it, we've pushed through years of legacy-code, redundant pieces of functionality, and overly complicated, fragile logic. It's nerve racking when you need to account for 30.000+ active WordPress installations, but it needed to be done.
Customify is the component that handles all the customization logic for our themes, including the high-level Style Manager sub-system providing Color Palettes and Font Palettes. Needless to say, the level of complexity involved commanded a very careful reengineering process.
Nine updates later, out of which four big ones, we are glad to report all is in top-notch condition. We've had some setbacks with a couple of bugs, but we've prevailed. Now we have a system capable of properly helping our customers in customizing their sites, and a trustworthy building block for our creative endeavors.
There are still plenty of ideas to improve the experience, both for customers and developers, but those are nice-to-haves — their time will come. What's important is that the critical part is done with.
---
Temporary suspension of our WordPress.com themes
March 2020 brought beside the suspension of most social interactions a further suspension for us: all of our WordPress.com themes have been abruptly retired from sale. The reason? Their lack of integration with the new Gutenberg block editor. Lemonade anyone?
You may ask: Well why didn't you do the integration? After all the new editor was released more than a year back, in December 2018. You should have seen it coming. You had plenty of time.
Sorry to disappoint, but: wrong! Sometimes reality has a way of twisting and turning in the most bizarre ways. We wanted to work on the integration many months before but have been instructed by the WordPress.com representative not to do that and wait for their queue. That person left, and the queue never came. A complete suspension came instead, for most of the third-party themes on WordPress.com.
After overcoming the initial feelings of betrayal and frustration, we embarked on an overly long review process, with slim guidelines and many back-and-forths. No walk in the park, but our design and development team pushed through this process and managed to get three of the four themes reinstated. Regarding the fourth theme, Jason, it was decided, by the WordPress.com people, that it didn't meet the current design standards, and it wouldn't be put back. Tired and powerless, we let that slide. It is what it is.
This whole situation reminded us once again that you cannot trust and build upon partnerships with large power disparities. Envato showed us that, now Automattic. We don't blame them for playing a bigger game, but we need to remember we are not partners, but small cogs in their game. Pixelgrade needs to stand on its own two feet, for better or for worse.
---
A review system to match our values
We already wrote an in-depth article about how to create a customer review system for your site with lessons learned in the last years of serving thousands of customers. It's a thoughtful essay where we walk you through everything we've discovered and how we packed the best insights into a complex review system.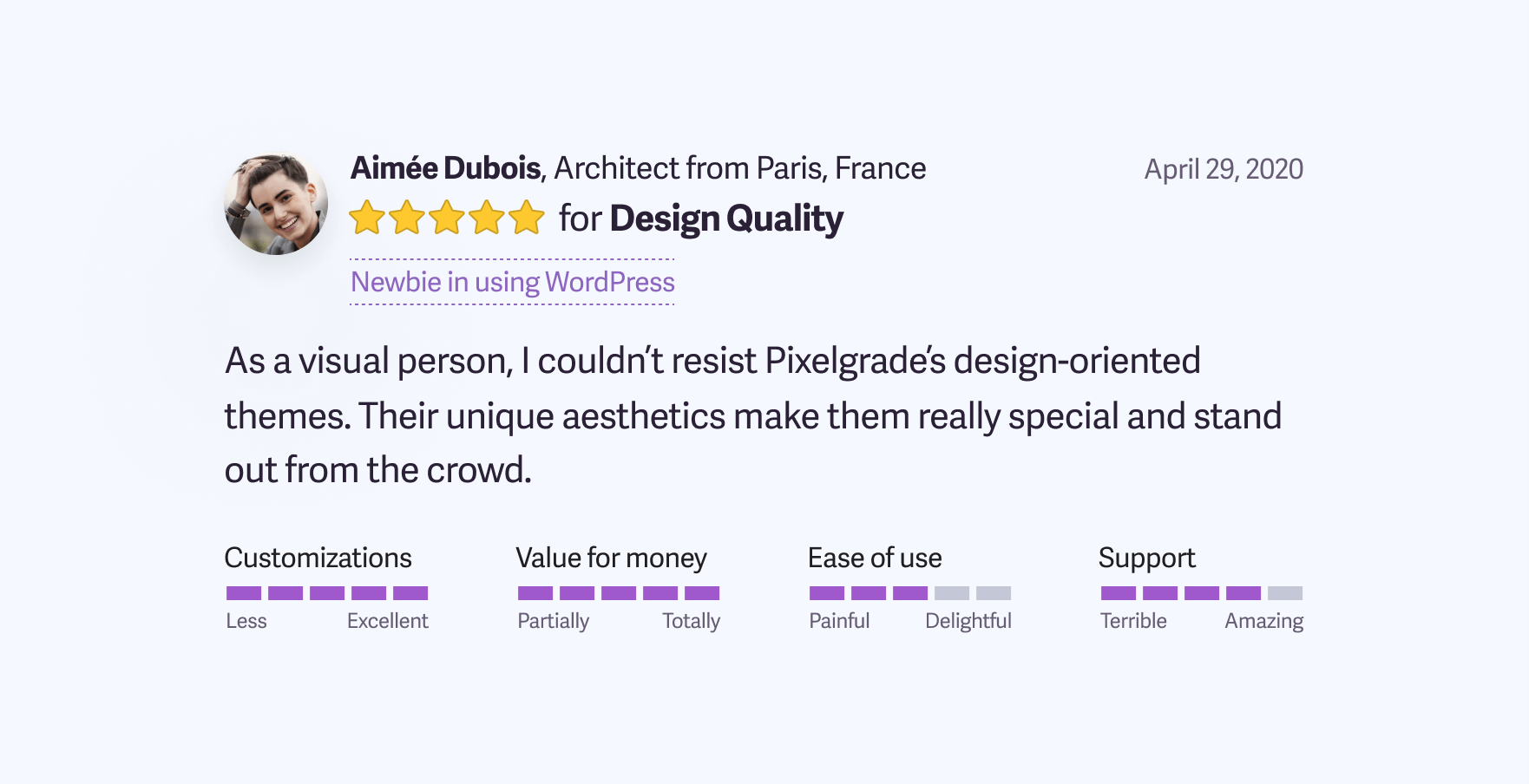 It makes little sense to double the information here, so we'd like to add a few ideas that we did not cover when writing it.
First of all, the framework we designed is getting traction. More people who decide to use our WordPress themes leave public reviews that other folks can read before spending their money on our work. Felt and Rosa2 are the products that are getting plenty of attention from this perspective. 
What's relevant to say is that we make constant efforts to remind our customers about reviews. We do that mostly with the help of Alin and Alex, our customer support fellows. They have the most direct experience with them, so it makes perfect sense to be the ones who encourage this behavior.
Second of all, we've been keeping our promise of publishing every single review, as long as they respect our simple yet straightforward review moderation policy: no promotion and no offensive language. We also reach people back by answering all the messages, regardless of their nature. We think this is the right thing to do because it aligns with two of our core values: gratitude and caring. 
We are happy about how things are working out with the whole system. Hopefully, we started a conversation about the importance of being honest and avoiding cherry-picking big words just for fame and glory.
---
An affiliate program that works for us
We put together a transparent article on building our affiliate program too. It packs the effort of two and a half years of trial-and-error in running an initiative of this kind.
At the time being, we're noticing new affiliates every two weeks or so, and we follow-up with all of them. The first email is to say Welcome and ask if they need any helping hand. The second one is to remind them that this is a partnership, and my job is to walk them through to have the best chances to earn cash next to us. 
Unfortunately, most do not reply, and in time that became a sign that we will not work together. There are a few exceptions, but the number is insignificant. If people do not make space to ping me back after the first two emails, there are high chances I will close their affiliate account sometime soon. It's not that we are extreme, but it's useless to continue since the relationship is already broken right from the start.
We learned that if we want to help them more than they do, it's time to let it go. While we are perfectly aware that we are both interested in making it work, it's hard to find common ground when you feel solo.
However, we are happy with those few affiliates who have skin in the game and are open to all kinds of ideas. The bond is more reliable, the trust is there, the will to explore various directions is valid.
As a small team, we plan to keep improving the existing relationships and shaping these partnerships for the better. We also hope other professional WordPress affiliates will show-up.
---
Uplifting the local community
It's not news that we've been writing from our experience. We've been embracing this mantra from the early days, so we don't imagine manufacturing stories that are not ours. It's just not who we are.
Our mission at Pixelgrade is to support people who want to make a positive impact in their communities. There are plenty of gateways to reach it. The most direct is through the way we create and maintain our digital products. Another approach, less visible though, is by lending a hand to local businesses from our hometown (Iași, Romania) to publish their presence online through an outstanding website.
In the last couple of months, we've been investing resources in this area. Once COVID-19 started to get traction in our country, and some of our favorite venues were closing their doors, we initiated a project to give them a digital alternative.
We took interviews with two owners who now have up and running websites made with Rosa 2, our product. We invite you to read both conversations (with Carmen and Andreea) to understand how it feels to be hit by a new reality overnight. 
On top of that, we documented the entire process. It helps us to grasp everything that happened and how we can do it better next time. It also provides information for those of you who consider supporting your local community but don't know how to do it. It does not have to be only with creating websites per se. It can be almost anything: from taking photos to writing content and promoting their products on your social accounts to help them start a newsletter.
As for our team, the project led to more collaboration between us, more meaningful dialogue, and a better understanding of how we will twist and turn our products and offer in the future. This experience made us a better version of ourselves.
---
Meet us, Upstairs
Hold on. There's something we want to clarify first. Context is essential, so don't skip lines, por favor.
The redesign of the blog was left behind for solid reasons. In the end, we're a small team that's already keeping many balls up in the air. While starting to make progress and think about how to twist-and-turn it, we began to have mixed feelings around the "blog" name. It felt neutral, detached, impersonal, and we are miles away from that. We care, we get involved, we put our souls into our work.
There's an entire story regarding why we chose Upstairs as the name of the blog, so please read it thoroughly. What's important to share here is that after we were sold that this is the best concept for the place where we host our in-depth articles, we went further and elaborated the Upstairs concept towards a community based on stories that make us better people.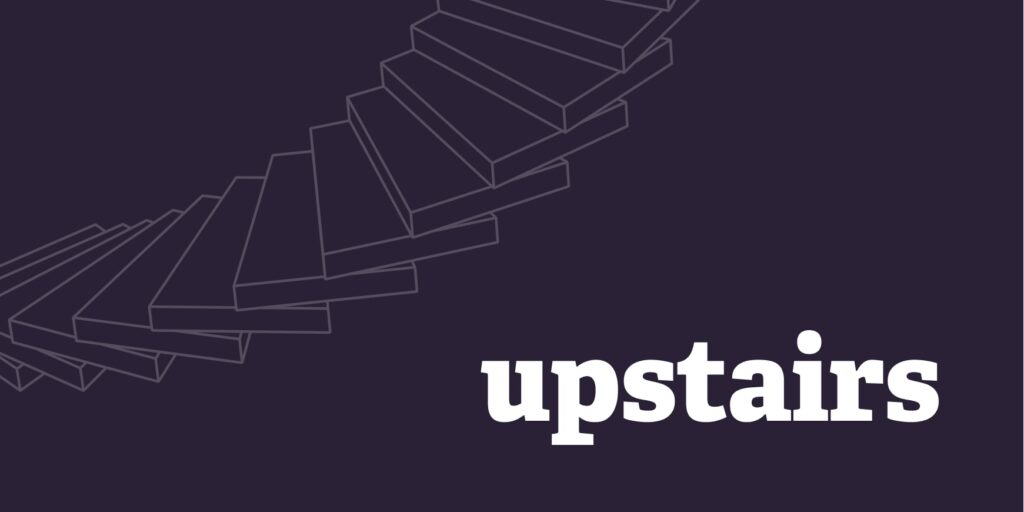 So, the difference lies in the intention. Upstairs is where we write thoughtful stories written from our experience only. In the real world, it's the place where we do actual work in our office (we spend our time in a beautiful house in Iași, Romania). We wanted a metaphor to invite people to see how we do stuff since all our articles come after a result of getting our hands dirty.
Upstairs Community is the name of a project we're super excited about. We plan to nurture a trustworthy tribe around stories that make us better people. We wrote an article about this early-stage endeavor, so feel free to give it a go. If you resonate and feel the beat of what we are creating, join the adventure. You can share your story within the Upstairs community, too, since there we want to make room for more diverse voices, including outside our team.
We genuinely believe that Upstairs can work as a juicy source of learning for plenty of people, while the Upstairs Community aims to inspire you and help you feel less alone through stories that reinforce belongingness. Great things happen when we put excellence, our value, at the forefront of our ambitions. There's a lot of room to play, so we are super excited to get going.
---
Our work and life through a pandemic
Life does not give you a technical manual with tips about how to behave in extreme times. As everyone out there, we needed to adjust to the new reality, in line with our culture.
One of the first things we did was to help our team satisfy their basic safety needs. A few days before the lockdown, we offered the option to work from home. We helped them move whatever they needed in terms of infrastructure (chairs, monitors) to have the best possible work conditions.
We're a small team, and almost all of us live in small flats, so we kept the office open because we're working from a house with a generous courtyard. We thought it's crucial to be careful with our core needs and don't let them sink. Therefore, a few of us kept coming to the office and work from here.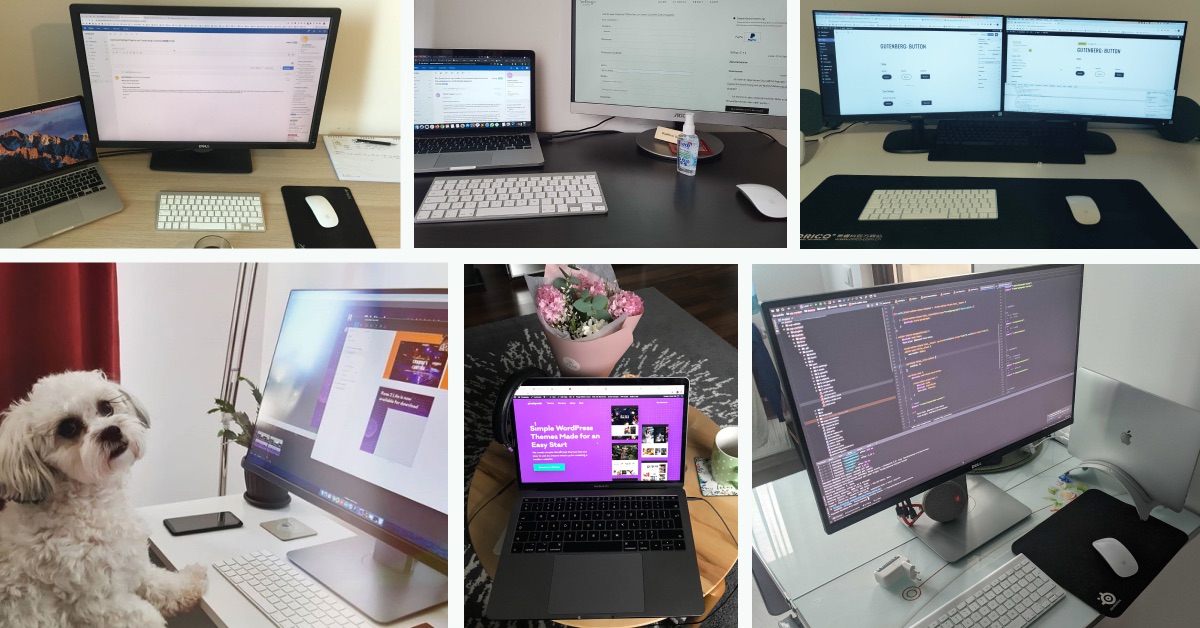 During this time, we regularly checked the team's morale on Slack with a couple of questions. The goal was to offer a safe place where each of us could share how they cope with the situation and check if anyone had any symptoms. It wasn't the case, but they could rest without cutting days off if it would have happened. We also did a few calls on Zoom to see each other and change perspectives about what we accomplished during the week.
As leaders, we were more tolerant and patient during these last months since it was hard to do "business-as-usual." We tried to offer as many securities as we could in terms of money since nobody was threatened on the financial side. We gave our best to provide whatever was needed to make sure our teammates keep their energy to deal with their own emotions and anxieties.
We've been working on the projects that were work-on-progress at that moment while trying to stay away from the noise made by social media or news. We succeeded to some degree, and the progress we made is good enough considering the circumstances.
We know that we've all been affected by this period, even though in different ways and degrees. We believe that the next months will highlight the stress and the pressure accumulated since the pandemic kicked-off. On top of that, the opportunities for signing-out and relaxing are fewer, which will make things even harder. We're just humans after all, and we need rest, balance, time-off, and experiences to refill our tanks.
Even though we have quite a few years of working remotely and selling products on a global scale, this does not mean that this challenge made our lives easier. On the contrary, it made us realize the importance of human contact. We are social animals.
One fun fact was the way we celebrated the birthdays of our teammates. We captured videos to wish all the best and such, and Andrei turned them into a short movie. 
In the end, it has been a time that made room for us to question assumptions, learn new behaviors, and leave some behind, to remind ourselves that we have plenty of reasons to be grateful and should express that frequently.
---
😷  Enjoy the summer safely
We hope this pandemic will not create even more divisions than we've already faced. Now, more than ever, we need to trust, respect, and support each other. The power of overcoming COVID-19 and adjusting to the new reality is a mission on everyone's table. It's up to us to contribute in any flavor we want, but one thing is clear: apathy is not a solution.
We trust that each of us has a sense of purpose and responsibility, and we will enjoy this summer in a way that rings a bell for our inner-why. Regardless of how you decide to spend these hot months, make sure you take time to sleep, rest, read, and do whatever else brings you joy and happiness.
Stay kind and safe. The world needs more of that.