Quick navigation in this article:
---
Overview
We're still trying to remind ourselves that we have the freedom of choice. We can keep the lenses we've been wearing, or we can grab a new pair. Cleaning up brings clarity in areas that have become messy, for whatever reasons.
From a macro perspective, we've experienced a slight drop in revenue compared with the first months of 2020. At the same time, we've made an impact more valuable than money per se. Working with local businesses, putting even more skin in the game, and dropping discounts as a marketing tactic are just a few decisions that brought us closer to who we are today. 
Taking these particular steps opened doors that shaped our becoming in unexpected ways, for which we are thankful. It wasn't a walk in the park, but we're confident we did the right thing. This attitude and way of thinking toward work and life serve us well — they keep us sane and balanced. It might simply have been our coping mechanism when faced with all the gloom and doom brought by the pandemic, but hey, it kept our wheels spinning.
Now, get yourself comfortable, play one of your favorite songs, and read our latest transparency report from top to toe. It's the only way to grasp the challenges we've been through and glue all the pieces together.
Let's go for a ride, dear Internet buddy!
Product and support
We made huge leaps around ↬the system of site creation and put it to good use for a few local businesses; the results are promising and the lessons learned priceless (you can check this section for more information)
Over 30 theme and 17 plugin updates with improvements and fixes to make sure everything runs flawlessly for our customers
Pushed the experience of reading and interacting with our blog articles on Upstairs to new highs with a new conversation and sharing system more in alignment with our values (you can read an in-depth article right here)
We launched the Upstairs Community; twice a month, we publish vulnerable stories from people around the world, with a focus on what makes them better persons; we've sent our readers 18 such gems so far (save some time to skim through the archive)
We had the appetite to keep writing in-depth articles (18 of them) that help our readers either achieve concrete results with their websites or get meaningful inspiration from other people's endeavors, including ours
Learned a lot from the wide range of product reviews we've been collecting (75+); it is wonderful to see that our custom product review system continues to reinforce honesty and depth
Reimagined a better experience for using the documentation of our WordPress themes and improved most of our articles with new content, screenshots, and videos to help customers get the job done (more on that later).
Team and culture
We're proud we stuck together as a team and kept everyone on board because it helped us maintain course (the power of solid relationships is beautiful indeed)
Since each of us behaves in accordance with our values on a daily basis and things run smoother inside the squad, we dropped the leadership talks in an official format and gathered more casually, from time to time
We learned plenty and narrowed the empathy gap through the intimate stories we've written for the Upstairs Community; we discovered nuances about each other and we're grateful for that
We had a team huddle for a couple of days to run a workshop about non-violent communication with a local consultant; it facilitated difficult conversations that are necessary for any team out there
We finished the process of redesigning the first floor of our office with a local architecture studio and celebrated the new place on our 9th birthday (you can read more later on)
As a way of showing gratitude, we created the website of a local chef that's cooking for us daily, at the office, via the site system we've been working on for the last year (yap, we're one of those privileged to come at the office; we're six souls in 150 square meters)
We ran a few interviews with backend developers, but unfortunately, the overall expectations and values were in opposition to ours, so we're still searching for the right match (know someone? ping Oana at [email protected]).
Team members' happenings
🚘 George bought an outstanding Alfa Romeo Brera as its daily ride and went on a trip across Europe to bring it home
🍾 Oana celebrated her birthday with a couple of friends and family members in a beautiful garden with a private chef experience
🧱 Vlad was the "devil" (with angel eyes 🤷‍♂️) who supervised the process of bringing our office into today's reality and worked closely with the architects and the builders to make it happen
💇‍♂️ Răzvan embraced "his premature" balding process by shaving his head, which makes him look more attractive and younger; chapeau!
❄️ Alin is the only one from the squad who has enjoyed snow properly so far; he returned with his son on the ski slopes to improve Victor's riding skills (we're a bit envious)
🔥 Andrei celebrated four years of marriage at a posh resort with his wife; he had quite a lot of fun riding bikes in the forest and paddled nicely; cheers!
🥕 Mădălin installed an app for a few months to keep track of his calories; he quit using it because now he can easily stay away from fizzy drinks
☕ Alex finished refurnishing his new apartment and moved in with his family; we gifted him a coffee machine to enjoy his mornings with a nice espresso.
---
Revenue
After a swift drop in July, our revenue settled back to pre-pandemic levels. When it comes to actual numbers, the last six months look like this:
$31,217 total monthly average revenue (-11% down from $35,422)
↳ $14,414 from our shop at Pixelgrade.com (-22% down from $18,508)
↳ $12,943 from the WordPress.com marketplace (+8% up from $11,933)
↳ $3,510 from the Envato marketplace (–25% down from $4,732)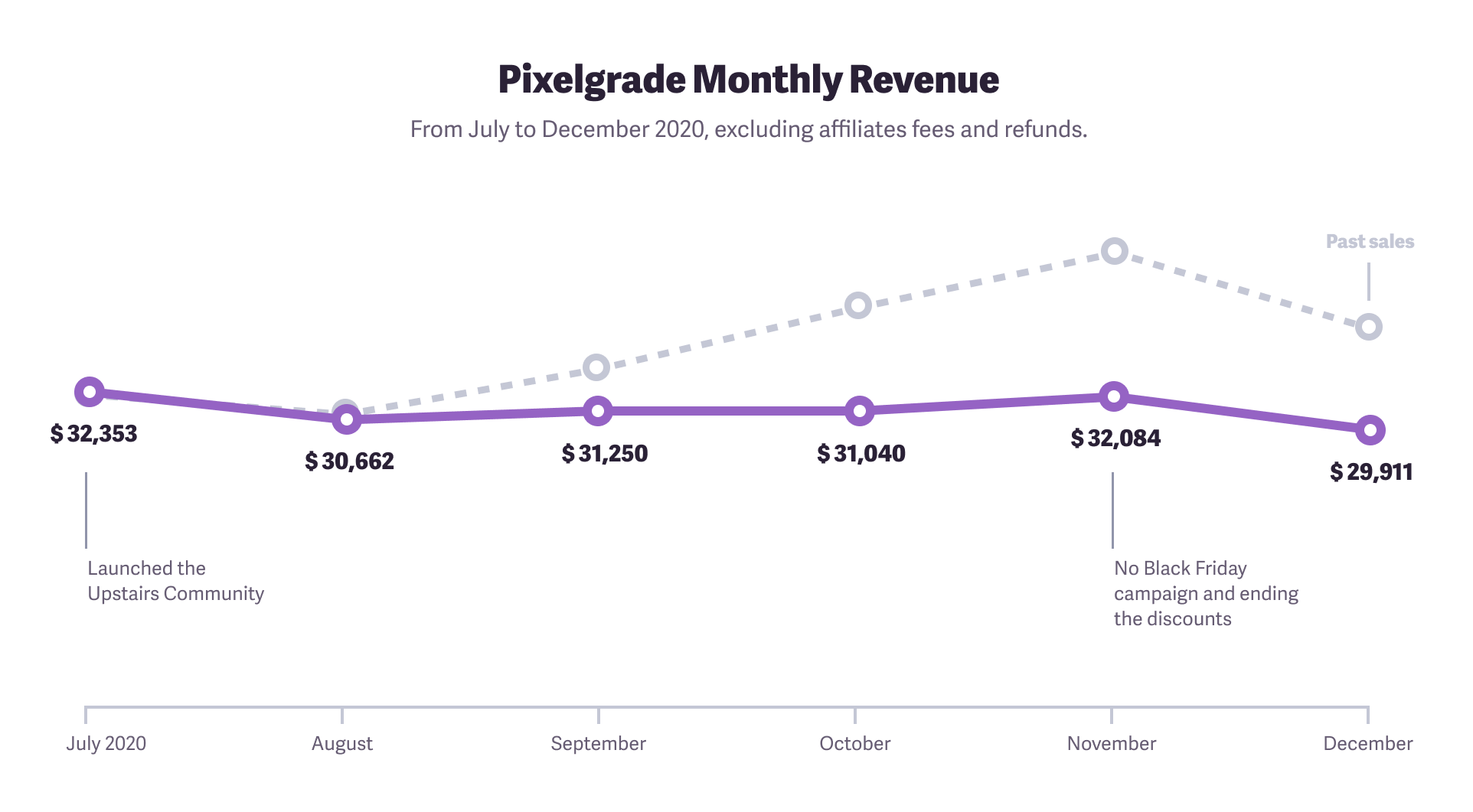 Looking at this almost horizontal line, I realize that it was the smoothest and most predictable sailing of all time. Even with all the activity around the office and the uncertainty around the world, we managed to keep a steady and comfortable pace with our revenue. 
Honestly, as an entrepreneur, I never thought that there's something positive about a business that has neither increased nor decreased its revenue significantly in a six-month period. It's actually a relief, and I'm happy to get some anchoring and space for planning for the future. I don't know when we will have the luxury of such days again.
---
Expenses
The decisions that we made a year ago seem to pay off further. Our average monthly expenses hovered around $25,934 (+4% from $25,002), broken down into:
→ 78% of salaries
→ 18% maintenance (rent, software, accounting fees, suppliers)
→ 4% occasional expenses (office remodeling, hardware)
Besides those numbers, we invested around $22,000 into the redesign of our office's ground floor. It was a great opportunity to rediscover our needs and how they have morphed in the six years since we moved in. You can read an in-depth case study about the process on the A+noima's website. Thank you, ladies!
---
Improving the site creation system, slow and steady
More than a year ago, we set out to truly be our own clients and employ the same products that we sell to power the website we sell them on (talk about inception). This is a prime way to learn firsthand and improve them. 
We did exactly that and even more. We designed new features like the conversation system and deployed them already on Pixelgrade.com. But we went even further and actively sought to have a hands-on experience creating websites for actual customers and discover how our offering met their expectations.
A product is good enough when we're truly satisfied with the experience it offers.
We looked no further than our local community and helped a private chef in launching his online presence. We wrapped it up as a surprise gift for his birthday; nevertheless, it became an opportunity for us to engage with the tools we sell to our customers.
We've come together as a team and put our skills on the table, from server setup and performance optimization to copywriting and design. We used exactly the same system that's behind Rosa2 (+Nova Blocks) and let our creativity bloom, saving room for a bit of fun in the process too. You can view the final result on Dingradinainfarfurie.ro ↗ 
The feedback we received was great. This gave us even more confidence and reassurance that the products we sell provide an enjoyable experience.
Now, as you may notice, the site above doesn't seem to resemble in any way how Rosa2 is advertised on its presentation page.
What's going on? We're caught in a dreamy and possibly unsustainable paradigm of underpromise-and-overdeliver: most of what we developed in the past year has already been quietly delivered to our customers, but it's not presented anywhere elsewhere than on the changelog page. It might seem that we're losing a good opportunity for growth. 
Despite there being no common-sense for pursuing such a strategy, we still believe it's the right thing to do.
Why is this important? We all see that the environment is changing rapidly, and we're expecting that default-strategies will stop working. 
We consider that the time earned by delaying the announcement of the latest feature is a great time for investing in a brighter future. We gain the mental space to solve novel problems without the pressure of measuring their short term performance.
No minimum viable product, no campaigns to gain interest toward, no outside validation. We choose to trust our instincts first, put our best skills on the table, and make something we're proud of. If we succeed in doing that, I am highly confident that everything else will follow.
It feels great to have a safety net, both financially and emotionally inside the team, and be able to give ourselves enough room to explore and create fully emersed.
It's stressful, it's confusing at times, but we managed to keep it together so far. We're quite proud of what we have to show for it.
Our product documentation is going places
Usually, when someone reads a product's documentation, they most likely already own that product. At least that's the norm in the non-digital world. You buy a product → read the instructions → start using it. Or maybe a more realistic description of the process is: you buy a product → start using it → doesn't work as you expect → read the user manual.
But when it comes to digital products, that's not always the case. Most of the time, people can read through documentation for products they do not currently own or use. They might do that to see if they can figure out how it works before purchasing or to discover additional features. Other times, people are looking for a solution to a general problem they have and stumble on a docs article that provides just the right steps.
Our documentation covered the entire range. A few months back, while doing the rounds through our analytics, we noticed that about 70% of the traffic for certain documentation articles came from organic sources like Google searches, not from our search or WordPress-integrated help widget. At first, it was a surprise: it seemed that we've missed something in a big way. By having a closer look at the most popular searches, we soon realized that people were seeking for solutions to problems not specific to a product. Instead, they wanted answers to common questions regarding WordPress and its various moving parts.
One great example is a documentation piece about "How to improve the quality of images in WordPress"—even though we wrote it thinking that it will help our customers, the information is clearly applicable to other WordPress users too.
We saw this as an opportunity to figure out what documentation articles are getting us organic traffic and develop a plan to improve them. Our goal was to provide maximum value to our customers and non-customers alike.
Not long after, this process triggered a series of realizations that would eventually make us spend more than six months improving our documentation.
Once we were done with the high-ranking articles, we identified areas where we lacked content that would really help out our customers. That meant writing about certain new product features (especially regarding Rosa2 that received regular updates) and expanding the knowledge-base on general, WordPress-related subjects (e.g., website translation). We aimed to offer our audience a one-stop-shop for all their website-related needs.
Since the list of refreshed articles got bigger, and our to-do list never seemed to end, we realized our categorization system no longer matched the variety of topics we now covered. This kick-started an in-depth evaluation of our over 250 documentation articles and a recategorization effort for all of them. After about a month, we ended up with a refreshed list of categories and a more natural flow for finding the right information.
Excellence being one of our core values, we felt that all this work wouldn't be complete without a redesign. Our goal was to help people quickly find a solution for their struggles and, as customers, have a more transparent way to get in touch with us for additional help.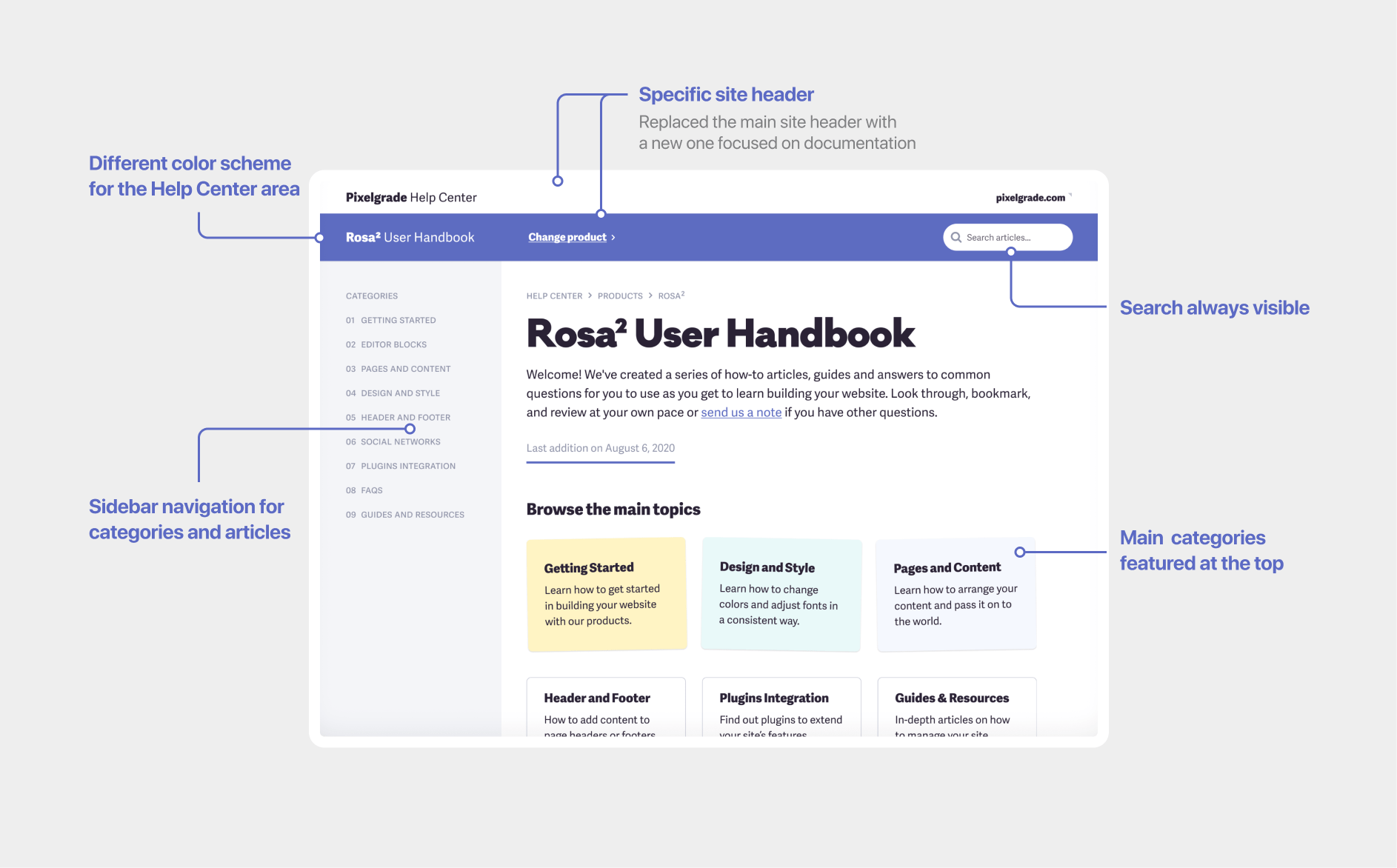 Keeping our documentation fresh is an on-going and probably neverending process. Even though we tackled the most pressing issues, there's still more work to be done if we want to keep up with the rapid pace of change WordPress is experiencing due to the new block editor. Not to mention the ever-growing list of new features added to our products. It's clear that taking care of 22 products is no easy feat.
Wonder rooms for wandering people 
The initial idea of giving our office a new look popped-up somewhere during 2019. I, Oana, told George, our CEO, that the ground floor's current look-and-feel is outdated. There were photos of ex-employees hanging on the walls; thank you cards between people no longer with us; illustrations that made little sense in our new reality. 
It was a heavy feeling that floated above us, especially me. It started to impact my mojo, my mood, my energy level. In many ways, I felt that this is not who we are anymore — why do we behave like it is still our shared reality?
While I genuinely value our history and respect everyone's contribution to Pixelgrade's becoming, I wanted to make sure that our environment highlights who we are and what we stand for today. My Chief People Officer hat encouraged me to address these questions, in various ways.
It started with a naive intention to repaint the walls, do some thorough cleaning, change a few things here and there. Thankfully, both George and Vlad have a thing for architecture and design. They kindly told me that the journey is more challenging than having some fun on a Saturday afternoon. 
Back then, I was collaborating with Alexandra Berdan — architect and owner at A+noima, a local architecture studio — for a gathering I used to organize for creative entrepreneurs. I was blown away by her perspectives on light, size, textures, on all those invisible forces that model our thinking and behavior. Our frequent meetings at Pixelgrade allowed us both to see the office space with fresh eyes.
Since our mission is to support people who want to make an impact in their communities, it was a no-brainer that we would collaborate with local entrepreneurs. A+noima orchestrated the concept and the architectural frame, and Alexandra, together with Vlad, brought along other creatives to leave their mark on the first floor of our little home in the heart of Iași.
We were super lucky to have Vlad at the site daily, carefully making sure that everything runs smoothly. He took care of our needs as a team and gave it his very best to find witty and timely solutions for all the complexities generated by such a process.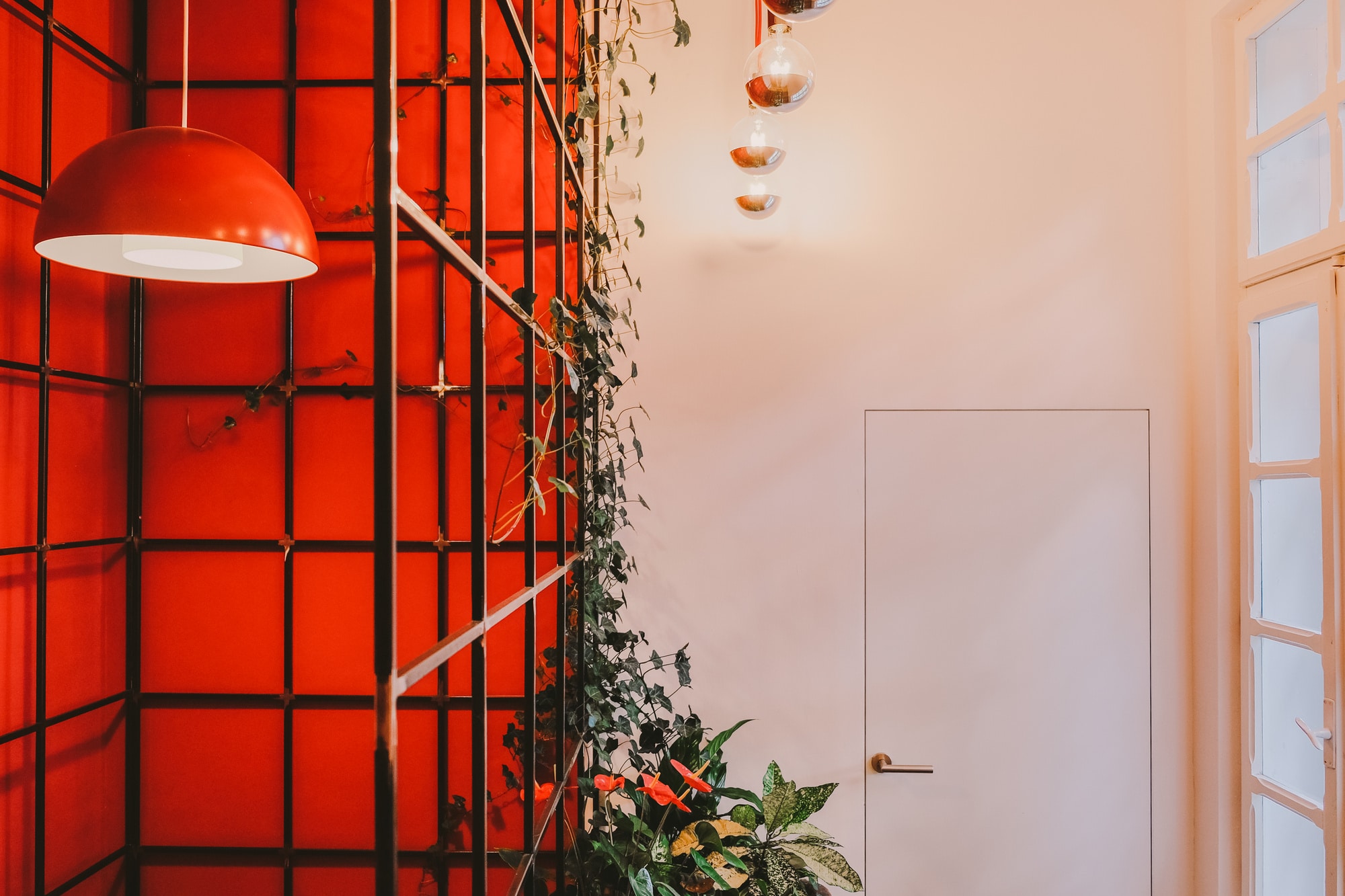 Now, six months since we've been settling in the new space, and more than one year from the initial brief, we can only be grateful to the people who accepted this challenge and got their hands dirty to make this project happen. Without a doubt, we're proud of ourselves for being brave enough to put our money where our mouth is. Once again, we walked in alignment with our values (excellence, care, and gratitude), not with what society expects from us, nor what other big players choose to do with their resources. 
We're beyond happy that we were in a position to invest in this project and get an office far better tailored to our needs and beliefs. 
It's no coincidence that we now have a proper library with plenty of mesmerizing books, a gorgeous dining room to have lunch together, a few reading nests that encourage us to look out the window more often, a suspended installation as a token to our brand and aspirations, a wall full of pins to hang bells from (want to send us one?), a dramatic, deep-red staircase wrapped in a metal grid, and plenty of other goodies just waiting to be discovered.
If you're keen to know more about this transformative partnership, feel free to read the article put together by the A+noima crew on their website. 
Be gentle in 2021 and beyond
We saw that times are changing and accepted that, at least for some time, we will be sailing through a deep fog. Uncertainties have always been around us, and in us, even if the type of threats they bring forth has changed dramatically. 
We learned to accept the areas where we have little to no control and, instead, focus on those where we can realistically move the needle. Fortunately, there are plenty. It is our way to not only keep a healthy level of motivation but also gain the confidence to show up in the first place. 
In the end, it's a choice: keep ranting about this pandemic or initiate more fruitful conversations around the table. Detaching a bit and changing the narrative makes room for new ideas and fresh hopes to flourish.
Being gentle and kind is always a wiser option if we want to go far. So let's do more of that. Keep dreaming and enjoy 2021 in a meaningful way. Cheers from all of us at Pixelgrade!