Even though we've been sharing lots of internals since the early days—from how we build digital products to how we make decisions, from how we consolidate a team to how we nurture a community, from how things evolved in our business to how we develop relationships with our customers, there's still plenty to discover and make sense of.
Part of the magic is, indeed, to keep some things exclusively for our team. It is not that we want to hide something, but simply because it would be useless for the outer world without a broad and comprehensive context. As with any other team out there, we have our habits, internal jokes, background, and ways of doing things.
Thus, despite our generosity in transparency and overall communication, please let me walk you through ten things you might not know about Pixelgrade. It's up to each of you to uncover their meaning and stitch them into a larger image. 
It sounds like gossip, but it's not. Trust me on this one!
❤️
We put our endless trust in humanity at the forefront in a wide range of ways. Discover a few in the following lines, where we share a bit about our relationships, both internally and externally.
1. We support local creatives
Our mission at Pixelgrade is to support people who want to make an impact in their communities. We do that in various ways, but we're always happy when we can contribute to the betterment of a local tribe.
Let me give you a few examples of how we invest in local creatives in a way that's aligned with both our mission and values.
For instance, all our hardwood desks are designed and made by the lovely team at Eterra Atelier (btw, their website is made with Fargo, our gem). Even if seven years have passed since we moved our office into an old house, they still look and function amazingly well. We're in love with their craft and attention to detail, so thank you!
We've been the first to financially support Albastru, a project about the color blue and all its technical and cultural secrets. Diana, the project's leader, is an independent videographer who travels up and down Romania to discover more about various shades of blue. On top of that, she used Felt, our theme, to create her website.
We're drinking a looooooot of specialty coffee from our good friends at Jassyro. They're a local coffee shop that we've been supporting since the beginning, and we take great pride in being one of their good neighbors. Cheers, mates!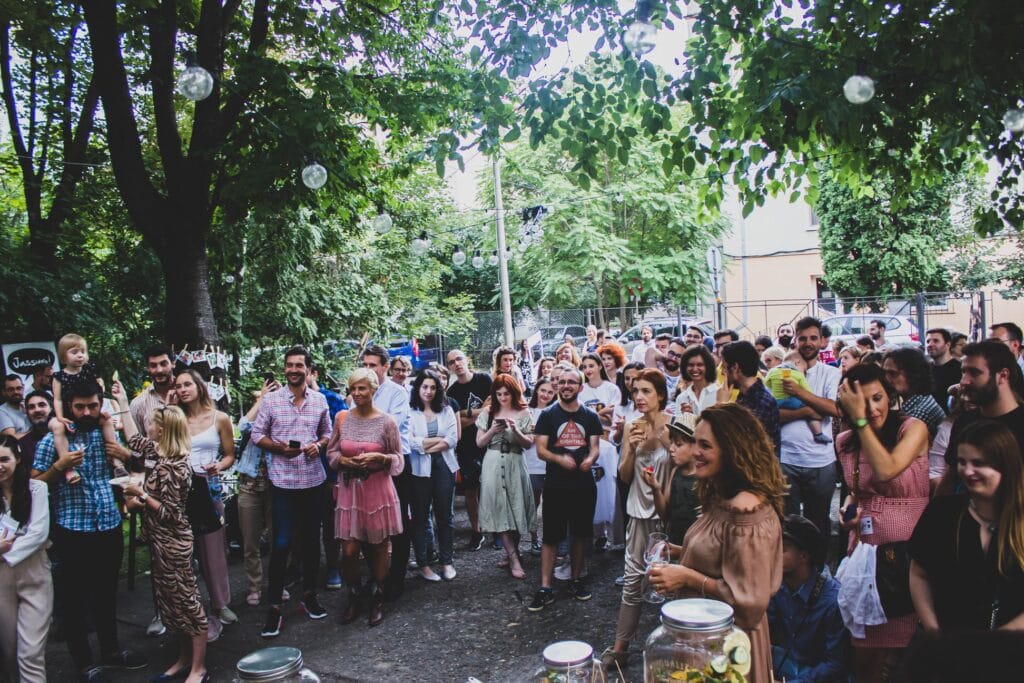 2. Răzvan is still with us after eight years
One of our first employees is still part of the squad, clocking in eight adventurous years, for which we're grateful. He's a passionate front-end developer who is always ready to embrace a complicated challenge and find witty solutions for our customers.
Răzvan wrote about his professional journey within WordPress and learned to twist his job to better fit his evolving needs. Even though he left Pixelgrade for six months due to an internal misunderstanding with one of our ex-colleagues, he rejoined our crew and it's been better ever since.
If you're one of those people who says Wow! when you notice the parallax or doppler effects within Rosa2, or you're enjoying playing around with the blobs and creating fantastic shapes inside the same product, then send over a few beers (or whiskey) for Răzvan.
He's the guy making it happen, dear fellows!
3. A combo of skills and passions
We're a team with complementary skills, but that's hardly news for anyone acquainted to us. You can easily find it out on our About page. However, what you don't know is that our passions go far beyond what's in there.
George is a MotoGP fan who took an off-road riding course to become more skilled in the art of motorcycling. 
Vlad is passionate about architecture and gardening — so I guess you can imagine how we look at the world. 
Oana is learning snowboarding thanks to George, and she knows way too many creatives souls. Community building FTW!
Răzvan enjoys writing and performing rap music to express his thoughts and feelings. 
Alin is an active member of the local Baptist community — a constant stream of fulfillment for him.
Andrei is a former DJ never bored of preparing the barbecue and feed us all (he knows his stuff). 
Mădălin is trading FIFA players (the electronic kind), and, when players take a breather, he's checking the stock market almost obsessively.
Alex studied sculpture, his mom is an art teacher in Bacău, and he lived in Timișoara for a couple of years, but now he's back home. 
🙋🏻‍♀️
We've been investing in several tribes and even create our own—Upstairs. We genuinely believe in communities' power to have a positive impact, and that's no coincidence that they're part of our mission, too.
4. We borrow books
We have a growing library of around 300 books that we're open to lending in the local community. One of the first persons who asked for such a favor was Ilinca, our ex-designer who now lives in London. She came in for a talk (we later discovered how to run an interview), and she went home with a magazine she sincerely wanted to skim through for a couple of days.
Regardless, we'd be more than happy to offer our reading material to anyone interested in expanding their horizons.
We have excellent books from a wide range of fields: design, art, architecture, tech, business, marketing, self-help, literature, sports, fiction, biographies, and so on.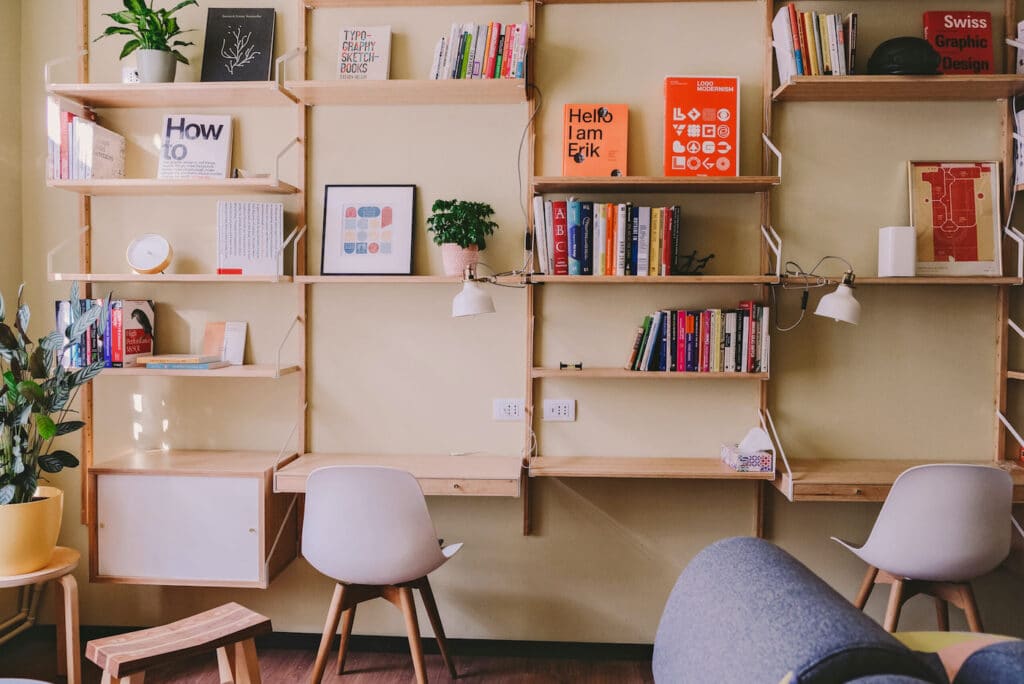 Even though we did not keep track and published all of them on Goodreads, you can find a big chunk of our books there. For the rest, we gladly await you at our office to roam through our bookshelves. The mood is very much in tune since the crew of A+noima designed a beautiful library room that speaks about the core of our personality, so don't be shy and drop by.
5. We started to collect bells
Redesigning the first floor of our office came with a gesture that acts as a conversation starter. It's a wall with large pins (balls of wood), reminiscent of our branding pixels. Each pin can signify a few different things. On the one hand, it can showcase our growing list of customers worldwide; on the other hand, it can show how big our dreams are.
To complement these oversized pins, we started to collect bells to hang from them. So, if you have such clingy beauties and you'd like to contribute, please let us know. We love bells that have stories and can open intriguing conversations.
6. We host events
Pre-pandemic, we've been hosting all kinds of events that fit our culture. For instance, I'm in charge of a local gathering for creative entrepreneurs—Creativ înainte de cafea, where I'm taking live interviews about the struggles along the way. I ran this experience in our garden a few times, and things turned out great.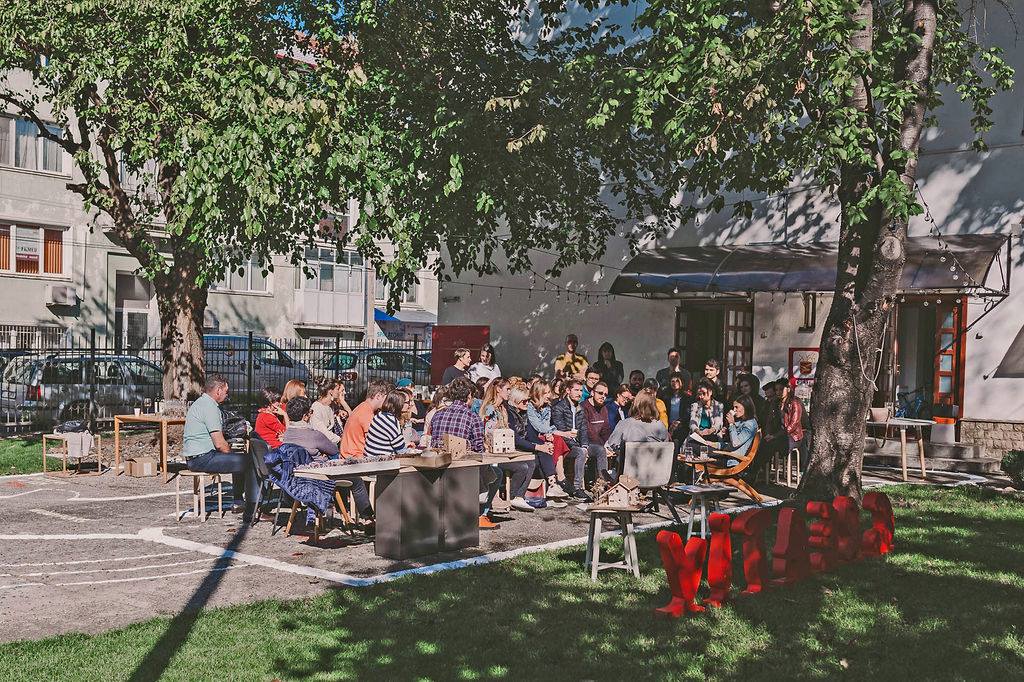 We also hosted other events, such as Ladies, Wine, and Design, an international initiative to foster women's creativity, started by Jessica Walsh. Another one was a flea market put together by the same ex-teammate Ilinca — which we deeply miss. She and her friends sold clothes and other accessories in a warm and friendly atmosphere.
When we'll return to offline events, feel free to get in touch if you want to explore our space and use it to enhance your experience.
💪
We hit rock bottom a few times, but we're grateful for how we navigated and pursued. While messy scenarios will keep showing up, we gained clarity in how we want to react.
7. We worked with consultants
From our rebranding process to our internal serenity, we paid quite a lot of money to various consultants to help us at different stages. We've always thought that it's better to focus on what we know best than be a Jack-of-all-trades, so no regrets on this one.
You can't skip or avoid the "belly of the beast." Sooner or later, you will get there.
Even though we collaborated with people we genuinely trusted, and they gave their best to lend a hand, the truth is that nothing beats practice and experience. While many things sound impressive on paper and make sense, the same doesn't apply when you try them for real.
We're grateful for all the help we got along the way. Some of it was more valuable than the other, but we learned best the hard way.
We will continue to do stuff on our terms since we're the ones closing the door, for better or worse, at the end of the day.
8. We made a lot of mistakes
We hit rock bottom a few times, and it hurts like hell. On the one hand, we made mistakes concerning how we part ways with some of our ex-teammates. On the other one, we created more confusion where we shouldn't have.
At that particular moment in time, we (aka George, Vlad, and I) thought that this is the way to go since we did not know much better. In the end, it's our first team, so we've been learning at every step of the way.
Looking back at those situations with more maturity, we believe that we could not have escaped the nasty moments since they are part of every company's growth. You can't skip or avoid the "belly of the beast." Sooner or later, you will get there. Thankfully, we learned how to navigate with more kindness and acceptance. 
We'll see how it goes next time we land there — we are certain it will happen at some point, we just don't know when.
🔮
The future is a challenging thing to think of, but even though we don't have a crystal ball to guess what's around the corner, we have powerful mantras to guide our decisions.
9. We dream of an incubator
Vlad is the one preaching these words since forever, and the truth is that both George and I have a thing for giving back to young people and help them grow.
Vlad taught architecture for a couple of years, so he has the skills to be in charge of such an experiment. He's also been a mentor for students coming in an internship at Pixelgrade. 
Please don't think of a Google Campus that's only tech-based. Instead, imagine more of an eclectic space where creative souls of all kinds work together to create all sorts of projects. It can be software, that's for sure, but it can also be an arena for people with various skills finding solutions to our city's challenges. 
It's more a way of amplifying raw curiosity and keeping the minds of people wide-open than yet another form of school or startup incubator. One of these days, fellows!
10. We will not exit
Oh well, oh well! Neither George and Vlad (the Co-founders of Pixelgrade) or I (business partner) will not exit the company, at least not in the Silicon Valley spirit. In other words, we're not showing up at the office and working hard in the tranches with the hope that one day, an investor will knock on our door, throw a pile of cash on the floor and buy a slice of our company (or the whole).
We don't resonate with this kind of exit, and it's definitely not a driver for us to keep reaching our mission. We're on the opposite side of the spectrum, where we give our best to keep nurturing a team that shares the same values and are up for fulfilling shared dreams. 
We're keen to continue the work of making Pixelgrade more of a lifestyle-company than a complex entity full of processes that keep us away from our craft.
We're here to stay.
---
These are some of the things that you didn't know about us, but now you do. Maybe they help you fill the puzzle you've been creating so far around Pixelgrade and its squad. In the end, they depict the carousel we've been through and highlight, once again, what we stand for.
Before anything else, we are a handful of creatives who work hard to make a positive impact while becoming better versions of ourselves, regardless of how each of us defines it. And this, of course, implies a journey full of challenges.
Photo taken by Katerina Nedelcu at the office.