---
We've managed to find a deeper sense of clarity and determination both as individuals and as a team. It wasn't easy, and we still have a long way to go, but we are confident this is the right thing for us at this time in our journey. We are better equipped to build a more consistent product portfolio coupled with enjoyable, meaningful customer experiences.
All this would not be possible without the right team and the needed structures and systems to support us along the way. Our support team was the first to embark on an internal process meant to help them focus and work together towards better results. Moreover, in the next months, we plan to extend it to the entire team since a bunch of good things happened ever since.
---
Overview
We're living times where everything seems to be pretty challenging. From building and consolidating a vibrant team to adapting and innovating in a competitive, dynamic WordPress market.
This transparency report gathers the main insights about how we did as a company in the first half of 2017. We encourage you to stay around because we introduced some brand new goodies. Let's walk the tracks!
Product and Support:
over 30 theme updates following our Theme Updates Calendar
a better licensing and support system through our Pixelgrade Care plugin
all the customer support toys under the same roof: we moved the documentation entirely on our shop, and we switched to Help Scout as the only client communication system.
a blog well-aligned with our branding system with 7 new articles.
an eBook on how to write WordPress Documentation that people read and use
Team and Culture:
three members left the team: Alex, Cristi, and Alexandra.
a one-week support policy from those who don't do customer service on a daily basis, to better understand our products and the problems clients are facing (great results so far).
an improved recruitment process that helps in bringing the right people on board.
almost the entire crew attended the stellar WordCamp Europe 2017 conference in Paris
Fun Facts:
🏆 Radu bought his first 3D printer and made us a trophy cup for our tennis championship
🎙 Răzvan privately shared one of his new hip-hop songs, and it sounds awesome
🏫  Ilinca is on the final lap with her college degree (and she's stressed out)
☕  Andrei was caught up with way too many flat whites on his desk
😎  Eugen is enjoying a Placebo concert while we're writing down these lines
🥞  Alin has a bunch of culinary whims that his wife makes them happen (and we're jealous)
📽️  Oana finished watching House of Cards on Netflix in just a few days #KevinSpaceyLove
🏎️  George took a three months break from driving, and now he can properly enjoy a Cuba Libre
🚴‍♂️  Robert is using the bike to survive the chaotic urban jam – keep it up!
🏰  Vlad is making bold plans to visit Disneyland with his uber cute son
🏞  Cristi is heavily packing to leave for Trento and enjoying La Dolce Vita
---
Revenue
One of the best things about our new shop is having a single point of contact for all the info we need, no matter the source nor the destination: themes, documentation or licenses. We keep a consistent flow, and we're far more efficient regarding discipline and organization.
Overall we've experienced an –8.2% decline in our monthly revenue while selling 33% fewer themes. While no reason to cheer for, we are glad that during this downturn we've managed to increase our average theme revenue by 36%. This gives us the confidence that we are on the right track and the steps we have taken will eventually pay out.
— $46,274 average monthly average (–8.2% down from $50,423)
— 3,498 sales (–33% down from 5,243)
— $79 average theme revenue (+36% up from $58)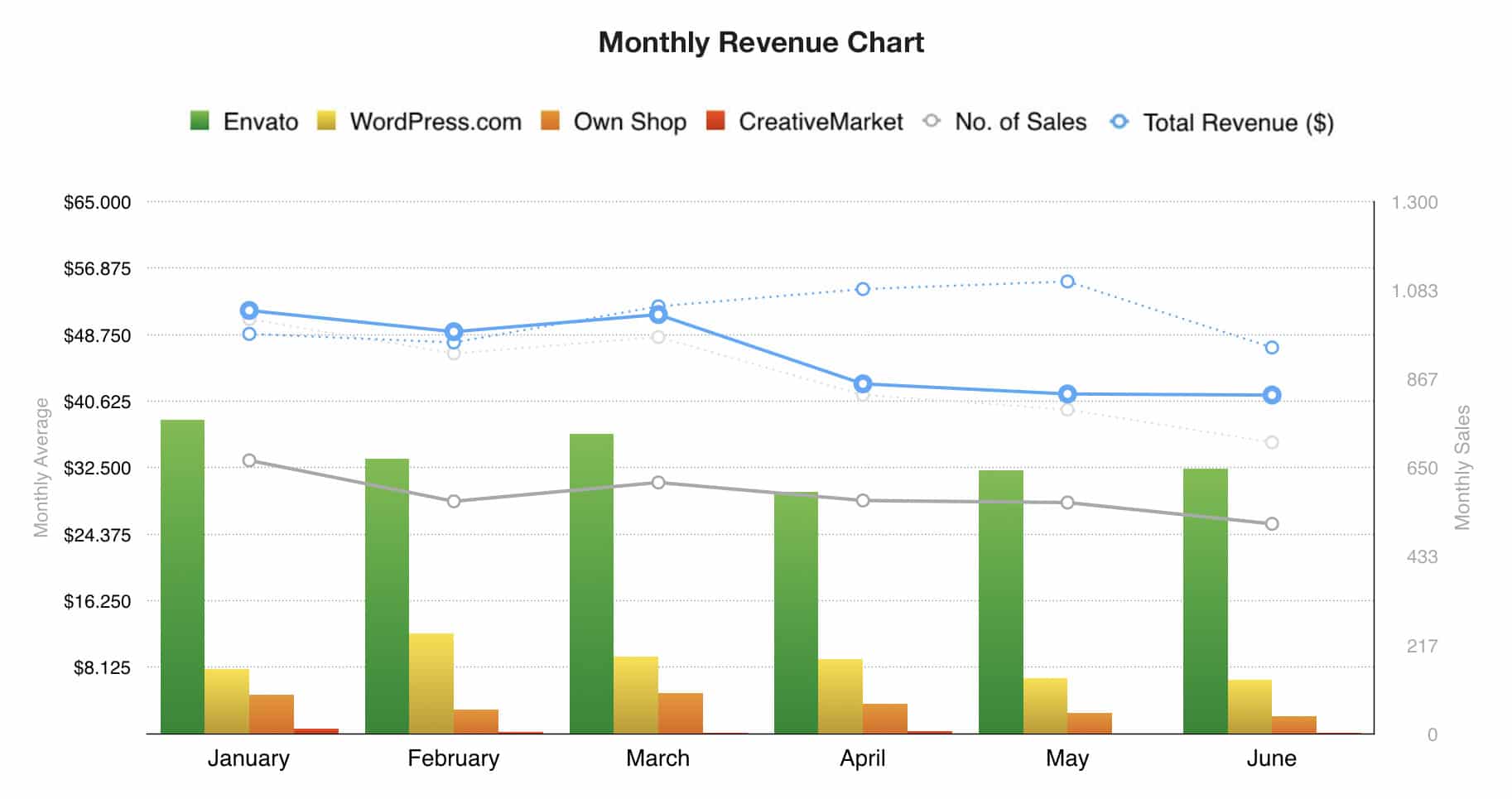 We continue to give our best to focus on the customers' needs and to improve our products to match their requirements for the long game. That's why we launched our new themes on Envato instead on our shop, and this strategy automatically led us to a lack of increases regarding revenues on pixelgrade.com.
The main idea is that we'd like to invest time, money and energy in making beautiful products, accessible and easy to use, rather than focusing on marketing campaigns directed solely on sales. We embraced this particular tactic ever since.
---
Expenses
When it comes to expenses, we have allowed ourselves to steer off course and end up outside our comfort zone. While we are past the investments we've made in our branding, strategy, and site, we are not there yet in terms of having the leeway to stay agile in these changing times. There is no panic, but we need to learn our lessons and take it for here.
The average monthly expenses hovered on $39,520 (–6.7% — down from $42,360), broken down into:
— 72.3% salaries
— 16.5% maintenance (rent, accounting fees, suppliers, software)
— 11.2% occasional expenses (like conferences, hardware, marketing)
---
The WordPress.com Journey
We've been theme authors on WordPress.com close to three years now and it's been a beneficial experience. It wasn't all smooth sailing, and at times we were quite taken back by reviews or market dynamics.
We still believe WordPress.com and Jetpack are heading in the right direction with a recurring revenue system. In the long run it might just be the trigger needed to bring some sanity in the WordPress themes ecosystem.
For about half a year, WordPress.com (and Automattic) has introduced some big, unexpected changes in their overall strategy:
⓵ The first one was offering our premium themes to their Premium plan (currently at $99/year) customers also, besides those on the Business plan ($299/year), with a significant reduction in our revenue share. While scary at first, we've managed to come to terms with this move due to a much larger customer base of the smaller plan.
Obviously, at first, our revenues took a hit because the incentive to buy a theme individually was greatly diminished; customers, getting more from subscribing to the Premium plan instead. The key here is "subscribing.", as from that initial downturn, we've seen our recurring revenue slowly, but steadily climb and we don't envision it flat-lining anytime soon.
⓶ The second shift came quite recently, and it's an eye-popper: premium themes from WordPress.com will also be available for self-hosted WordPress sites through the Jetpack Professional plan ($299/year).
At first sight, this change is a direct threat to our self-hosted themes, but we wouldn't urge jumping to any conclusions yet because, in the long run, it might just be the trigger needed to bring some sanity in the WordPress themes ecosystem. We would rather give up on some of our efforts if this means a smoother, more consistent experience for the customer.
Recurring revenue is the only way we can all have a more predictable income and a firmer basis on which to grow and expand.
There are surely some concerns regarding Automattic's transparency and business decisions but we still believe they are heading in the right direction with a recurring revenue system. While there is room for adjustments, the steps being taken are welcomed and we are looking forward to keeping up with the latest developments.
---
Recurring Income
As long as you are after building a long-term relationship with your customers, there is no getting around the idea of recurring revenue. This is the only way we can all have a more predictable income and a firmer basis on which to grow and expand.
The theme business is the only remaining component that somehow lagged behind traditional pricing systems.
There is nothing new in this, as the whole tech and media industry embarked on this train quite a while ago. In the WordPress world, while hosting companies and WordPress.com service have always been subscription based, self-hosted plugins have mostly made this shift, the only remaining component that somehow lagged behind is the themes business. It's about time we change that.
While we are still in the early steps we can see good signs ahead: on Envato, the support renewals generate almost $1.000 per month, while on WordPress.com we get about $4.500 revenue from theme usage. The trend is positive, and we are confident it will stay that way.
---
Pricing Strategy
From our own experience thus far, a fair number of WordPress users are willing to invest $100+ in a theme as long as the value proposition is right. While fewer, there are plenty of people looking for a special experience and are happy to go to $200 or even higher. If you are looking for validation, the current surge in managed WordPress hosting offerings is more than enough to acknowledge that the WordPress ecosystem has matured and people have more confidence in it.
We believe that whatever the price point, there is an audience out there that will gain value out of it. We will continue to test different price ranges and encourage other fellows to do the same and share their findings. After all, we are all in this together.
---
Team Moving Forward
We'd like to start with a big round of applause for all who contributed to what we are today.👏 Hopefully, we'll have the chance to catch up again in different scenarios.
We noticed that having a more precise recruitment approach allows us to make better decisions regarding the team we want to build in the long run.
It's mandatory to get used with some level of risks in the digital endeavors.
For instance, Alexandra didn't pass the 3-months trial and there's definitely nothing wrong on a personal level (in fact, we all are quite cool people), but we weren't on the same wavelength in other regards (eg. why it's mandatory to get used with some risks in the digital endeavors or how going the extra mile is something ordinary for us, not a nice-to-have).
On the other hand, two other folks left the team on entirely different terms. Alex was one of our first Happiness Engineers and the one who tried to teach us more about mindfulness and why it matters these days more than ever. He decided to experiment an entrepreneurial journey and to balance his time in other ways. Keep up the Serenity saga, dear friend!
Cristi is a significant part of who we are today, and a chunk of our success is due to his skills and effort on the front end area of our themes. He's the one who tried to help us have a more balanced and healthy life. We welcome his desire to follow his journey in Trento, a beautiful city from Italy, where he wants to push the restart button on multiple levels. We will catch up with him on a mountain peak for a nice session of skiing.
---
The next lap
We came to realize that, sometimes, the next lap is actually an extension of the current one. There are plenty of things on our table and we want to make sure we understand how to manage them.
We enjoy questioning everything and digging for answers that fit who we are today, so there's no restart per se. Instead, it is more like a ''will be continued'' kind of statement.
Therefore, some of our goals remain the same, while others will pop-up on the fly:
Build a better team — we're eager to continue the journey of supporting each of our teammates achieve their potential and making the most out of it through a thoughtful chain of steps and processes.
Grow a consistent portfolio — we're pushing to create a few more WordPress theme and keep iterating on the infrastructure behind the scenes to make sure we deliver solid solutions for digital pains.
Improve the Customer Experience — we will continue to invest all kinds of resources into our customer-service ecosystem to shape even better experiences for our beloved customers.
---
Summer is here — enjoy it!
Guys and gals, thanks a bunch for joining us until the end of the Transparency Report #5. 🙏 We hope these thoughts will help you draw better decisions and will inspire you to share your journey as well.
We wish you all a great summer, full of delightful experiences and people 🌞. Make sure you have some fun, and you gather lasting memories. In the end, we all need to recharge our batteries and come back with a more positive attitude and an energetic drive. Keep being awesome!