---
Overview
We've experienced first hand how hard it is to change behaviors, and shift mentalities, but it's mandatory in building a consistent, healthy team, ready to face all kinds of endeavors, especially when you dream big and plan to achieve spectacular results.
Our feeling is that we're getting there, but we still need to make small tweaks with time and continuous effort from our side. All in all, in this Transparency Report you can get a clue about the ups-and-downs we encountered. Grab a coffee, enjoy the reading, and share your thoughts!
Product and support
a new subscription business model for Pixelgrade Club
an intense session of theme updates to keep our products up and kicking
a well-improved plugin to help customers have a great onboarding and self-service experience: Pixelgrade Care
a dynamic blog with 10 fresh articles on several topics
97 (and counting) beautiful websites in the Showcase
a bunch of Thank You letters for our customers around the world
a new Made by Pixelgrade page to list all of our tools and services created along the way.
Team and culture
two members joined the team: Victor, Adi
three members left the adventure: Andrei, Robert, and Eugen
plenty of 1:1 sessions to facilitate the overall communication and set expectations
multiple interviews and other recruitment experiments
dozens of coaching episodes with Laura to become better players
Fun facts
Vlad brought in Paco's brother-from-the-same-mother, so now we have two lovely dogs around the office
Adi had a hard time finding wood for his fireplace #FirstWorldProblems
Alin continues to self-praise the village where he lives with his family
George used to go to the gym but stopped after we made way too many jokes
Ilinca ran a DIY session for crafting a paper Christmas globe (and bought a new camera)
Oana challenged a few teammates to cook a cozonac (Romanian traditional dessert) #battletime
Radu bought an apartment, and we're still waiting for him to throw a party
Răzvan is searching for the right filmmaker to help with his first music video
Victor helped us gain some weight thanks to his wife's culinary goodies
---
Revenue
Not great, but not bad either. Overall we've experienced a large -27% drop in our monthly revenue. While we've increased the revenue through other channels, the change was mostly due to the Envato marketplace saturation and overall decline. We're confident that in the long run, we can better serve our customers through our own channels while using third-party marketplaces only as additional selling points.
— $33,682 average monthly average (–27% down from $46,274)
— $5,881 in Support Packages on Envato (+28% up from $4,580)
— $1,467 Monthly Recurring Revenue in the Pixelgrade Club
— 98 active members of the Pixelgrade Club out of 196 that started the free trial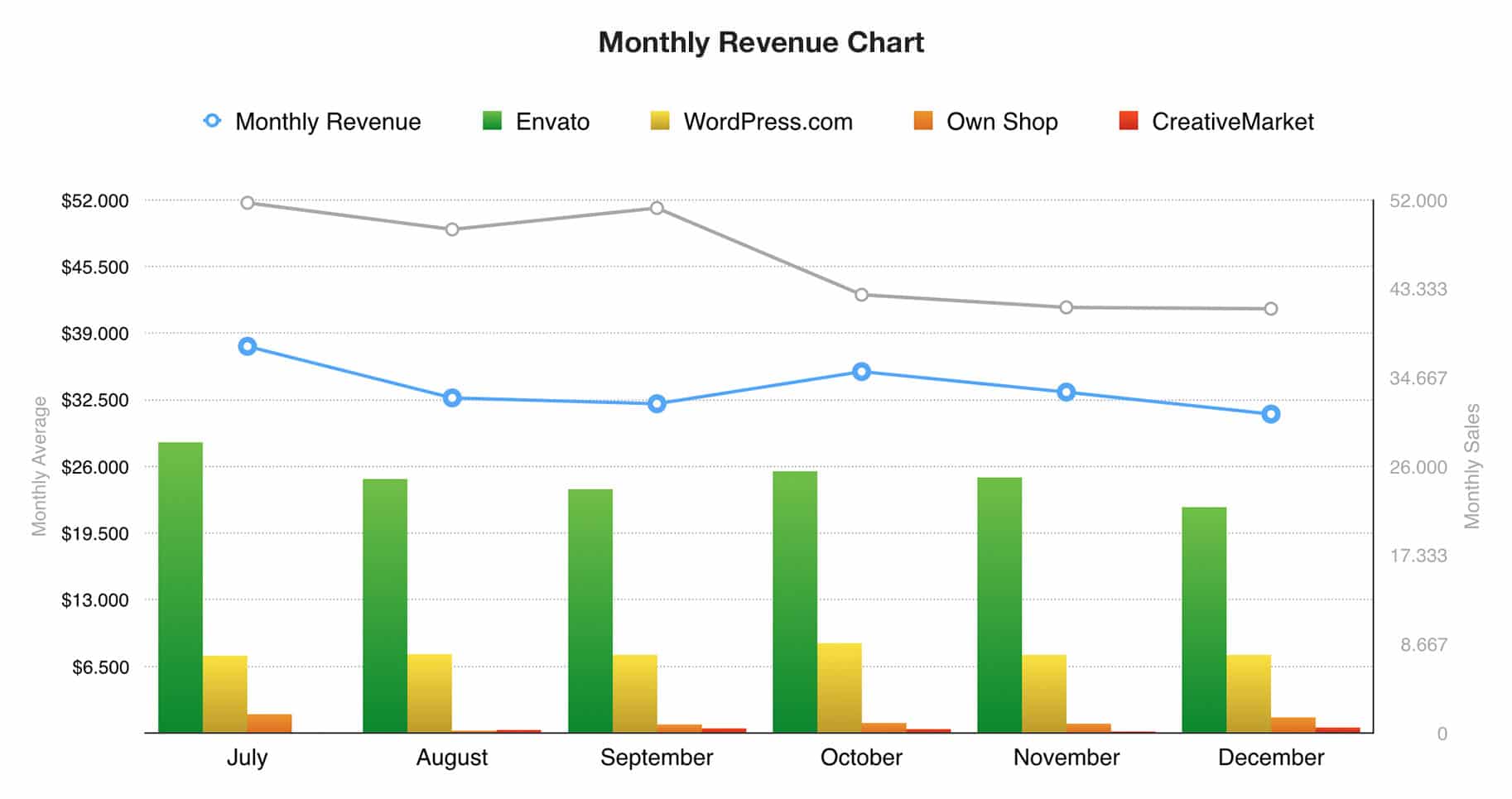 Expenses
With a significant drop in our revenue, our expenses had to be adjusted also. With a combination of lowered salaries, a smaller team and some housekeeping in terms of the services and tools we use, we've managed to keep expenses at a manageable level.
The average monthly expenses hovered on $28,292 (–28.5%—down from $39,520), broken down into:
— 75% salaries
— 21% maintenance (rent, software, accounting fees, suppliers)
— 4% occasional expenses (hardware, marketing)
---
The Pixelgrade Club
Through our Pixelgrade Club offering, we're now focusing only on bloggers and obsessively converge all of our efforts to create the best solutions within this niche, crafting themes that provide specific answers to specific needs.
There are too many generalist products in the site-building ecosystem and they all compete to offer the highest level of flexibility. This fails to address the core need of creative people nowadays: how to focus on what really matters for them, not having more challenges to solve, while making a great impression.
We decided to take a different route, by offering our customers access to a different set of tools: like a researched content strategy that they can use to kick-off their site structure or opinionated branding decisions that they could really resonate with, not the same blunt options that they could find in any other product.
Unlike most of the market, we chose to offer it as a subscription business model with a 14-days free trial and $9.95 monthly fee. You get access to all of the themes available in the club, and you can switch them with ease when your needs or preferences change.
We found out that only a recurring pricing model could create sustainable value in the long run, both for our customers and for us as a business. Even if upfront costs are lower and risks are higher, the continuous commitment that we can maintain through a customer lifecycle is what drives us every day and make our products perform better.
---
Theme Components
For the past year or so we've been hard at work at something very exciting while quite challenging: a new development system and architecture for our themes. It is now ready for active duty in Fargo and Felt.
What was the driving force behind this massive overhaul of our way of developing WordPress themes? With every new theme, we were constantly reinventing the wheel and, while reusing previous code, reimplementing and adapting already learned lessons. While this seemed like the fastest and cleanest way to get our designs in the hands of our customers, with time the technical debt kept piling up, making maintenance increasingly time intensive. A lesson learned in a theme often would take a long time to reach the others.
This very inefficient status quo had to change for us to be able to develop and maintain a growing portfolio of products and keep the quality bar as high as we like it.
Another WordPress theme framework you may say?! Not quite. We've been big fans of the Underscores starter theme for quite some time as it forced us to keep bloat at bay. We still very much dislike bloat and slow running code, but we also love a consistent customer experience and ease of use.
Our solution to this puzzle was to identify common theme patterns/sections and fuse their templating, control logic and/or styling together into what we now call components. These are to become the backbone of all of our themes and the main focus of our development efforts.
The overall goal is to offer our customers solid products in terms of speed, flexibility, security, and ease of switching between them. All this while maintaining things scalable regarding the amount of work involved. We will surely follow-up with a dedicated article about this adventure.
---
Pixelgrade Care
We care! We care about design, craft, speed, security, but most of all we care about our customers' experience and the ease with which they solve their digital problems. Pixelgrade Care is a tool to help us achieve this: a free companion WordPress plugin to all of our themes.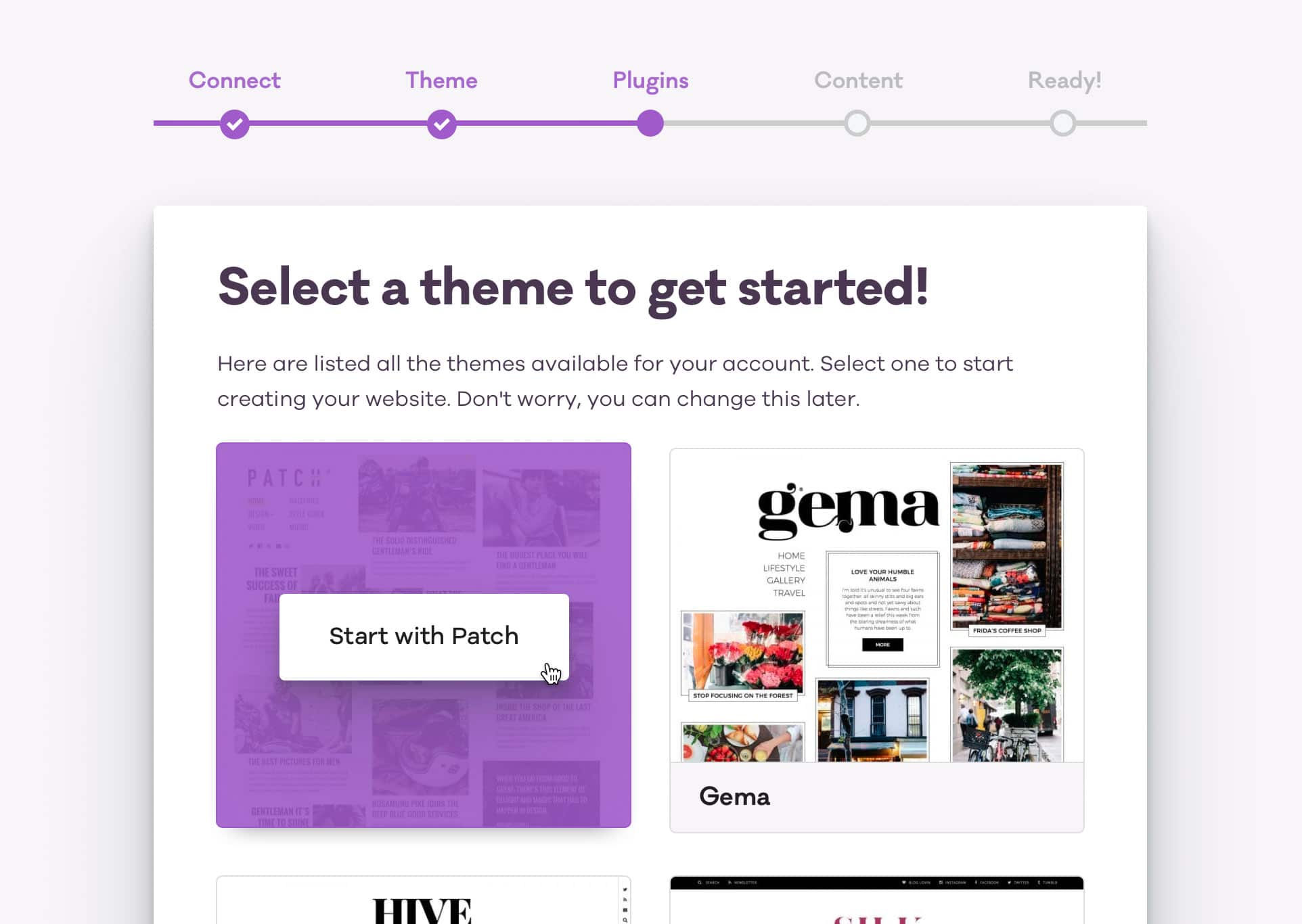 The first version was released in early January 2017, and we've been improving and expanding it ever since. For the past six months, our focus was on making things more helpful and customized for each of our customers by better integrating the various data sources.
We've improved the licensing system, the in-dashboard documentation and ticketing system, and the overall stability and security of the plugin. We have many things planned out for the future and believe the plugin is now in a better shape to serve our customers.
---
Building the right team
The last six months have been eye-opening in terms of what it takes to build the right team, and we definitely came across some harsh lessons along the way.
The good part is that today we have fewer (or at least different) struggles that we're facing. For instance, we can't stop the game since performant crews need constant attention, time, and energy to reach its potential, both personally and collectively. So yeah, we will undoubtedly encounter more challenges, but that's okay as long as we grow and remain true-to-ourselves.
After several internal debates and way too many sleepless nights, we decided that sometimes it's better for everyone to let people explore other professional playgrounds.
We said goodbye to two of the colleagues who were aboard from the early days of Pixelgrade, and one who joined the adventure almost one year ago.
We ended the collaboration with Andrei, our second employee (backend developer) who's been working alongside us for six years in a row. We believe it was the right time to let him connect with different teams and mindsets. We're grateful for all he has done for us, and we're also happy he joined ThemeIsle's band.
We also decided to let Robert go, one of our customer support fellows. He agreed to continue his professional path with a trial at Automattic, which is awesome. We're confident that he's going to evolve and become a better player, whatever the challenges he will embrace in the future.
Regarding Eugen, also a backend developer, the reality showed us that sometimes there's nobody to blame or to point the finger when facing a professional separation. The simple fact that we're in different moments in life can be good enough to push the stop button. We appreciate Eugen for improving Pixelgrade Care, and we hope he will find the right place for his current needs.
---
As for celebrating small wins regarding team development, we're grateful to have Victor and Adi home.
Victor's been freelancing for a couple of years, and he joined the party as a curious and caring front-end. Adi's an experienced customer support professional with excellent written communication skills, which we think are super valuable.
All in all, we're always happy to work with autonomous people, who posses the skills to self-manage and focus on the bigger picture. Welcome and let's break a leg together, dear fellows!
We're genuinely grateful for the people who're now part of the Pixelgrade story, and we are excited to continue to craft things that make us proud in the long run. Keep being awesome!
---
The next lap
Affiliate Program — we kept this idea in the back of our minds since the launch of the shop, but frankly without taking it too seriously. This time, we changed the whole puzzle and things are getting traction with the new yet well-documented affiliate program.
Extended Portfolio — we'll continue to focus on growing the number of themes exclusive to the Pixelgrade Club members. We plan to address the entire spectrum of bloggers and their particular set of needs. Stay tuned for our upcoming gem!
How We Work — we'll continue to develop and fine-tune our internal systems to be more productive and efficient in all our endeavors. We've already implemented some changes, and we'll continue to focus on improving our way of working across the entire team.
People — we will continue our recruiting efforts in order to attract and keep the right people for meeting our goals. We've already identified and detailed a couple of roles that we believe will help us stay focused and successful.
Enjoy the winter holiday 🎄
Oh well, the only thing to add here is that we encourage everyone to take some time to express gratitude to your teammates, family, and friends. You might be quite surprised about the positive impact, and there's no better time of the year to reinforce your appreciation and positive thoughts. Slow down a bit and make it count!
Have a great holiday, mates! 🙏