---
We started with an intense process of business strategy with Marius (our mentor) on board. He helped us draw a more consistent approach in many regards: customers, costs, market, and all the things in between. On top of that, he introduced us to the OKRs method (Google is the prominent user here), in order to get our ducks in a row. In just a few words, we realized how crucial is to have a team that works well together and have a common destination.
The next smart move was the beginning of a long-term partnership with Laura, our psychologist and team coach. She led us towards a more powerful and connected team. Thanks to her approach we shaped a set of values and principles that fully represent our creative tribe.
We've learned to dance on different tempos, and we know that there will always be moments when we will need to adjust the sound to our values and personality.
We were brave enough to drive things even further and start a challenging branding adventure alongside the lovely crew of Namogo. Together we launched a new Pixelgrade brand story and a stunning shop that hosts a growing collection of beautiful WordPress themes.
The final ending (even though it's just the beginning) was our five-year-old party. The perfect timing to celebrate the entire chain of victories with our crew, friends, and family. Cheers!
---
Overview
Facts or it didn't happen, right? Oh well, here's a specific list of small and big wins that we are proud of. We deeply believe that each and every one of them will make a significant improvement, no matter the nature of it: emotional, financial, moral and so on.
Let's take it one at a time:
— two new members joined the team: Andrei and Alexandra 👏
— a new Objective & Key Results organizational system for better team alignment towards a common goal
— a new and human–centered Pixelgrade branding
— a new and catchy WordPress themes' shop
— a new photography theme: Noah
— over 40 theme updates following a consistent Theme Updates Calendar
— an enhanced user experience through Pixelgrade Care plugin
— a free plugin for creating grids inside the WordPress Editor: Gridable
— an in-depth Customer Service Guide eBook
Revenue
Three months behind we raised the prices on the themes listed on Envato with almost 30% — from $59 to $75. The exception is PILE ($225) which is aligned to the new pricing scheme available on our shop.
Even though we faced a downsize in monthly revenues of -11.5%, the great thing is that the number of clients decreased almost with a quarter. We see this change as a perk since it allows us to invest more energy into a better understanding of their particular needs. Moreover, it's a strategic gateway to shape a meaningful customer support experience.
—$50,423 monthly average (–11.5% down from $57,933)
— 5,243 sales (–23.5% down from 6,861)
— $58 average theme revenue (+14% up from $51)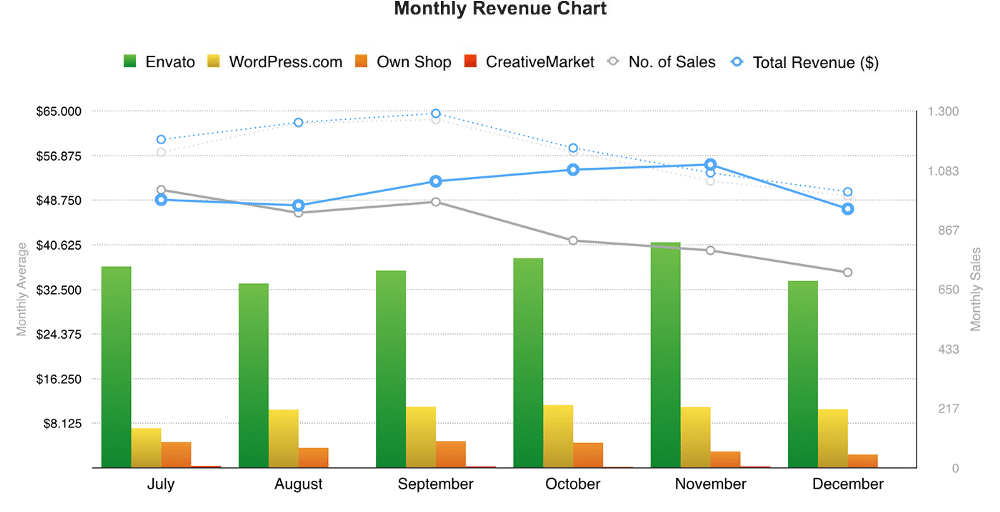 ---
Expenses
Running a healthy business implies not only profit and revenue but also investing money in areas that matter and can make a huge difference in the short and long run.
The average monthly expenses hovered on $42,360 (+25% — up from $33,750). However, this time our expenses included even wider costs, as follows:
— 61% salaries
— 12,5% maintenance (rent, accounting fees, supplies, gardening, etc.)
— 9,5% occasional expenses (like hardware, office improvements)
— 10% Branding and Shop
— 7% Strategy and Team
---
Average price on themes closer to what we aim for
Let us take an insightful example to show you why we're happy with our bold move regarding the price of PILE. Long story short: this theme benefits of the biggest raise regarding pricing. The gap is generous, from $59 to $225, right? Even so, after three months we're excited to let you know that the revenues are even higher than before. Fewer headaches, more joy.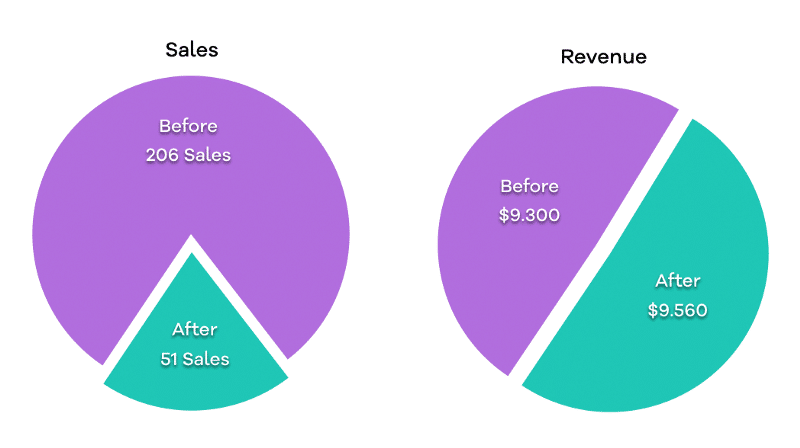 A new digital path awaits us (shop and branding FTW)
We're still learning the baby-steps regarding how we can play around with the new brand and shop, so we're eager to see how things will work out. However, we cannot wait to experiment with both of them since they have so much creative potential to explore.
We will definitely continue to have the same focus into maintaining and improving the themes (regarding updates and support) listed on the other two marketplaces, ThemeForest and WordPress.com.
We'll not make a single difference in how we treat one client or another, nor we will direct our energy only on the new shop. We're the full opposite of letting people down, so stay tuned to see us perform.
---
Where we're going next?
We could say a lot about our courageous expectations, but I guess it's wiser to stick to a concrete set of directions that will fuel our creative engines for 2017. We've summed up the main areas in this list:
We will expand our portfolio with themes that solve even more specific digital problems and are in tune with our branding approach
We will continue to improve the experience of our customers (from the buying flow of actions till the resources they get or the tools they have to make the most out of our themes)
We will offer a better customer service experience alongside with an updated and reliable documentation (with a special focus on video content)
We will consolidate a stronger community of clients who trust and love our work
We're keen to enjoy a well-deserved Christmas holiday and catch up with the loved ones, but we're also excited to continue our digital journey. We've learned to dance on different tempos, and we know that there will always be moments when we will need to adjust the sound to our values and personality. Let the music play, mates!
---
That is all for this fourth transparency report. Don't hesitate to reach out to us if you need to tell how great, stupid or crazy we are. We can take it.