In this article, I want to lend a hand and walk you through the best solution when it comes to creating an online store.
But first, a bit of context to help you get a grasp about my approach.
For more than five years now, I've been working as a customer support agent, and I love what I do. During this time I talked with thousands of customers, so I guess I'm entitled to say that I know their expectations pretty well when it comes to digital challenges. Long story short, they all look for the same outcome: an easy to use yet powerful solution.
Therefore, what I am going to share with you next is linked to this core need I keep hearing over and over again from people across the world.
---
What is WooCommerce?
I dare to assume that you already have a website or you plan to get one shortly, and now you're looking for the best option to get an online store, too.
Here's the thing: if somebody tries to charge you for creating an eCommerce solution, ignore them. The best solution is already there, and its name is WooCommerce.
Being the most popular WordPress plugin, with more than 4 millions active installs and 64 million downloads, WooCommerce powers now almost 30% of online stores.
This is enormous! I guess the numbers are enough to convince you, but please allow me to share some more reasons why WooCommerce is the right option for your online store.
Today, starting an online store is ridiculously easy — all you have to do is activate a plugin, and you're ready to go. Even more, there's a setup wizard that leads you through the installation process and with just a few clicks, your online store is up and kicking.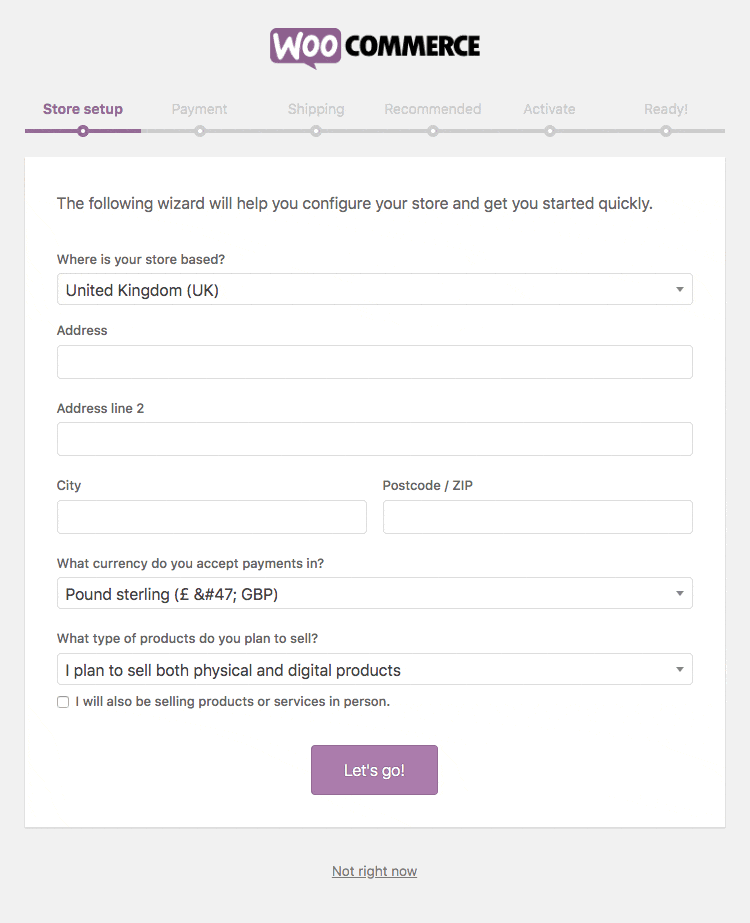 Allow me to share you a macro picture of this fantastic plugin — what it is, how we use it and why it's the best out there.
Released back in 2011, WooCommerce growth quickly. In less than two years, it was downloaded by more than 1 million times. Initially started by a few developers, the plugin was acquired in 2015 by Automattic, the company behind WordPress, and now a team of more than 50 people is taking care of it by developing and supporting it continuously.
Quite impressive, I would say.
So, if you're thinking about creating an online store and you already use or consider using WordPress, don't look further. WooCommerce is exactly what you need. You can get the store with just a few clicks, then focus on what's essential to you.
---
Why WooCommerce in the first place?
Beside WooCommerce being free to use, what's great about it is being open-source. That means if you're a programmer you can inspect, modify and change the plugin's code as you wish.
On the other hand, if you're just a newbie and you're working with WordPress for the first time, with zero coding or web skills, there's nothing to worry about. WooCommerce takes care of everything for you, so after installing the plugin, all you need to do is add your products.
You can sell small stuff like T-shirts, coasters, pings, illustrations or bigger products like bikes, lamps, kitchen supplies. For example, if you're a restaurant owner you can use it for online food ordering or selling tickets for special events. No matter if you chose to make money out of digital or non-digital things, WooCommerce covers your back.
On top of that, the plugin is updated all the time, it's always compatible with the latest versions of WordPress software and themes as well, so there's nothing to worry about.
You save plenty of time and money because you work with a trustworthy partner and now can focus on doing what you love most.
WooCommerce it's completely adaptable being already integrated with more than 300 extensions, for all kind of needs. There are extensions which can help you boost your sales, while others help you create email marketing campaigns.
Email marketing generates the biggest ROI of all marketing channels. With that in mind, you can definitely find a WooCommerce email marketing extension that will help you provide your customers with a top-notch shopping experience. 
This specific add-on converts your site's visitors into subscribers and customers, and this one makes it easy to set up and manage a referral program to keep existing customers coming back and get new ones, and so on. There's a WooCommerce extension for everything you could imagine.
It really doesn't matter if you're running a product based business or you want to sell an eBook or a course, WooCommerce does the job for you.
---
The best example of successfully using WooCommerce is our shop. In the end, we've always put our skin in the game and talked from our first-hand experience, not copycatting other's folks' stories.
We sell digital products (WordPress themes for a wide range of niches) and services (to assist you kick-off with ease and speed up and secure your website) for almost eight years now, and everything runs flawlessly from the first day.
We set up the online store using WooCommerce a few years ago, added our WordPress themes as products, and shifted our focus on what's crucial for our customers and us — providing the best possible experience.
We decided to get everything under the same roof, with both the blog and the store based on WordPress. This way we can manage them both quickly, we have everything we need at hand, we can move fast, we can be creative while running marketing campaigns, and so on.
---
Real insights from real people
Many of the customers I talked with told me that WooCommerce accommodates perfectly with any type of business. Starting from selling an online course, an eBook, digital prints, photos, services, bookings, goodies, toys, cars, or anything else, you can rely on WooCommerce.
And hey, if you think you don't have anything to sell, well, maybe you should dig deeper since you too can make the most out of what you already have.
Another insight from our community is that everybody looks for quick, nearly instant solutions. This is what WooCommerce offers.
Rather than hiring a developer or working with an agency (both are quite expensive), you can try to embrace a DIY attitude.
You will not only learn a lot of valuable lessons along the way, but you will be surprised about how easy is to handle this plugin and make it work on your terms.
This way you keep the costs down for managing your online store, and you can invest time and energy in what you truly value. If you want to get an idea of how much you might need to invest to create an online store with WooCommerce, I recommend reading this article (hint—it's less than you might think).
---
There's no perfect timing when it comes to leveling up your digital game and starting to sell online. However, WooCommerce makes it easy for you to start, see how it goes, and take it from there.
There are no certainties, unless the fact that this is the right moment to give it a go. And hey, believe me, that none of the people I talk regularly were ever 100% ready to start the adventure. They just did it.