This bold statement is endorsed not only by how it's been keeping traction but by how people used it in creative ways to create their own digital corner.
If you are interested in finding out how we put together the improved version of the best-selling restaurant theme out there (more than 13K folks use it), feel free to read this thoughtful article. You have the chance to both take a sneak peek inside the product and find out more about our approach in the WordPress ecosystem.
Meanwhile, just to make sure we are on the same page, please allow me to give you a short description of our gem.
Rosa 2 is a digital product that you can use to create a modern site that serves real business goals. It's more a framework and less a theme in the core sense of what customers within this economy are accustomed to.
Therefore, there is no wonder why Rosa 2 can easily adjust to serve needs from a wide range of niches. As always, I genuinely believe that what customers are already achieving with it is more representative than any well-packed marketing message. They are proof of what you can achieve with it.
I chose three examples to showcase how it adjusts to serve diverse digital requirements. I love the fact that people all over the world are being brave enough to challenge the status quo of Rosa 2 and have been creating a wide range of beautiful sites with our product.
Let's explore them together and see how each one makes the most out of it.
A small hand made soy candle business sells its products online
Flair Scent is a local business that creates and sells handmade scented soy candles in all kinds of jars since 2016. It all started when, in lack of better gift ideas, Andra, the gal and creator behind, began exploring the idea of making candles from scratch.
Five years later, it turned into a proper business that needed a refresh of its digital presence. That's where Rosa 2 with the WooCommerce Add-on came to play and allowed her to showcase and sell her products with ease.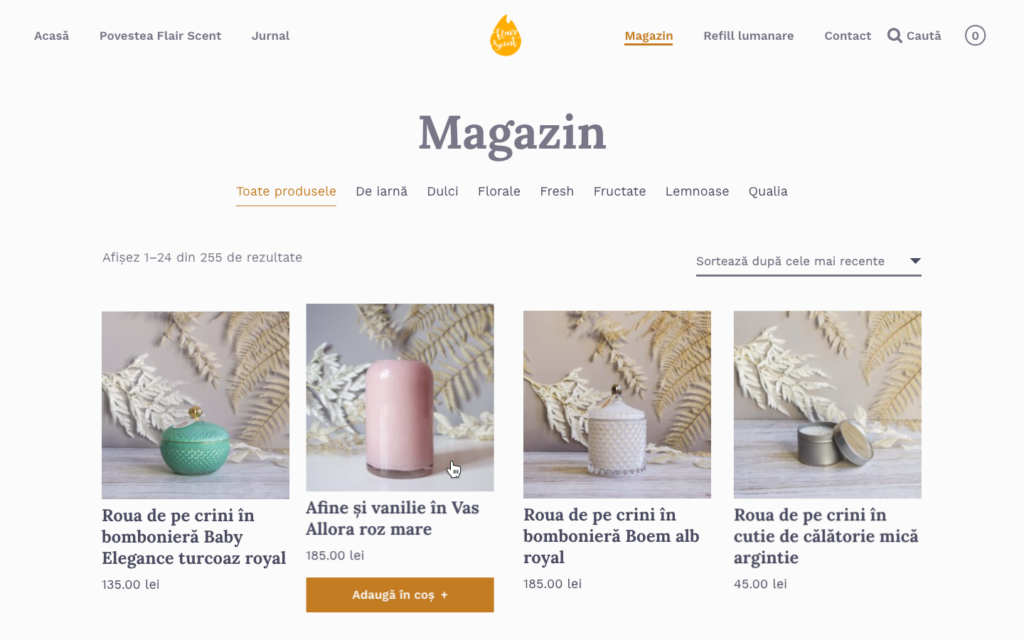 In case you don't know, WooCommerce is the most popular e-commerce plugin that enables everyone with a WordPress website to create and sell anything online. The best part is that it's free and allows you to sell both digital products (like ebooks, memberships, courses, and more) and physical ones. If you want to know more, you can read this post.
To help people who want to create an online shop with Rosa 2 while keeping the site's design consistency across the board and offer a seamless online experience for their visitors, we created the WooCommerce Add-on. We wrote in detail about the importance of this integration and how it helps you in branding and sales.
In a nutshell, this add-on makes Flair Scent's shop look and behave exactly like the rest of the website with the addition of must-have styling that the WooCommerce plugin lacks.
This way, her audience will not have an experience damaged by inconsistent design, by being redirected to another place to purchase her products, or by having to call or write on social media to get the desired products to their doorstep.
Below are two examples of Rosa 2 without and with the WooCommerce Add-on.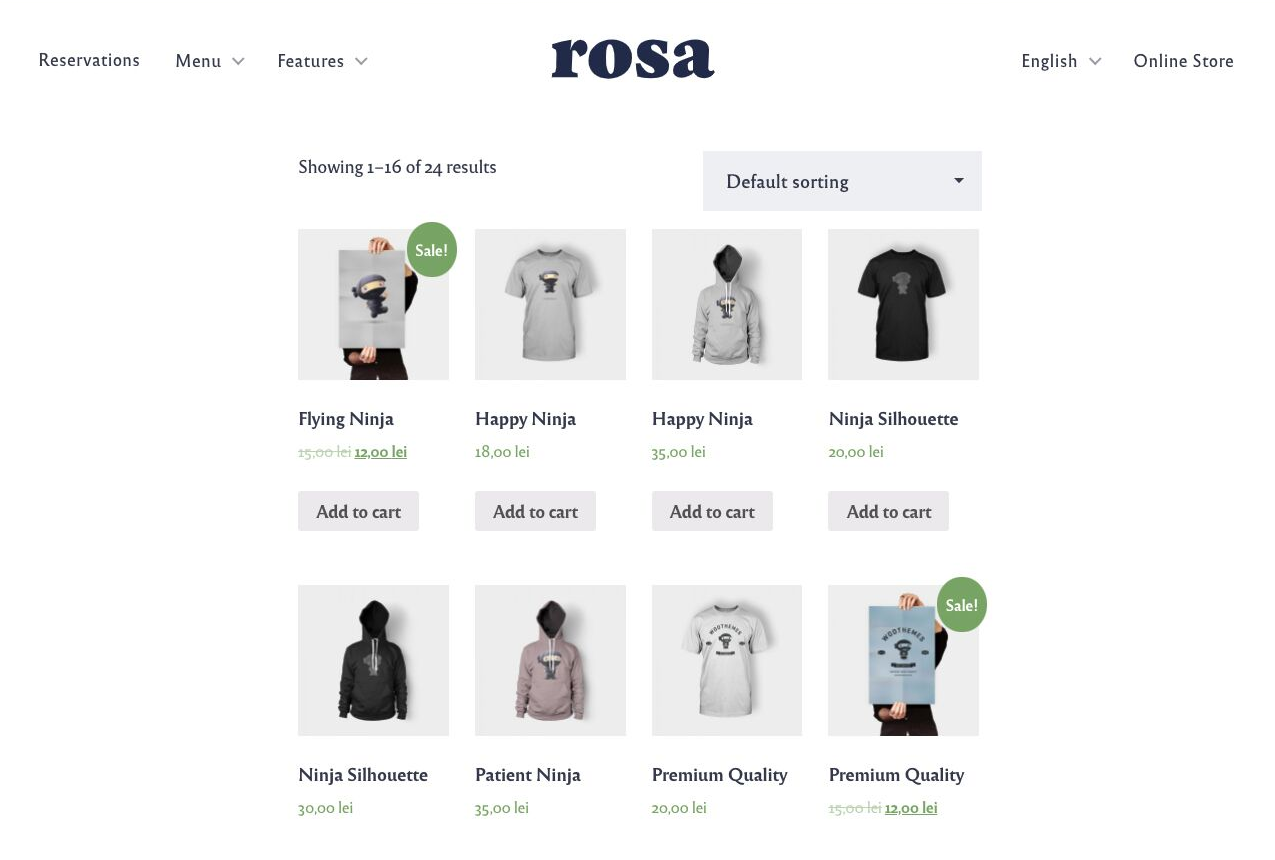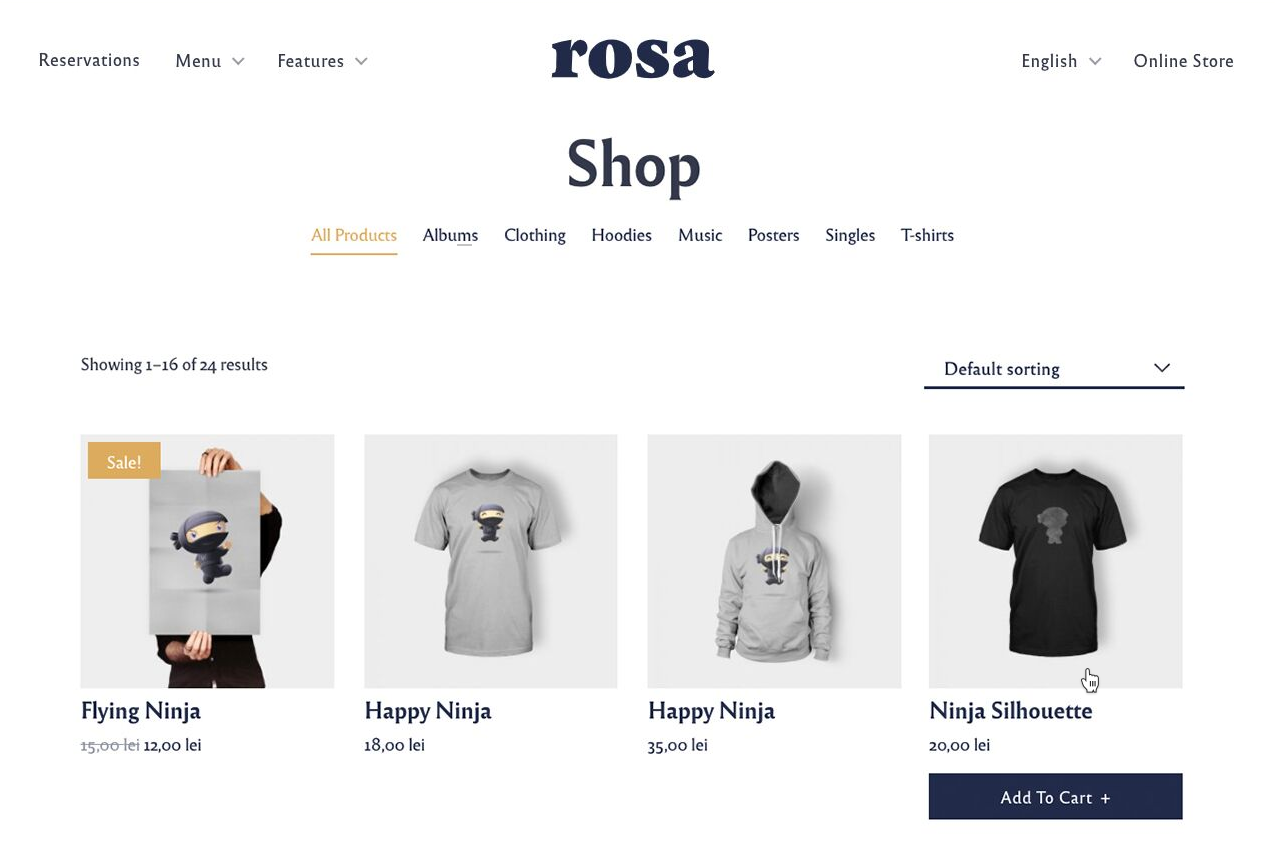 With this tool available, Andra managed to create an online shop in a matter of minutes. And she did a great job with it. Here's what one of her Instagram fans messaged her shortly after launching the website:
I have rarely seen such an awesome and professional website for a small handmade shop. I got the invoice via email, and the whole purchasing process was smooth. I can't want to receive the candles and get some more. Good luck in everything you do.
A Chef puts his culinary skills to work in private cooking sessions
Bogdan is genuinely passionate about cooking for people. He's also the one who makes food for our lunches, and just hearing him talk about his cooking process makes us drool.
Being tired of working in various restaurants where he felt his skills are not valued enough, he started working independently by offering lunch packages to businesses alongside private chef cooking sessions in his backyard.
Soon enough, people started to reach out in search of his services. The increase in demand made him think about creating a place to tell his story and present his services in a visually pleasing way.
Rosa 2 seemed the obvious choice and a great fit for his needs. Although he doesn't use all the bells and whistles the theme has to offer, he made the best of the Media Card's new features.
In case you didn't know, Media Card is one of the many editor blocks available in Rosa. Here's how the process of creating his home page went:
On top of this, by using the features from the Style Manager, our intuitive colors and fonts customization system, he managed to adapt the website's color tones to match his brand identity.
To get a better sense of what Style Manager is all about, check out the video below.
As you can see, the pre-defined palettes spare you from making design mistakes (by choosing the wrong color or font combination) and from paying top bucks on website development work usually needed to make all those changes.
Of course, you can also create color and font palettes that match your brand, applying them instantly across all website areas.
Thanks to this tool, you'll see the same color tones everywhere on Bogdan's site, colors that make you think of a calm summer afternoon surrounded by friends and great food. Yum! 
Two sisters carefully handcraft functional and decorative ceramic objects
Our mission is to support people who want to make an impact in their communities, so it's always great to see our products used by creatives who put their minds together to create products people love.
That's the case with DE CERAMICĂ—a ceramics studio run by two sisters, Mădălina and Crenguța. They slip-cast small series of objects and handbuild unique pieces from sketch to the final product, all while using molds and materials made in-house.
With Rosa 2, they managed to create a digital corner where they showcase unique projects they've worked on, sell their ceramic products, and market their pottery workshops.
Here's a page where they present their special ceramics collections:
On this page, the gals cleverly arranged the Hero of the Galaxy block that comes with Rosa 2 in a 3×3 column to showcase the collections they've worked on. Each block has a button that gets people to a dedicated page that hosts details related to that collection alongside a list of products readily available for purchase.
This shows that with just a little bit of imagination and a theme that is 100% developed on Gutenberg blocks, you can build a website that stands out and create the missing pieces that fit your needs with just a few clicks.
---
Of course, these are a few examples, but they are not isolated. If you want to explore more, you can check out the showcase area.
The flexibility of our premium WordPress theme offers plenty of room to push the boundaries and shape a digital experience that people love. In the end, everyone wants a site that looks great and is, at the same time, aligned with a particular set of goals, no matter how big or small.
It's up to your imagination to twist and turn Rosa 2 to match your needs and create a site that brings real added value and does not sink in the digital ocean. Ready to take the leap?
Does Rosa 2 sound interesting?
Take a look and discover all the features packed into this versatile WordPress theme 👇
View Rosa 2