How we did in the first six months of 2016
---
You need more details, I know. Well, we were, and still are, just fine: we do what we love, from where we like to, we are free from most of the struggles of daily life and we are a source of envy for many around us. We are thankful for all that we are and what we've accomplished so far.
But we are not complacent. Far from it. We know there is always room for improvement, both inner looking (just have a sincere, alone, look in the mirror), but also outward looking. We, as a team, can best control the latter. How one can contribute best to the team and how the team can make a dent in society. The last months have helped put this into perspective.
We choose to do the hard and uncomfortable things when things are going alright.
There is a shallow border between doing just fine, almost on autopilot, and seeing things crashing around you for no apparent reason. It's one of the sneaky side-effects of complacency. But we are not like that. We choose to do the hard, uncomfortable things when things are going alright. This gives us the needed relaxation to think in the right terms.
---
Overview
'The FACTS!' I keep hearing from around back. Ok, ok, it's about time to get right to the nitty gritty. (you can check the previous facts first and second transparency reports, so you can get a better sense of where we're coming from).
1 new member joined the team: Oana, Digital Strategist & Storyteller 👏
1 member left the team: Serban, Thanks for everything!
1 new premium theme: Gema
1 theme redesign: Pile
1 free plugin: Fonto
our new Showcase website
Revenue
While we've seen an increase in revenue of 22% compared to the previous semester, we've failed to grow the impact of our own shop and WordPress.com. Much of the revenue comes from Envato, while WP.com decreased in revenue. We hope the recent release of Gema will put things on an upward trend, again.
The overall increase is not due to new themes releases (as was mostly the case in the past), but more of a result of a combined effort to streamline things and to put our backs into it. The redesign of Pile (almost a new theme, code-wise) is still too recent to have much of an effect. We shall wait and see if this is a route worth pursuing in the future.
—$57,933 monthly average (+22.4% — up from $47,321)
— 6,861 sales (+20% — up from 5,682)
— $51 average theme revenue (+1.9% — up from $50)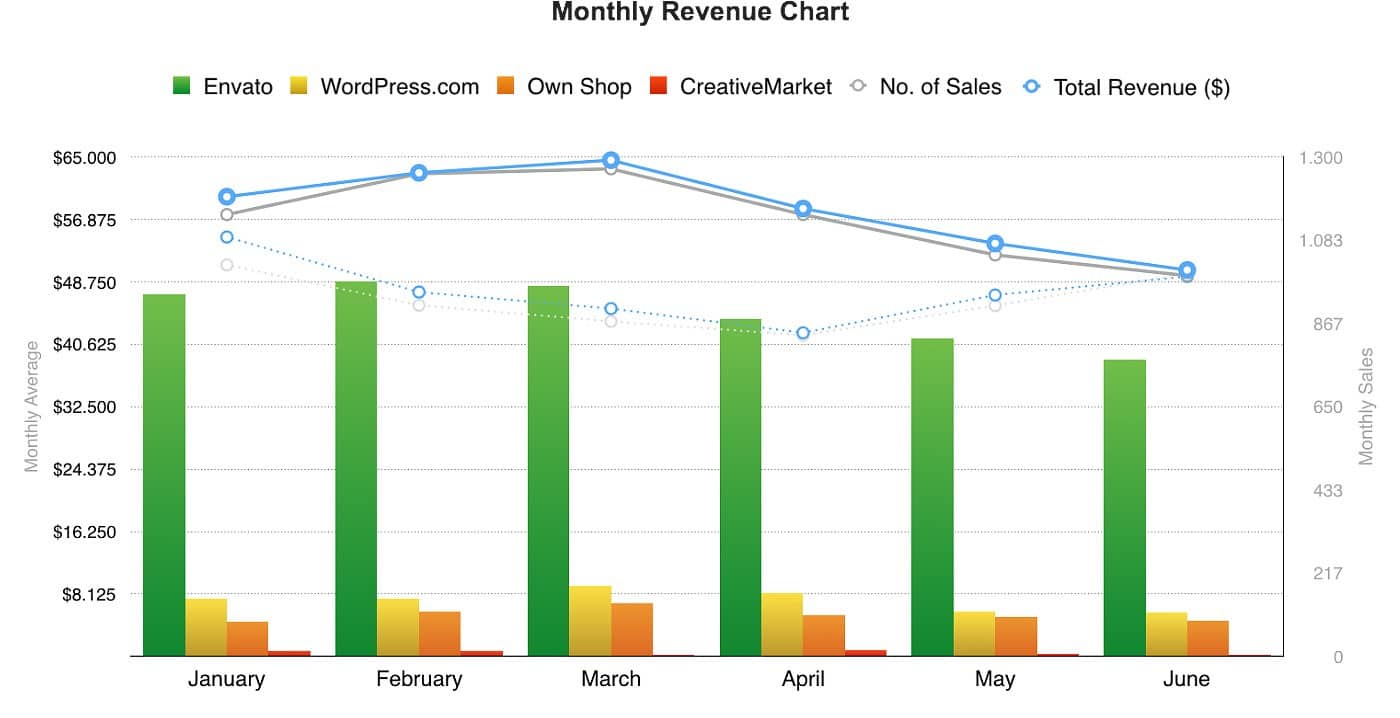 ---
Expenses
In line with our desire to fairly distribute revenues among the teammates, the average monthly expenses hovered around $33,750 (+3.5% — up from $32,607). These include:
— 68% salaries
—16.5% maintenance (rent, accounting fees, supplies, gardening, etc.)
— 15.5% occasional expenses (like hardware, office improvements, marketing)
Something new we haven't paid (literally) much attention previously, and consequently didn't significantly impact our expenses, are our marketing efforts. These have taken off under the watchful eye of Oana. It's still too early to draw some conclusions (as it is often the case with marketing), but we are optimistic about it. Do not think Google Adsense.
One of the wisest expenses we've ever made.
One more important expense that we've made (and hope to continue doing it) is our full team attendance at WordCamp Europe 2016 in Vienna. It was one of the wisest expenses we've ever made. We spent $6,000 for travel and accommodation and $1,100 for the 11 tickets (we've bought five micro-sponsor tickets — just to give back to the community). While it adds up to a hefty amount, we've gained much more and we encourage everyone to consider it for WCEU 2017 in Paris.
---
A better online presence
Oana, our very own marketing-wielding, community-building, communication-bashing, copywriting hero (yes, she likes to keep her wardrobe full of hats), was a wonderful, and quite surprising, addition to our team. She has promised a coherent marketing strategy, but has delivered so much more.
She brought action and clarity to our way of communicating with our customers, raised the expectations and forced us to write more (right here), and opened up new channels for us to better engage with out customers.
On top of this, if that wasn't enough, she infused us with an additional dose of much needed 'can do' attitude. We thank her for that!
Not every best-selling theme is a success
Usually, you can measure a theme's success by its revenue. But we think that is not the most relevant thing you should care about. It's far more realistic to think in terms of how rewarding is a product overall.
We did some research and besides the sales and pricing, we took into consideration the maintenance factor, which includes the number of support tickets and issues solved on a predefined timeframe.
We've discovered that even if some of our themes are selling really well, the effort put into them makes them less profitable than the simpler ones with much lower requirements in terms of assistance and bug fixing.

Considering that the themes sold through our shop are sold at a higher rate, they are much more profitable than the ones from TF, even if their sales are lower.
In terms of keeping things simple, the same principle applies to our most profitable theme from TF, Rosa — a pretty straightforward restaurant theme, without any 3rd party integrations.
The thing with maintaining a best-selling, but unprofitable, theme is that it consumes you all the time, and you will not have the opportunity to create anything new, that might give you more satisfaction.
That's something to think about.
---
To a brighter future
I am sure, if you have made it thus far, you've been wondering for the past few minutes, what was with all that poetry about inner search, complacency, and uncomfortable things. Allow me to try and find the gist of it 🙂
Some time ago, a need/idea for a proper branding process surfaced amongst ourselves — one that would bring visual coherence, a more consistent experience for our customers and a better delivery of our values. Sounds awesome, right? It turns out this was kind of a Pandora's box that brought into light far more fundamental shortcomings of ours as a team and as a company.
The more we talked to specialists, the more we had to dig deeper. It seemed that everyone was set on making things hard for us, mostly the co-founders as it seems it's one of our duties ( who would have thought). But we've persevered and kept trying to answer whatever question came our way, while making sure we add some of our own.
We are now at the point where we've understood that we need to go back to the fundamentals of why and how we do what we do. Starting with a (written) business strategy, with a coherent set of values, a better understanding of our internal dynamic, all the way to that initial goal of having a branding manual.
We are excited (and somewhat scared) for the road ahead, but I am convinced we will emerge stronger and better equipped to deliver an even better experience for our customers and for ourselves.
---
That is all for this third transparency report. Don't hesitate to reach out to us if you need to tell how great, stupid or crazy we are. We can take it.