Today we introduce you to Duze Podroze (Great Travels) — a travel blog made with Felt, our magazine WordPress theme, designed to serve people who constantly write on their websites.
While we love surprises in terms of how people from our community are exploring the products, we must admit that there's a special joy in seeing that they are using them to cover some needs we've been considering right from the start.
Aleksandra is the owner of the website and the only one in charge of keeping it alive and kicking. She was born in Kazakstan, moved to Poland, and now lives in Scotland, so there's no wonder why traveling stays at the core of her lifestyle. However, she did not embrace it eagerly but learned how to shape these experiences to fit their needs and desires.
Aleksandra leaped and leveraged her game by doing more than just writing stories about the places she's been visiting. She put together an eBook, runs a Facebook group where she provides real value, and she's also in charge of an online store.
All these activities made consistently brought her results, great partnership, and, maybe, the most crucial perk — the freedom to manage her digital presence on her terms.
Read our conversation to e-meet her and discover a story full of authentic and brave insights. Enjoy it!
---

What's your story, Aleksandra? What should we know about you?

Hiya! I'm a travel blogger from Poland, had travelled the world for two years until settling down in Scottish countryside. When I was about 20 I asked myself "what do I actually like doing most?" and the answer was: writing and taking photos. 
Blogging was a pretty obvious choice there, so I've set up Duże Podróże, which roughly translates as "Great Travels." It makes more sense in Polish! I've been blogging ever since!

Where does this intense passion for traveling comes from?

I was born in Kazakstan, then moved to Poland but visited my family in Kazakstan since I was little. So I've actually done a lot of travelling then – every summer my Mom and I would travel to see my grandparents, and you should know that it was a week-long train ride, one way! 
I loved the train ride and seeing my family, but didn't enjoy any other trips my Mom took me to (like hiking the Polish mountains or visiting Polish cities. It was all boring for me then).
But when I was 18 I went camping with my then-boyfriend and we met a couple of guys hitchhiking their way all through Europe. I was like "this is super exciting! I want that!"A month later I hitchhiked from Poland to Turkey and that's when I got really passionate about travelling.

Which was the first destination?

The ones mentioned above! The country that kickstarted my blog though was Portugal where my husband and I decided to live for 5 months. While being there I became very regular with writing, gained some following and became sort of an expert on Portugal. So yeah, great times!

What do you take from the places your visit?

Doesn't everyone just love travelling?
It just gives you a special kind of freedom, and after you've traveled for a while you're very much hooked on that feeling. That's all there is for me, really!
Right now I'm more in a space of contributing something good to the world and living a more mindful life. I do have a schedule but treat it like a map, not a prison (if that makes sense?).

What motivated you to write a book?

Oh, I loved writing that book though it was probably the biggest challenge of my life so far. I wrote about guesthouses in Poland but not as a guide but a story: of the house, of the people who live there, and of the surroundings. This involved interviewing lots and lots of people, and many months of travel + writing work. 
My main driver behind that was just… inspiration, I guess? The guesthouses were amazing. It would be a shame not to write about them! And my ebook was actually about sharing what I know with readers so they can ease their way into traveling and be more confident abroad. This is what my whole blog is about, really.

Do you have any content calendar that you follow?

Yeah, I should probably do that again. I had those for a long while, but after years of discipline, and years of chasing "my numbers" I dropped it all for more than a year.
I mean, don't get me wrong as content creation and strategy is great, but it's also important to leave time for reflection and looking at where you're going – and why. There's a bunch of travel blogs right now, competition is high, especially for those precious numbers. 
I'm more chill about social media and just want to create an authentic space for sharing, and conversations.
But right now, I'm more in the space of contributing something useful to the world and living a more mindful life. So right now, I do have a schedule but treat it like a map, not a prison (if that makes sense?)

What's your best article so far?

I've had a couple of articles that were Google-popular or social media-popular (like the guide to Porto, probably the first guide to this city in Polish).
Those had like, loads of information, and throughout the years, I've put up very high-quality and super useful content that people valued.
But the articles that had the most significant engagement and the ones that I liked most were actually written because I was just passionate about the place. I dropped the whole "usefulness" thing there and went on writing about my authentic emotions about this place like I did in this article on South Tyrol.
I think what has worked for me the most is a mix of educational/useful content, and authentic fun with writing!

How to you connect and engage with your audience?

I actually find it pretty hard to work with social media channels. I know regular posting is super important, and has worked in the past to engage people. But as mentioned earlier, right now I'm more chill about this and just want to create an authentic space for sharing and for conversations.

You have 10 years of blogging. How it feels?

Is it 10 years already? Wow! It feels pretty awesome. I definitely learned a lot of lessons, tried different things and seen what I like – and what I don't. My main takeaway is just owning where I am now. 
---
We live in a world where people get anxieties by just looking at other folks' beautiful pictures taken in all kinds of exotic places around the globe.
However, we rarely ask ourselves what's the cost of doing it. Instead, we prefer to think that they are living a dream life and can afford drinking Mojito on sunny beaches or sleeping in 5* hotels. 
As Aleksandra wisely reveals, there's always a two-streets road in traveling, so you'd better acknowledge that and see if it matches your current needs and moment in life.
You can redefine what travel blogging means or could mean for you and adjust the tempo to your rhythm without feeling the pressure that you, too, need to win the Magellan Award, as Aleksandra did.
No matter which conclusion you will get to, we can gladly help create a website that highlights your particular vision and grabs attention from similar people.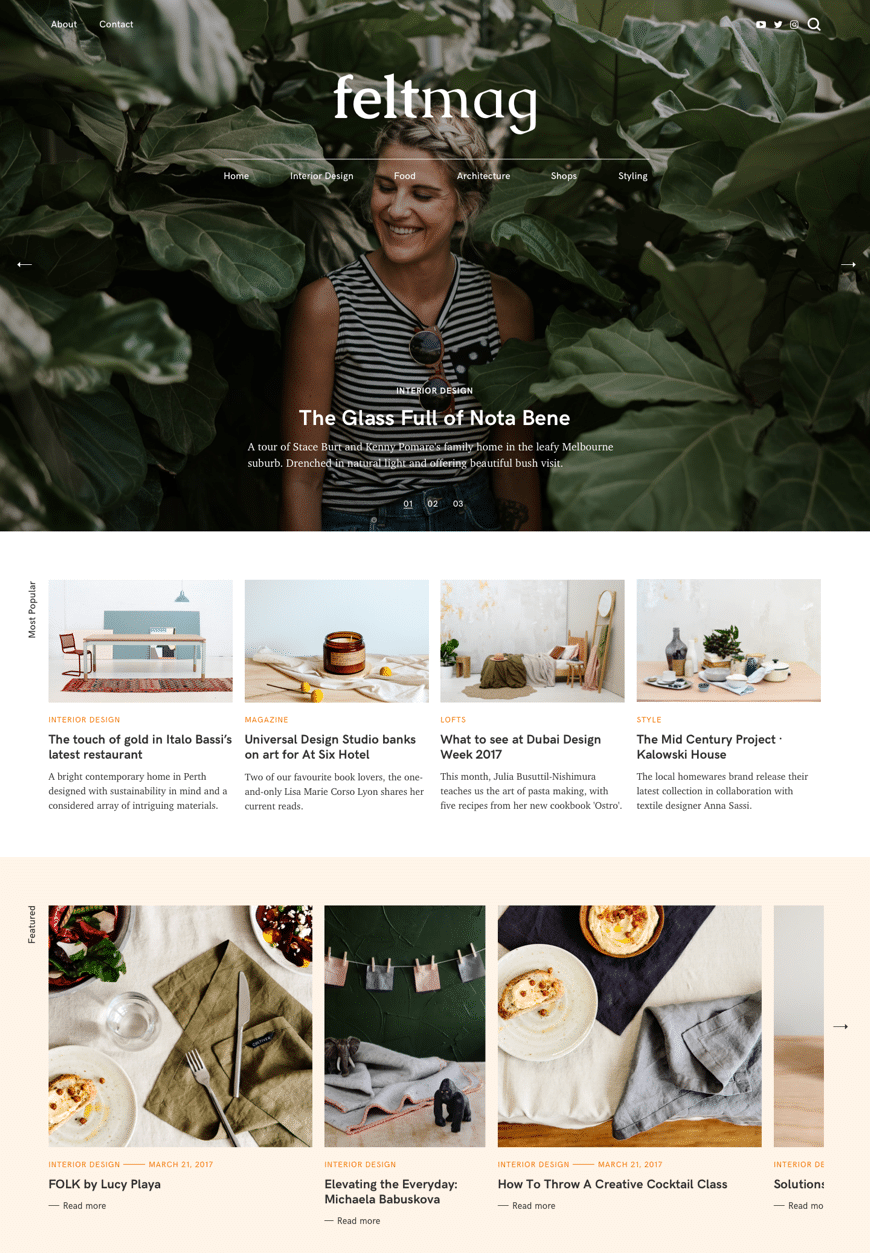 Eager to take Felt for a ride?
You can ask for a refund within 14 days. No questions asked.
Show me more