In 2017, I started to think about putting together an affiliate program at Pixelgrade seriously. I thought it would be a straightforward process of writing down a transparent offer, crystal clear terms and conditions, and a collection of appealing visuals. Instead, it turned into a big learning curve that I did not saw coming.
Who believes and behaves as if the affiliate program is nothing but a quick way of earning some extra cash misses the whole point of such an initiative.
Excellence and care are two of the core values that we rely on in everything we do, so when kicking-off this journey, I knew that I need to let them guide my decisions. 
I started my research in two areas and explored available options for a couple of weeks. On the one hand, I analyzed what other WordPress theme authors were offering. On the other, I took a closer look at people who I knew run efficient affiliate programs and talk openly about them. 
If within the WordPress ecosystem, there seemed to be room for a lot of improvements, when I landed on Paul Jarvis' affiliate program, I felt I entered a different league. To this day, I'm using most of his tips. You'll read more about this further in the article.
For the sake of context, I've been reading Jarvis's articles and have bought his products for quite a few years. I resonate with his philosophy on doing business and building responsible relationships with customers. You will grasp more in the following lines.
At Pixelgrade, we have nothing to hide, so I felt now it's the right moment to reveal the process of creating a program that works and matches our values. 
Why now? Because it passed enough time during which I learned valuable lessons that can make sense for others too. As you might already know, we only write from our hands-on experience.
I will walk you through my journey, and I will let you know what I learned along the way. You can take whatever you need and applies to your universe, or you can simply get a different perspective on the topic.
You can read it entirely, which I highly recommend, or you can jump like a kangaroo to the sections you think will help you the most:
In case you are curious to enter the backstage of our affiliate program, please make yourself comfortable. You have plenty of things to discover.
---
The affiliate program: why we have one, and how is it working?
It was in my second year of making things happen next to my teammates when I decided to create an affiliate program. By that time, I gained a comprehensive idea about how things work with WordPress publishers in terms of media coverage, but I wanted to take the leap and build a friendly and efficient program for both sides. 
I reached dozens of people and had conversations and debates that ranged from super thoughtful to those making my eyes roll. It did not take long to notice that there's a recipe regarding how other WordPress authors were dealing with affiliates. 
Don't get me wrong. Recipes are not bad. If, for example, you have no clue about how to make good pasta, you will most likely check a reliable source, someone like Massimo Bottura, and follow his advice. You increase your changes to enjoy a tasty dinner.
I found that a lot of lazy and unprofessional people who were after quick wins. That kind of attitude is dictating the way affiliate partnerships happen within the WordPress ecosystem. Since people are part of a system, each action influences the rest of the components, and in this case, managed to create unhealthy habits and collaboration "standards" that are hard to reshape.
My drive behind putting together a coherent program was forthright: I was the only marketer in the team at that point and had to cover the entire playground on my own (blog, social media, e-mail marketing, relationship building, internal communication, etc.). I thought that working with affiliates will help me gain some breathing room since their role is to amplify my core work.
We are a small team (never been more than 13 people), and I was searching for witty solutions to push our products further. I was confident in their potential, and I've seen how people have been using them to build websites that made them proud. I just needed a helping hand to reach a wider audience.
An affiliate program seemed to be an opportunity I would gladly try since their potential seemed tempting. 
Read next to discover how we created an affiliate program that's flexible enough to accommodate change, but also rigid when it comes to sticking to the guidelines to achieve outstanding results.
---
Do your homework carefully
I feel it's right for you to know something about me. When I'm in the middle of a process where I don't have too much information or knowledge on a particular topic, I embrace what I think is the most balanced attitude: ask people who know more than I do.
In 2017, I bought the ChimpEssential course from Paul Jarvis because I wanted to manage better the e-mail marketing tool we used. I enrolled, got my value out of the experience, and during this process, found out about his way of working with affiliates (via outsourcing to a professional gal).
He's a one-man-show (no wonder why he wrote a book called Company of One) and wrote an article about the importance of working with people who have specific expertise. I came across Justine Grey, the person who was in charge of his program, and reached her on Twitter and email. I also subscribed to her newsletter full of valuable advice and started to discover what's all the fuss around affiliate programs.
Here are some gold insights she shared with me:
In the early days you need to focus on recruitment – get existing customers to become affiliates and connect with larger sites/business blogs that do software reviews, comparison articles, etc. From there, things will trickle in, and eventually, it will become consistent and substantial.

It takes a lot of time (6 months to a year before it's worth investing half time or full-time resources + a few hours a week to manage/recruit), and there's nothing I've found's ultimately motivating.

Different things work for different affiliates but in my experience it's a) generous commission rate, b) strong communication (answer emails/approve apps daily/send a newsletter monthly, 1:1 emails), c) understanding of the product and how it can help them/their audience.

Justine Grey (affiliate professional and Paul Jarvis' recommendation)
George, our designer and CEO, and I worked hard to adapt everything I've been discovering to our tempo, business context, and goals. It took us several weeks to frame everything into an offer, attractive and in tune with who we are as a brand.
We went the extra mile. Besides creating the fundamentals of any affiliate program (the offer, the terms and conditions, a list of the most common questions, and such), we created resources to help them make the most out of this collaboration. By resources, I mean a concrete list of marketing ideas (how to promote our work), a guide about our tone-of-voice (the dos and the dont's), as well as a media kit with visuals.
I imagined that by providing such know-how, it would make affiliates' lives easier, and will bring clarity on how we were going to join forces.
Within WordPress, most businesses, especially the small ones, don't take time to think about such things. They focus on getting as many people on board and miss asking a crucial question: 
🤔
How can we make sure that these people are not trashing your work by augmenting it without valuable reasons or misguiding their readers?
---
Create a framework and start reaching out
Back then, we had a subscription-based model on pixelgrade.com. We named it "The Pixelgrade Club" and consisted of our entire cluster of blogging themes bundled with powerful hosting.
We attempted to help writers and storytellers of all kinds focus on what they enjoy doing most: expressing their personalities through content.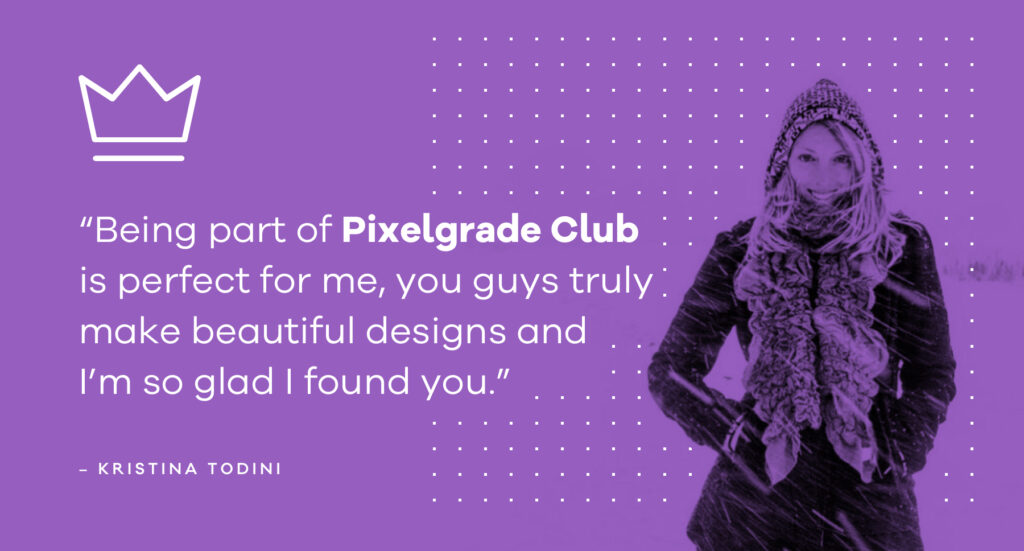 I started reaching out to bloggers who made money out of their websites and had significant communities. I talked with tons of folks with a wide range of interests and passions: from food to fashion, from traveling to lifestyle, from parenting to music and beyond. 
I must confess that a generous chunk of these people was publishing huuuuuuge articles to match Google's algorithm, without providing useful information to the readers.
I read plenty of crappy content that took me hours, and at the end of the lecture, I remained with nothing: empty words, weak ideas, plenty of biases. 
Some were obsessed with investing in sky-jetting their Pinterest audience. From 2K to 200K, almost everyone was just chewing the same content all over again and highly encouraged me to do the same. 😮
And hey, it's not that I landed at the wrong party. Unfortunately, it's the standard among plenty of bloggers out there. They just don't want to stop that loud, crazy music and change the rhythm.
Regardless, I didn't give up and created a landing page to promote our affiliate program. The blueprint was in place, along with a list of ideas on how people can spread the word in alignment with our brand values. A media kit was at their fingertips to get things going, as well as my availability to assist with everything needed.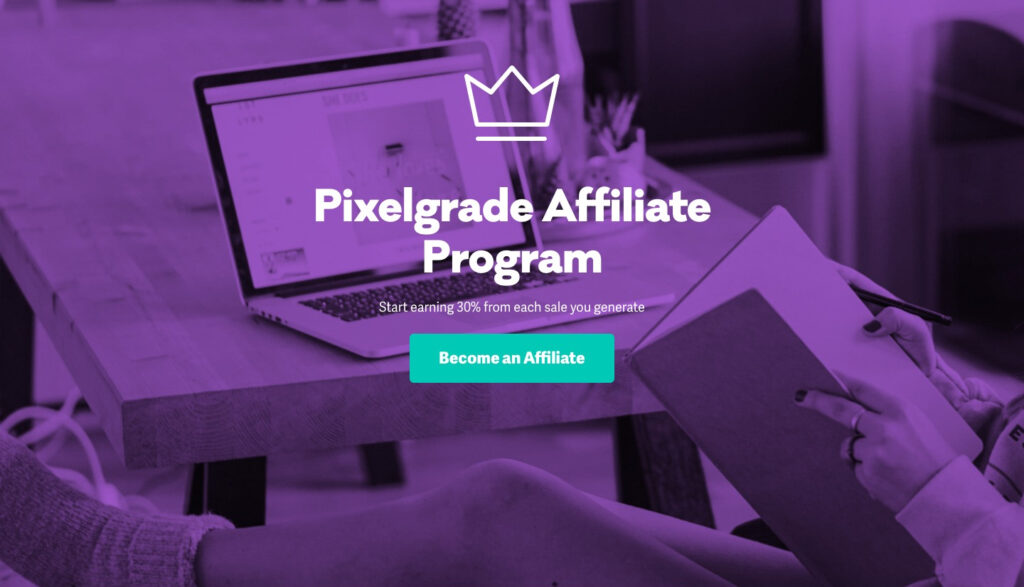 We started with a flat commission of $30 for every sale (bigger than anyone else from the WordPress ecosystem at that time) and moved up to 30%. I will explain a bit later why we changed the rule and how this move makes more sense for affiliates (hint: our average order value is well over $100). 
Some of the first affiliates are with us to this day, but unfortunately, earn peanuts. There are multiple reasons why this happens, but I will narrow them down to three:
They signed up for a lot of affiliate programs, and it is hard to keep up with all the requests. It's like working with too many clients at the same time.
Their audience is not interested in our products. This happens to bloggers, influencers, YouTubers, you name it. For example, if their audience expects makeup tips, be sure that very few are looking to create beauty blogs. Compare that to someone who talks about how to start a blog, how to do it right, what you need, and so on. You can see which is a better fit for our products.
They did not want to do the work. That means testing our products and writing meaningful articles. They preferred to scratch the surface and throw a banner at the end.
Since these baby steps, we made significant changes to our business and product strategy. We reclaimed the entire portfolio of WordPress themes from Envato. We agreed to leave 70% from each sale on the table so we could bring our products under the same roof. That allowed us to build a robust offering and provide a consistent customer experience.
---
Offer a consistent experience
For me, it was crucial to create more than a simplistic deal where affiliates have the freedom to do whatever they want as long as they would bring us referrals. This attitude was and still is far away from who we are at Pixelgrade.
I was looking for a serious commitment. I've been giving my best to make this collaboration feel like a trustworthy partnership. We work together to achieve the best results. In the end, it takes two to tango, right?
I spent a lot of time and energy in assisting each affiliate accordingly. I wrote every single email, I replied even to those who were bad-mannered or superficial. I took a closer look at their website to understand more about how they craft the content. 
I gathered all these insights and created dedicated documents to help them have a deep understanding of how they could promote our premium WordPress themes in a way that's helpful for both of us. 
"You know you have influence when people start noticing your absence more than the presence of others."

Nassim Nicholas Taleb
Moreover, I kept them up to date to maintain their content relevant and avoid misleading readers. For instance, when we launched the second version of Rosa 2, I reached out to everyone who linked to Rosa 1. I let them know that we no longer focus on selling it in our shop, so they might consider testing the new product and writing about it.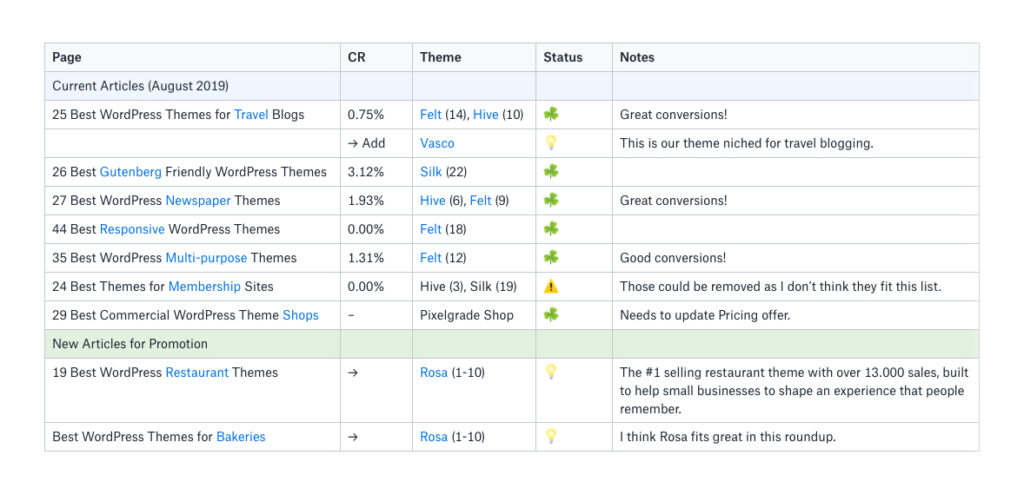 I've also been encouraging our affiliates to test our products and write transparent and authentic reviews. It felt weird every time someone bragged about a theme without firsthand experience. 
Lessons learned while interacting with dozens of affiliates
Two and a half years later, I gathered plenty of lessons from being the gal in charge of our affiliate program. While I am not alone in this endeavor, my teammates (Andrei and Vlad) are helping me quite a lot, in some ways, I still feel like I'm just scratching the surface since every affiliate has its way of making things happen. No wonder why Paul Jarvis chose Justine to run his program. This girl is on top of her game. 
Our attitude towards the program and the people who are a part of it stayed the same. 
Excellence and care will always stay at the core of what we are doing at Pixelgrade.
Next, I'll share a few takeaways I think are valuable if you are designing an affiliate program or think about improving it. I will provide context about each one so you can take whatever fits your style and goals and leave the rest behind.
In case you have further questions or any curiosities about our affiliate program, you can drop me a line at [email protected]. I always reply to e-mails.
---
Big and small players behave differently
Both are valuable, but the experience of working with them cannot be more than different. On the one hand, big players bring traffic and excellent exposure, some of them high conversions, but the collaboration can sometimes be quite annoying. 
Delayed communication, lack of clear next steps or insights, and a lot of internal debates are the norm before you can see anything move forward. Often, your suggestions and ideas are postponed without knowing why. 
On the other hand, small publishers drive less traffic and conversions. But, of course, there are exceptions. We have affiliates who outperform big players with a quarter of their visits. 
One difference is that they need more assistance, and that's good and bad at the same time because 1) you can work closely and make sure the content is calibrated to your tone-of-voice and verbal identity, and 2) this back-and-forth communication, even though it's valuable, requires more time and energy.
As a small team and independent creators ourselves, I must confess I am biased, and I enjoy working closely with small publishers because I have the chance to create stronger bonds. It's also great to feel that we support folks who share the same values as us.
Pixelgrade has been a great affiliate partner. Not only do they have an outstanding product line, but the people behind their company are what make them truly special. The team at Pixelgrade has helped me to grow my business while also helping my audience at the same time. It's a win-win.

Ben Cummings, Pixelgrade affiliate
Of course, there's also a dark side for all fo this. I documented some of our frustrations on this article about media publishers within WordPress. Once you finish reading this article, I encourage you to jump over and dig deeper into some of my discoveries.
I know you're thinking about it, so allow me to share with you why we changed the fee from $30 to 30%. The reason goes hand in hand with our third value at Pixelgrade, gratitude. 
Frequently people buy more products from us in a single purchase, such as the WooCommerce Add-on perfect for those seeking to create an online shop or our Theme Installation service. Our cart's value increased over time, so we wanted to express our gratitude and allow affiliates to earn more.
When you treat your affiliates as partners, such gestures are no-brainers.
---
Support affiliates along the way and learn together
One way of doing that is by analyzing our affiliates' website and creating a table with promotion suggestions that might fit their audience. I also let them know about the missed opportunities they should explore. 
An example of this can be listing the Rosa 2 theme in a round-up with several restaurant WordPress themes, but excluding it from an article about bakeries and coffee shop themes. Since our product can cover both areas in terms of needs, I encourage them to feature it and bring more real value to their readers.

Another form of support is by sharing how we like to make things happen at Pixelgrade. I encourage them to read our transparency reports, test-drive the products so they can share from their direct experience, and be honest when covering our work. 
We don't want cheap promo that confuses people, nor we want to be in bad company. It's not arrogance; it's just our way of protecting our brand and acting in alignment with our values.
Indeed, this personal approach is not sustainable when you work with dozens of affiliates, but guess what? We don't. Even if we have around 150 people registered into the program, only a few are performant and match our values and way of working. We focus on them.
We're not interested in traffic for the sake of numbers, nor are we fishing for the biggest publishers out there. To be honest, the best affiliates are those who reached out to us, not the other way around. They are motivated enough, excited enough, and brave enough to give this partnership the best chances. 
For instance, we have an affiliate who succeeded in driving almost the same amount of sales from one YouTube tutorial than a big publisher who's linking to our products in a bunch of articles.
Why's that? The first one works hard to provide useful information and puts all his effort into creating meaningful content for their audience, while the second one is just stuffing a bunch of similar products in a never-ending list.
It's hard to convince people to click and read thoroughly when your article is cramming too many niches in one (e.g., best WordPress themes for writers, bloggers, and solopreneurs) or your content doesn't deliver real solutions to your audience. You'll often find a list of multipurpose themes that are tailored to small agencies and freelancers but instead get marketed as great for "personal blogs." No wonder many people give up on creating a website mid-way since they find themselves face to face with a complex theme.
---
Let affiliates go if they don't match your values
It was tough for me to accept letting affiliates go after putting so much effort in bringing them on board in the first place.
It felt like I failed. All the communication effort, all the content, all the ideas of how we could pack our work and discover new audiences seemed for nothing. Our results with this program are coming after a continuous effort of a few years, just as Justine made it clear from the early days.
However, I soon understood that it's better to cut it clean and focus on those who aligned with our values and goals. In the long haul, the misfits will only bring us headaches, and we don't need them. 
One recent example is from an affiliate for whom issuing an invoice so we can make the payment was too much trouble. We can't overcome this legal aspect, and that was enough for them to throw away our collaboration. Although we were upset, I believe the outcome was best for all parties involved.
My recommendation is to stop collaborating with affiliates who are oblivious to the idea that they do not do you a favor, they win money by promoting your products. If they think you own them something and you should beg for their media coverage, well, it's clear you need to get out of that unbalanced relationship.
🤓
I manually reach all the affiliates who don't explore our partnership to ask if they still want to continue. I will let you know how things went in a few weeks.
You have no obligations (moral, intellectual, or financial, you name it), so why should you accept behaviors against your values? 
For us, it's crystal clear that we'd rather invest more time, energy, and even money to work with the right kind of folks than go against our beliefs to get famous affiliates on board. Big names don't impress us. Humanity, kindness, and proven skills do.
Communication and transparency should be non-negotiable when working with affiliates (and not only with them, of course). People who are up for easy money and do not care about their content, their readers, their partners, are not for us. 
It's just that simple.
Often, people focus too much on immediate wins, on instant gratification rather than having patience and practice their resilience and long-term thinking.
If you care about your business (people and brand all together), you should know that there's a high cost when you choose your partners poorly. Between trust and money, the first is easier to lose and harder to get, while the second is more a matter of perspective.
In the end, it's up to us to safeguard our brand and make sure we get an accurate representation.
We don't want aggressive promotion full of fake compliments. Big words don't get us excited if they lack meaning. We prefer honest and outspoken articles around our work. Those that offer a fruitful perspective to the readers and help them spend their money on the right product. It doesn't even have to be ours if it does not fit their needs. 
Regardless of what's next in terms of our affiliate program or the way we build digital products at Pixelgrade, one thing is clear and will remain set in stone: we will guide all our decisions, no matter how big or small, by our values.
How about you?