How can we contribute in a time full of uncertainty and anxiety? What's an approach that suits us? How can we make a dent, not in the universe as a whole but the local community?
These were a few dilemmas we had when the pandemic kicked-off in Romania, Europe. Everyone around us seemed to focus their help in the healthcare area, but it did not feel aligned with our skills and knowledge, nor seemed one that would make us push the boundaries.
After a few weeks, we finally found an answer in line with who we are at Pixelgrade.
Our hypothesis was straightforward: this crisis profoundly affected small businesses, and they need to reinvent themselves to survive. Therefore, we can lend a hand by helping local businesses create a site that makes them proud and generates revenue in the long haul.
Since our mission is to help people impact the community they are part of, we found this the right challenge to pursue.
I started this endeavor by publishing a message on my Facebook profile laying out our plan:
We can only help three local businesses. We are a small team, and we need to continue to do business as usual.
We assist people that can see value in Rosa 2, our WordPress theme. We don't do custom development work but will help whenever they get stuck.
We provide a straightforward plan, guidance, and know-how to keep things going and get the sites up and running within two months.
One of the first people who reached out was Carmen from Bistro La Noi, a small venue located in the city center of Iași.
Today, her site made with Rosa 2 is up and running, and I am proud to say that it fits her personality and style like a glove. What follows is an honest interview where she shares her perspective on this experience and everything it implied.
Together with Andrei, my teammate, I will continue to document the process of helping local businesses create sites with our WordPress themes and share the adventure with you.
Meanwhile, get yourself comfortable and discover why people who love what they do and have resilience can create amazing things that make the world a bit better. They're also the kind of folks who never back down from a challenge and don't take no for an answer. I guess this makes them cut out for running a business.
---

What's something on and off the record that we should know?

My name is Carmen Manea, and I co-own a small bistro in Iasi, Romania, the place where I practice my barista skills, among others. I have two dogs, which I love, I enjoy traveling (most of my trips have been solo rides) and I am newly engaged (said yes on our last trip to Amsterdam).
I started the bistro-business almost three years ago with zero knowledge and experience in what they call the Horeca industry, so everything (I think) I know now, I learned in these past three years.
During this time I cooked, baked, made coffee, tea, waited tables, painted walls, assembled pieces of furniture, hosted parties, cleaned the toilets, held job interviews, written text for social media posts, worked 16-hour shift many days in a row, been the supply-person from day one, and negotiated contracts. 
And, the most important of all, for which I am truly grateful, I've discovered a lot about myself.

What are the things that shaped who you are today?

A couple of failures and some amazing "AHA!" moments, both personal and professional. A major episode in my life has been my mother leaving abroad for work. It was the moment when I actually understood that I am responsible for myself.
Being kicked out of the exam room by one of my professors, back in the first year of my master's degree, was one of the best things that have happened to me. It made me take the big decision to quit and start fresh all over again. When I look back at this specific event, I am really proud that I dared to go against the flow and quit.
Fast forward a few years, I started my first business, which worked well in its first year, and then collapsed. Why? Because I worked alone and I realized too late that I can't do everything by myself. It was a valuable lesson that still gives me occasional headaches since I enjoy being the lone wolf. 

Why did you embrace the entrepreneurship path?

I think I am a creative person. I've always loved doing stuff using my hands. After creating furniture for my last rented house terrace, I realized that this is something that makes me happy: creating things that make other people happy. This can be either a piece of furniture, a piece of pie, or a good cup of coffee.
Thinking about it now, I believe I helped understand what it takes to create a safe and hip environment for people, where they can get together and cultivate their creativity.

What motivated you to open a bistro in Iași?

This was my life partner's idea, to take over a pub that wasn't working and turn it into a small bistro. I had zero experience at the time, and because I had no idea what I was getting myself into, it was easy to say yes. There wasn't much of a plan; it was something that we decided to do overnight. 
It all started to feel real when we knew we had to change the interior. That was the moment when I began to create a plan in my head. I knew was that I want to create something different: a slow-paced spot, a Romanian gastro-bar among all the pizza places around us.


I still remember the first day. I know I didn't get any sleep the night before; I was so nervous and excited. The bistro's first day went better than expected.
We opened early in the morning, at 7:30 am. I can't remember how long it took for the first client to come in, but I still remember the feeling after cashing in our first order. At the end of the day, when we realized that people did come in and we managed to sell something, it started to feel real.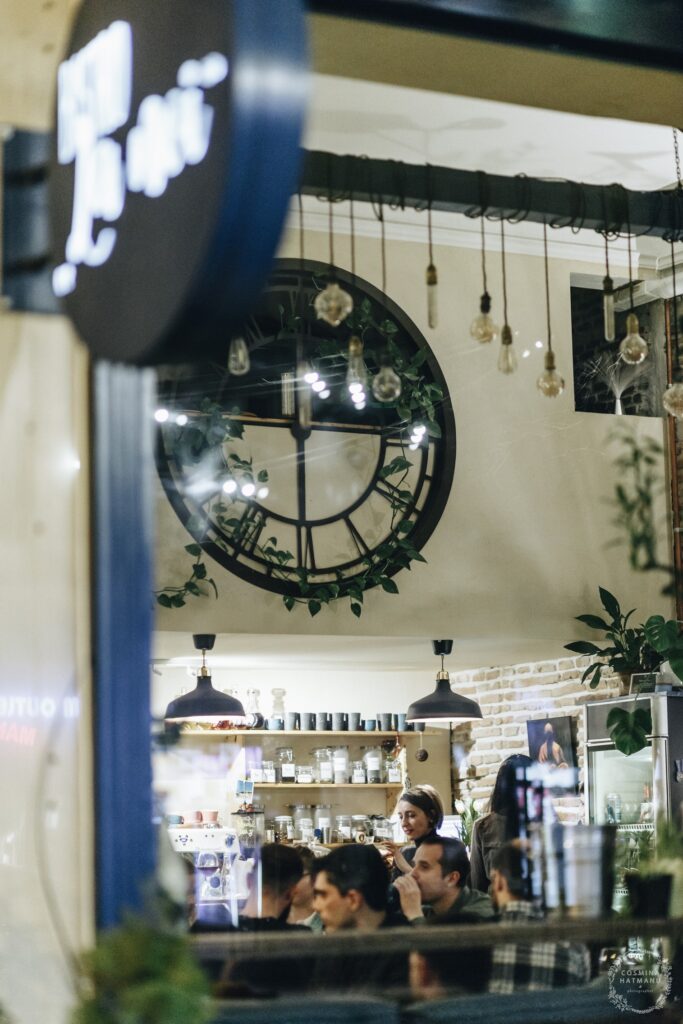 The place didn't have any personality yet, no story, no glue between the employees, the whole atmosphere was a bit strange, but somehow, clients found their way into the bistro, and something made them come back the following days. 
At that time, I was very concentrated on the Facebook mirage, that our very own website just wasn't a priority, although I was thinking about it.

You are the Jake of all trades, but which hat fits you best?

This is something that I'm still trying to figure out. I will always be the owner, but I'm an active person, so I get involved in whatever is going on. People often see me as the host because I'm the one that talks to clients in most days, letting them know what's happening in the bistro's life. Of course, that frequently changes, in other days I might find me behind the counter making coffee.
Anyhow, I'm most of the time there, doing something, working at the bar, or maybe putting a plan together for an event. So, I will call myself an entrepreneur and a host, because of how the bistro turned out and how I manage to organize its activity and trajectory.

How did you grab people's attention in such a crowded area?

It's a combination of good people, good service, and good products, in a good place. I've learned that you can not have one without the others. In the almost three years since we opened, our best moments have been when we've managed to master all.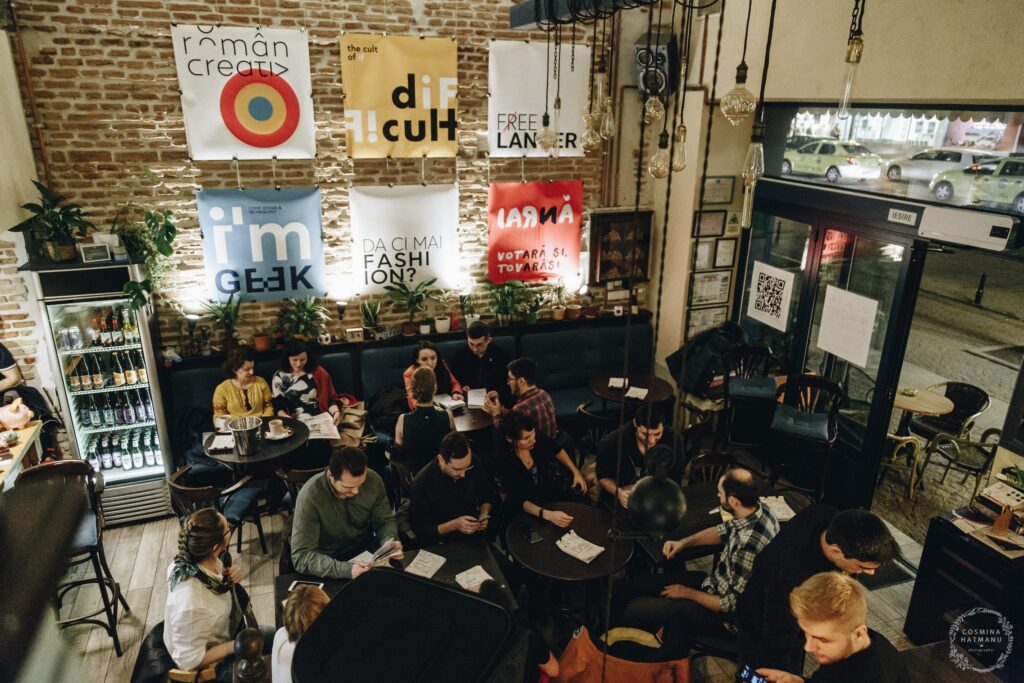 The key to getting people to visit us and return is having good employees, people that work for the good of everybody, an excellent service, and top of the line products, everything put together in a chic, clean and neat bistro, a place filled with beautiful energy. 

What makes Bistro La Noi a special place?

I think that the bistro's energy attracts people. It's small, we serve food and coffee, like many other places around us, but we have this vibe that clients describe as being Mediterranean, or french, like somewhere in Paris, even german, hip in uptown Berlin, or sometimes Jewish. 
The place looks nice, we serve high-quality products, and love treating people well, so I guess all of these combined with our location in the city center make our bistro a little special place.

Why did you postpone the creation of a website?

I was very concentrated on the Facebook mirage, that our very own website just wasn't a priority, although I was thinking about it. It quickly changed when I realized that other platforms, Instagram included, do not offer any consistency, and above all, the possibility to sell something, if needed. 
Well, Facebook says it can help you with this, but it actually doesn't. The pandemic crisis made me understand that we need to step up our game and create a stable online presence since offline is no longer an option.

What do you think are the main benefits of having a website?

First of all, it's yours. In case other online platforms disappear for whatever reason, you're still there, you don't just go away with them. Also, you get to create your own story, that can have a flow, a rhythm, colors, and everything that represents you. It is a crib, an online house for whatever it is that you have going on offline.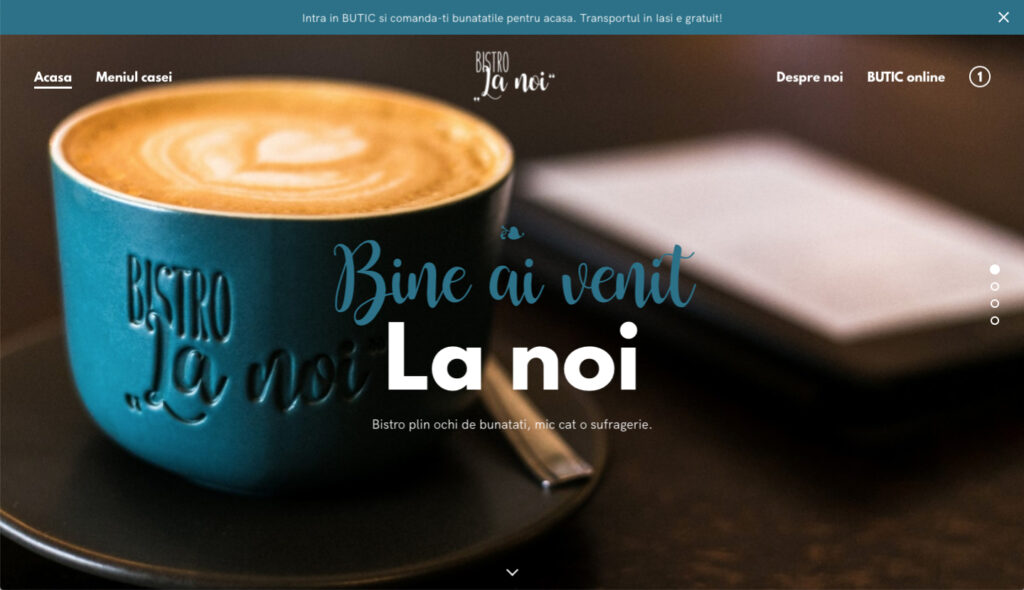 How do you think the new website fits your personality?

This new website of ours fits us very well, just like a glove. It looks friendly, stylish, playful, and it reflects the reality of who we are.
I do believe that our website will help us grow, and more people will get to know us. Also, we have our very own online boutique, which means that more people will have a taste of what the bistro is all about. It will help us communicate more and better with people.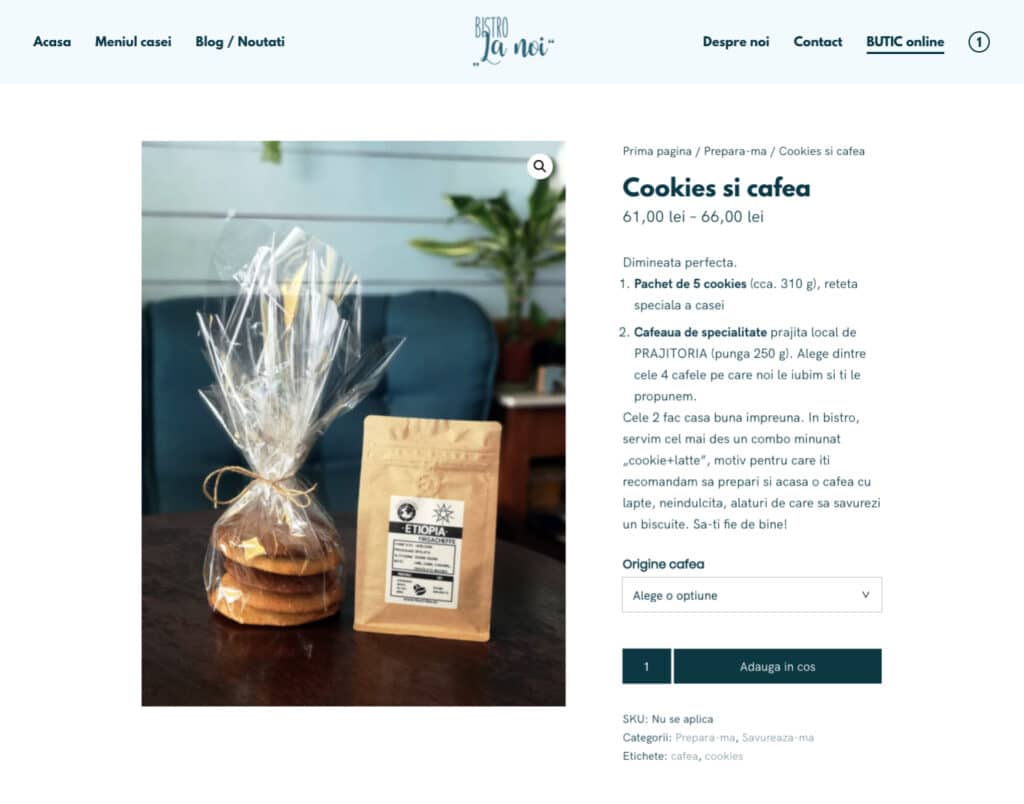 How was the experience of working with us?

It was really comfortable. You guys know what you're doing. The plan that you've put together, with realistic deadlines and helpful notes, gave a good flow to the entire process. When we started, I didn't know what I was going to write; there was no plan from my side, just ideas that were not connected.
This whole package is immensely valuable. We've put together a website that will be online for what I hope to be, a very long time. Also, in these past few weeks, the entire team has been here, for whatever issues arose. So, I guess your call on Facebook was essential because that started all. Thank you!
Also, the plan that you've put together helped a (huge) lot, because I could easily decide where to start. It's incredible and satisfying to work with people that communicate well and have solutions. Loved it!

What gave you fuel, and what annoyed you?

I liked the fact that your product, Rosa 2, is very easy to understand and customize. The words that best describe it would be user friendly. You can let it lead your throughs during the entire process.
While playing with it, I visited other websites that use the same WordPress theme, and it's amazing how different one is from another. 
The way this WordPress theme was created truly helped me put the bistro's story in the spotlight. A simple thing like uploading the perfect picture on the home page inspired me to write a compelling story.
The single thing a bit annoying was the fact that it seemed hard to make the right choices from all the resources I gathered along the way: what to keep and what to let go?

How did it felt managing Rosa 2 for your website?

It's attractive. The design pleases the eye. The first time I saw it, I thought to myself that it looks great, and it would be perfect for a foodie business, just like ours, because of the prominent display of photos. I also loved the fact that it's effortless to customize with the help of the cool blocks that you can use to build 100% personalized pages. While playing with it, I visited other websites that use the same WordPress theme, and it's amazing how different one is from another.
This product offered everything I wanted. I played around with the original version because I loved it. I appreciated that I can change colors and fonts as I please to make my website unique.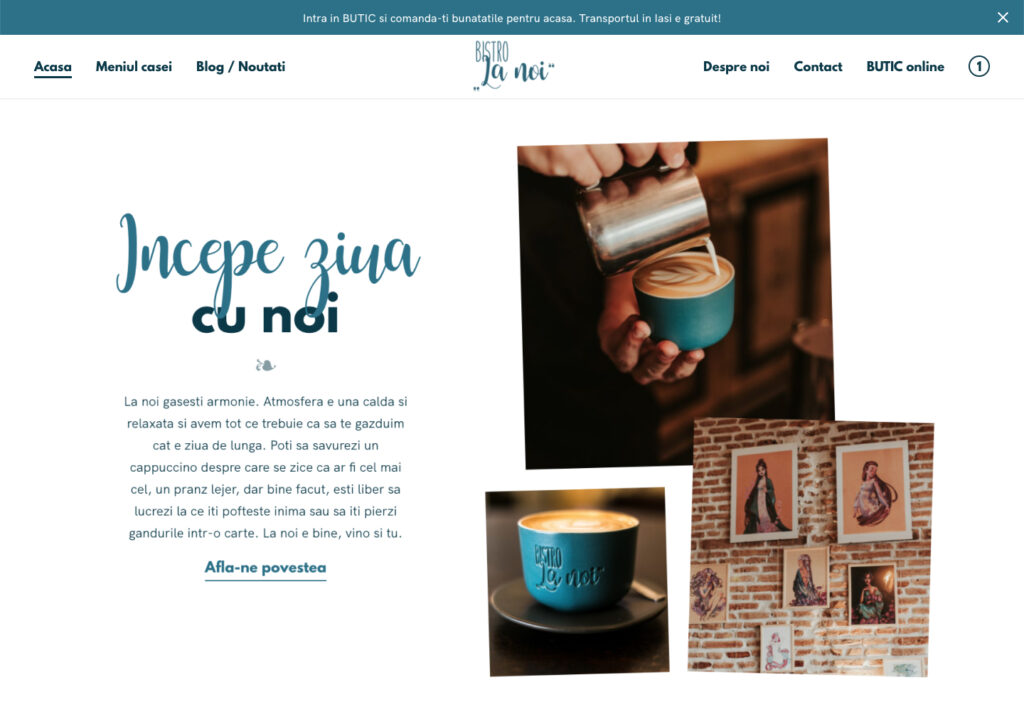 When it comes to what I didn't like, that would be the Google Maps integration. But then again, the Google protocol was a bit too complicated for me (at that time), so I just decided not to add the interactive map for now. I'll get back to it. Overall, it was a pretty smooth experience with Rosa 2.

How will you keep your digital presence relevant?

We're pretty active of social platforms, talking to people about what we do. However, there is something we plan on doing, that we were talking about for a couple of months now, and that is filming a behind the scenes, what people don't see in our beautiful pictures.
I kept on talking about my beliefs and what I think, but the bistro is alive thanks to a big team of cool people with bold ideas. So, sometimes soon, we'll have a VIDEO tab on the website, as well, where you'll be able to see more of what this place is all about.

Do you have any advice for your fellows?

Looking at my own experience, I would say that a break from my daily routine was exactly what I needed. Being too concentrated on the business, it became challenging to see what it lacked: a voice of its own and a tool to help it stay alive.
People might love this bistro, but in the end, they will forget about it if I don't do something about that.
It took a global pandemic to make me realize I have to change, improve, and be available online. The bistro needed a website.
If I were to give a piece of advice, I'd say ask yourself a simple question: "Is there anything I can improve?" Take a break, have a coffee, and the answer to your question will come. Who knows, maybe you're missing a website, just like I was.
At the end of our conversation, I was keen to know how Carmen would describe us to a close friend. This curiosity usually opens new doors to further explorations. I always discover meaningful insights that expand my perspective on how our customers perceive us.
A team that runs well together. I enjoy working with people with whom I can easily communicate. They are cool, generous, calm, and solution-oriented. I admire that. It was amazing to have a chance to collaborate with Pixelgrade. Thank you for starting this initiative of helping local businesses and for taking my project on board.

Carmen, bistro la noi
I'm proud that we had the chance to reinforce our mission once again and lend a hand to the creative entrepreneurs within the local community. Often, we feel that we can't make an impact on global issues because we are too small or lack resources.
This experience of making room for businesses hit by the pandemic to take a breather showed us the reverse.
🤓
We documented the entire process of working with these local businesses. Please read the story behind the scene and find out what drove us to lend a hand to the community.
Starting small, being persistent, and giving something before we get anything in return can mean a lot to people around us. It's a different level of influence, but still one that's both valuable and fulfilling. In the end, we need to start from somewhere, right?