We took advantage of Jetpack's [recipe] shortcode and created a unique style for your recipe card in order to be easily read and printed by your visitors. Learn more about how to enable Jetpack shortcodes.
The [recipe] shortcode includes the following fields:
Recipe notes: marked with the [recipe-notes] Add your notes here [/recipe-notes]
Recipe ingredients: marked with the [recipe-ingredients] Add your ingredients here [/recipe-ingredients]
Recipe directions: marked with the [recipe-directions] Add the directions here [/recipe-directions]
There is more information that you could add to the recipe. This also helps search engines index your recipe:
Title – the title of your recipe;
Servings – number of servings the recipe makes;
Time – total time the recipe takes;
Difficulty – how hard the recipe is to make;
Image – a URL to an image of the dish;
Description – a short description of your recipe;
This is how a complete recipe will look like after using the available shortcodes: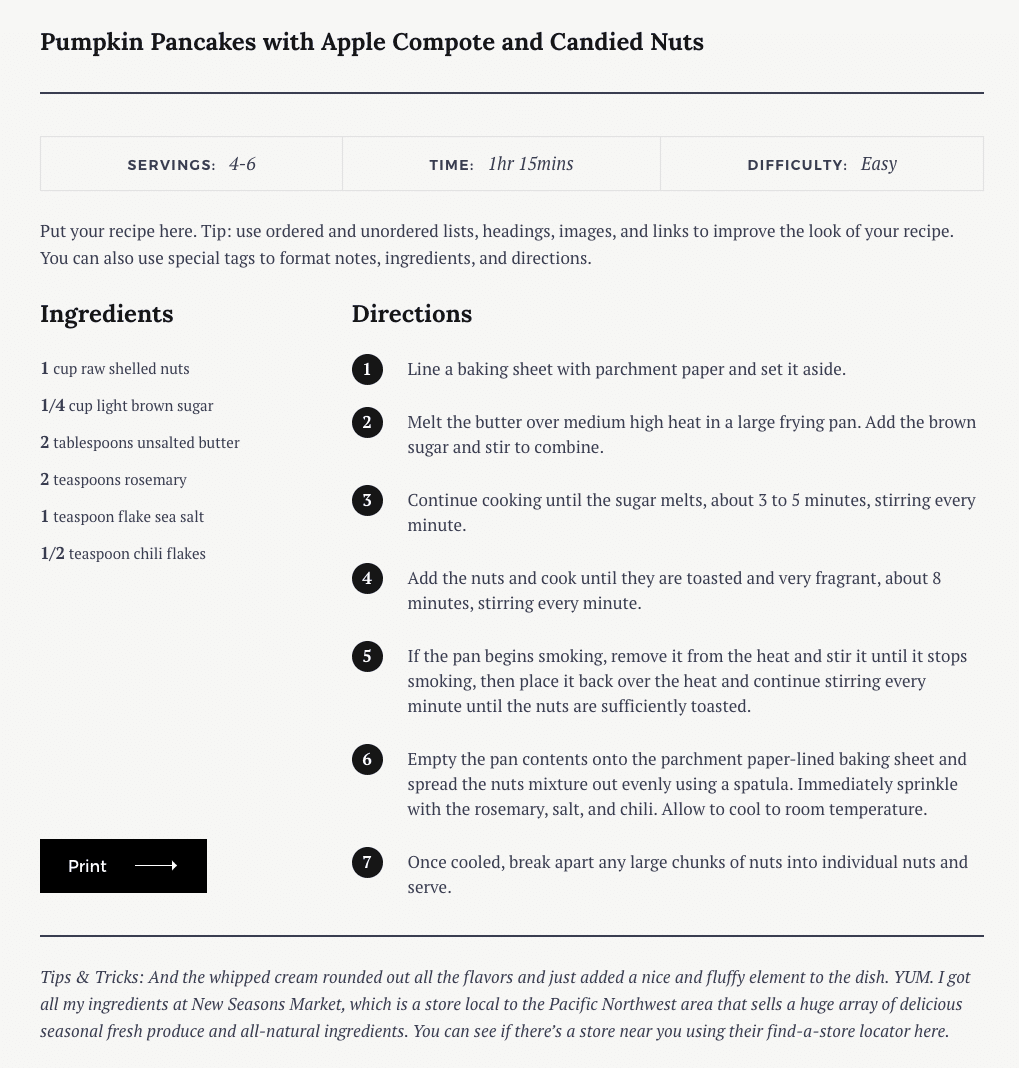 To make things easier, you can use the following recipe example. Copy it and add it in to your post, then edit the content for your first recipe.
[recipe title="Pumpkin Pancakes with Apple Compote and Candied Nuts" servings="4-6" time="1hr 15mins" difficulty="easy"]

Put your recipe here. Tip: use ordered and unordered lists, headings, images, and links to improve the look of your recipe. You can also use special tags to format notes, ingredients, and directions.

[recipe-ingredients]

- 1 cup raw shelled nuts

- 1/4 cup light brown sugar

- 2 tablespoons unsalted butter

- 2 teaspoons rosemary

- 1 teaspoon flake sea salt

- 1/2 teaspoon chili flakes

[/recipe-ingredients]

[recipe-directions]

1. Line a baking sheet with parchment paper and set it aside.

2. Melt the butter over medium-high heat in a large frying pan. Add the brown sugar and stir to combine.

3. Continue cooking until the sugar melts, about 3 to 5 minutes, stirring every minute.

4. Add the nuts and cook until they are toasted and very fragrant, about 8 minutes, stirring every minute.

5. If the pan begins smoking, remove it from the heat and stir it until it stops smoking, then place it back over the heat and continue stirring every minute until the nuts are sufficiently toasted.

6. Empty the pan contents onto the parchment paper-lined baking sheet and spread the nuts mixture out evenly using a spatula. Immediately sprinkle with the rosemary, salt, and chili. Allow cooling to room temperature.

7. Once cooled, break apart any large chunks of nuts into individual nuts and serve.

[/recipe-directions]

[recipe-notes]

Tips & Tricks: And the whipped cream rounded out all the flavors and just added a nice and fluffy element to the dish. YUM. I got all my ingredients at New Seasons Market, which is a store local to the Pacific Northwest area that sells a huge array of delicious seasonal fresh produce and all-natural ingredients. You can see if there's a store near you using their find-a-store locator here. 

[/recipe-notes]

[/recipe]
If you need more details, read this article on how to use the recipe shortcodes.
Can I have another recipe style?
Yes — we've added support for the WP Tasty Recipes plugin so you can showcase your recipes in style.
Updated on April 21, 2022