All these questions are rolling in our heads and stick with us. But we know for sure that each of them worth our attention and effort. Because yes, we care about who is using our WordPress themes, what they manage to create with them and how proud they are of the final results. For us, the impact is crucial and if we could translate it more often into testimonials like Mihály's, we'd be rock stars.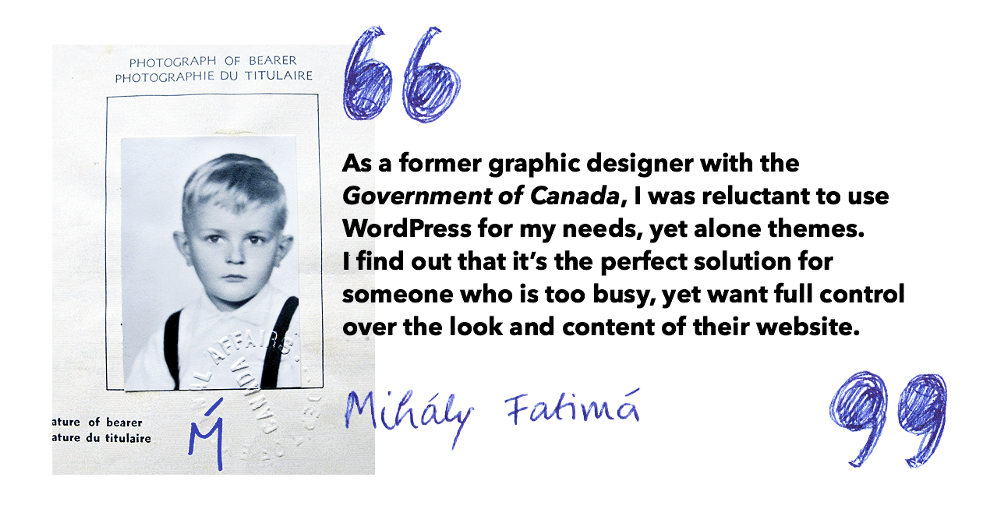 Dear Mihály, the stage is yours:

The latest theme from Pixelgrade is just smashing! Patch is the perfect layout that fits my storytelling, photography, and sustainability resource blog.
As a former graphic designer artist and web designer with the Government of Canada, I was reluctant to use WordPress for my web needs, yet alone themes. Pressed by the time after leaving my job to start up my own adventures, and since I didn't have a clear picture of what's next— I did some research for web-based databases.
WordPress kept popping up — so I tried it.
I was surprisingly impressed with the features, ease of use and the support community feeding it.
My next challenges were to get a common look and feel that has a design edge approach for my photography, artwork, hobbies and a base for my novel. I looked everywhere online for something unique and diverse. Unfortunately, many themes were canned (all the same).
One day I stumbled across a hip little theme called BORDER by Pixelgrade. The price was good, so why not — I bought the theme. From the world of program design and development, I can appreciate the time, energy and savvy that this team brings to the table — oops!, computer screen. I had a few questions at the beginning but was comforted by their support staff and by their community-based FAQ forum.
It's the perfect solution for someone who is too busy, yet want full control over the look and content of their websites.
As time went on, I was introduced to newer styles like MIES and TIMBER — both offered different perspectives for my growing needs. The themes are easy to work with, and with WordPress in the background, it's the perfect solution for someone who is too busy, yet want full control over the look and content of their websites.
There are drag-and-drop content management systems out there, and I would recommend them to anyone who wants web exposure — but can't find the "on button" on their mouse.
The icing on the cake was Pixelgrade's new PATCH theme, it's exactly what I've been thinking about, and it was introduced to me at the right time.
Keep doing what you're doing guys, it's fantastic.
Knowing that Pixelgrade is a young team of designers with a highly organized tech support system, I'm more than satisfied with their products and when there is a bug, it's dealt in professionally way.
— Mihály Fatimá

Thanks to people like Mihály, who trust and share their support and appreciation for our creative products, we have the guts to continue. It's what keeps our wheels spinning, our minds restless, our curiosity still genuine.
Even though it might sound like a self-promo article, that wasn't our purpose. We just wanted to give us, but not only, a friendly reminder about how important is to have that creative confidence that brothers Kelly from IDEO talk about in the homonymous book (you should read it too).
---
If you like this article, be kind and show some love. Also, you can subscribe to our newsletter using the box down below. No magic tricks, no superpowers to increase sales or boost any kind of digital product. Just trustworthy stories.