Rosa 2 incited plenty of thoughtful debates (some led me to write this article about media coverage in WordPress), both internally and externally, and we are grateful for that.
Being neutral was never an option at Pixelgrade. It isn't one when it comes to the products we've been building in the last eight years, not when it comes to design nor concerning how we're managing our team. 
Neutral equals detached. Neutral involves boring. Neutral does not reinforce progress. Neutral implies a lack of passion.
We are miles away from that.
We like pushing limits, questioning assumptions, being bold and true to ourselves even though sometimes this implies all kinds of costs. It is healthier to pay such bills than being in disagreement with ourselves.
---
In this article, I have the pleasure of walking you through three examples of websites you can build with our WordPress theme by yourself. It's just the beginning of this new yet fascinating world that Rosa 2 opens due to its features, design, functionalities, and everything we thoughtfully included in it.
George, the designer of Rosa 2, covered three categories of websites (online store, personal and events) that you can start building with Rosa 2 onboard right away. You don't need coding skills, technical background, or an agency to get the job done. Thanks to the flexibility of Nova Blocks, our custom Gutenberg blocks plugin, you can now create amazing websites on your own.
Are you ready to let your eyes be amazed by a visual whim provoked by Rosa 2? Join me on this beautiful journey and give your senses a bit of adrenaline. 
---
Website example #1 – Rosa 2 for e-commerce websites where products shine
If you plan to create an e-commerce website to showcase a single or a small number of products, please bear in mind that Rosa 2 can help you achieve that in great style.
We went with the scenario of someone in love with organic products who wants to sell them online and promote a healthy lifestyle.
Among the advantages of using our WordPress theme Rosa 2 to achieve this goal is that it comes natively integrated with WooCommerce, the most popular e-commerce plugin. This means your website will have the same look and feel across the board.
Besides, our theme also comes in your sales goal aid by displaying your items in a visually attractive way. This, combined with the integration above, means your visitors can easily understand the purpose of each product, what they contain in terms of ingredients, how these products improve the lifestyle, or what do current customers say about them.
By putting the accent on the details of your products, you not only offer a comprehensive understanding of your work, but you also create a certain mood around your website.
Look how Rosa 2 can accommodate an online store's needs with ease and plenty of satisfaction both for you and your potential customers.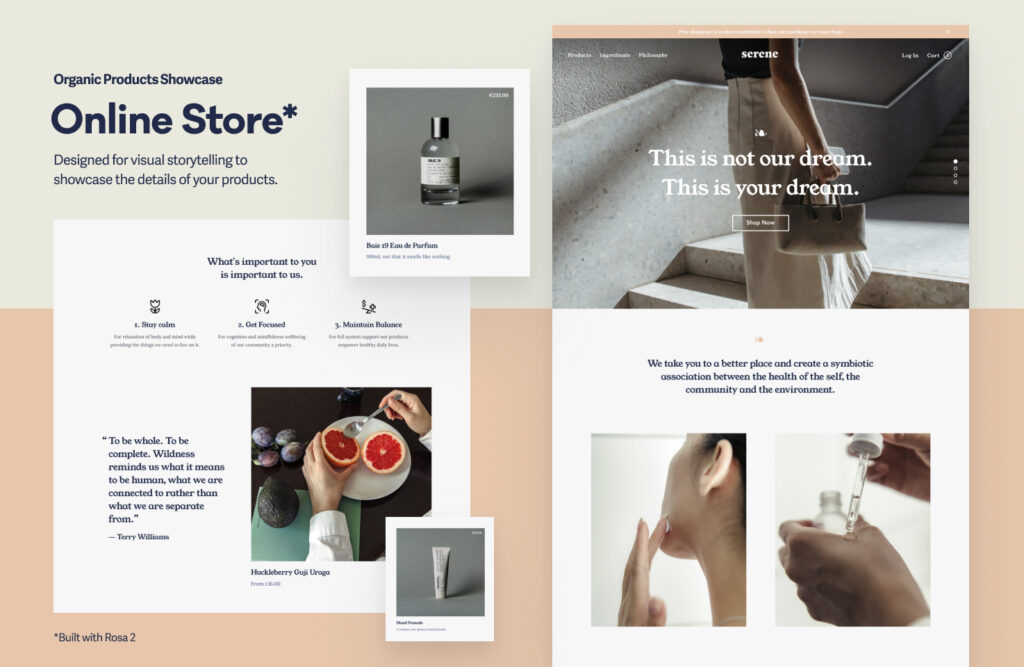 Imagine that you can get the same result if you sell specialty coffee, leather aprons, jewelry of all kinds, lamps or other any other type of products. Rosa 2 will help you put together an ecommerce website where each of these grabs attention from the right people.
---
Website example #2 – Rosa 2 for personal websites that tell an engaging story 
We live in a world where a growing number of people want to make the most out of their creative potential. No matter if they are handymen, fitness trainers, ceramicists, personal chefs, tailors, or city tour guides, more and more individuals want to make a name out of their passion and work.
We took the challenge to see if Rosa 2 can help such people, too, and the answer is definitely positive. In the end, our product is built upon a flexible framework that is suitable for various industries and niches.
With Rosa 2, you can engagingly highlight your story, while also keeping in the spotlight what makes you-you. For a personal website, this is crucial since people tend to choose you because of what you represent in terms of beliefs, experience, and thinking. 
Below is an example of a website made for a ceramist who sells professional services related to his daily activity, but, most important, who has something unique he is eager to share with his audience, no matter how big or small it is at the moment.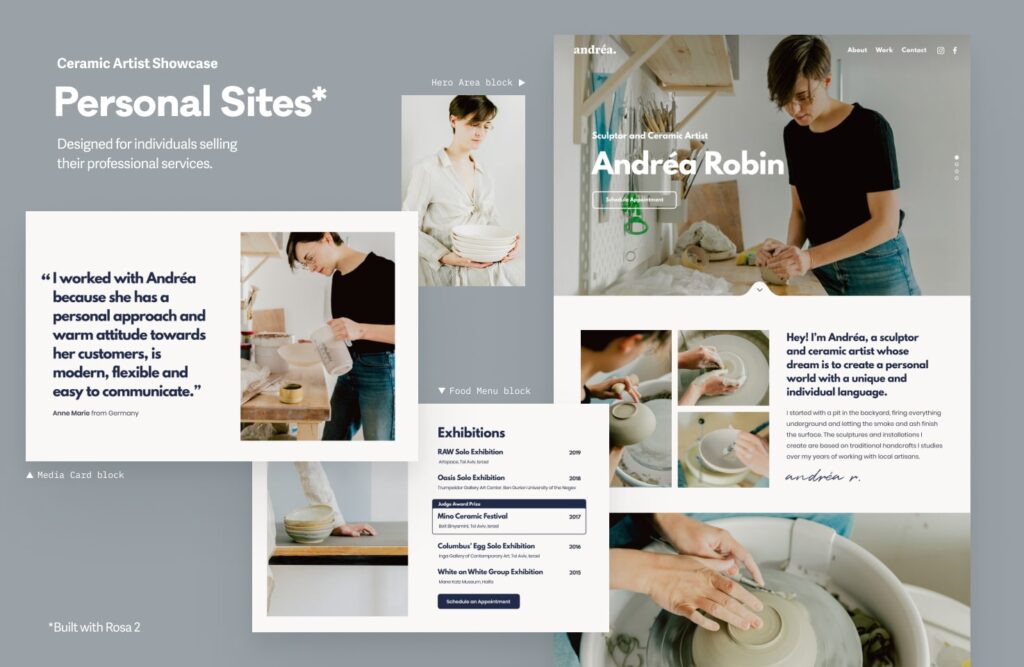 Regardless of the type of creative entrepreneur you are, there is a common ground that brings you on the same table with the rest: sharing your vision of the world by putting your best skills at the core. With Rosa 2, you can achieve this goal in a form that feels authentic and bold at the same time.
---
Website example #3 – Rosa 2 for events websites that want to stand out
Event organizers and community builders can go wild with Rosa 2 and offer a pleasant experience for their guests. Our WordPress theme can easily adjust to your particular needs and requests without taking the focus on what matters most to you: gathering people together and celebrating on a kind and meaningful note.
Cold facts, such as date, time, location, agenda, and other precise details don't need to be packed annoyingly. With Rosa 2, you can fully integrate them into the mojo of your website and still keep what's relevant and upfront for your audience.
It's valid even though you are a concert planner or any big festival organizer where you run multiple events at the same time, and you need to have an overview in the blink of an eye.
We created an example of an event website for the wedding industry to show you how convenient it is to organize such an important day. It can accommodate a small and intimate gathering of just a couple of people (friends and families) or a huge party with several layers of entertainment.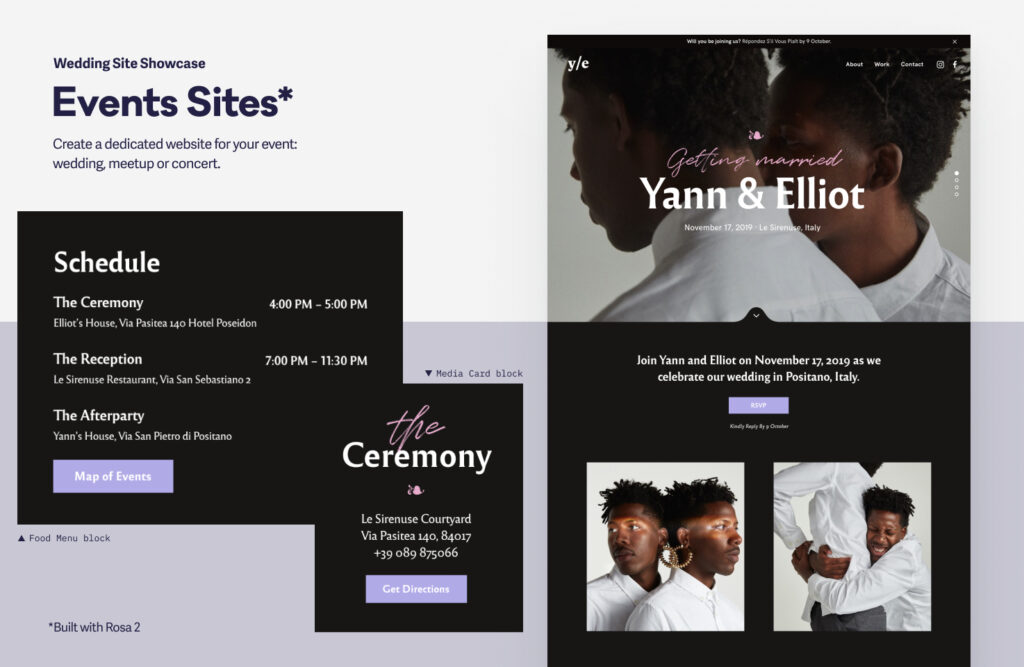 You can apply the same principles and joy of playing when creating a website for a concert, a conference, an event hall, even a private cocktail at the company you are working for. You have all the tools you need to fulfill your creative freedom and get top-notch results.
---
Did you enjoy these website examples made with Rosa 2 and think you want to take the leap and build one? 
Here's the thing: if you resonated with at least a case study presented above, then you no longer have excuses not to use this WordPress theme. It was created with one main goal in our minds: to push the limits of building digital experiences and open doors for all kinds of people to express their personality online.
These are only a few directions to give you a sneak peek and show that Rosa 2 is much more than a theme made for the hospitality industry. Only the stubborn cannot see or accept the massive playground this product offers to its believers.
I am eager to see how you will start exploring our WordPress theme to create websites that make you proud. Ready to join the ride and build your digital legacy?
Does Rosa 2 sound interesting?
Take a look and discover all the features packed into this versatile WordPress theme 👇
View Rosa 2