Did you know the role of marketing designer didn't even exist in our city? Interestingly enough, we didn't find it anywhere, and we viewed its purpose as the missing piece in our puzzle, so we had to implement it and make the most out of it. 
With this in mind, Ilinca, our former marketing designer — now designer at Manifesto in London — left a heartfelt letter for the future person to occupy this spot, to set expectations about this role, and point out how passionate we all are about our work.
And broadly speaking, such a position entails knowing a variety of computer software programs (Figma, Photoshop, etc.), creating visuals for our social media channels, and even actively participating in marketing campaigns — only to name a few.
And then Maria came into play…
Maria was someone familiar to us. Oana, our Chief People Officer, had known her for some years before asking to meet with her for the job interview.
They had known each other for seven years, back when Maria was slowly stepping into the illustration world, beginning to make a name for herself and getting noticed by the community in Iasi. In those days, she had met with Oana, who encouraged her to work in the creative industries and be more proud of her talent.
---
So let's meet Maria, hear her story of the past couple of months she'd spent here, and why she has become a valuable teammate
Maria's professional journey
My name is Maria and I am a marketing designer, and currently, one of the most recent members at Pixelgrade. In terms of my professional background, I've studied graphic design and visual arts at university, spending one semester abroad in the Czech Republic. 
It was my first time ever away from home, and this experience has enriched my way of seeing art and design.
Here is where I was offered with this great opportunity to expand my visual culture and get in touch with various artists, designers, crafters, performers, you name it.
It was my first time ever away from home, and this experience has enriched my way of seeing art and design, but it also pushed me to get out of my comfort zone in order to adapt to a new place, culture and language. 
Plus, I was exposed to all kinds of artistic events that surprised and determined me to enlarge my perspective of the world and how to represent it through art. For instance, I discovered this big building "Armaturka", where students, professors and all kinds of creative people were exhibiting their projects. 
I was driven to expand my international experiences so, I pursued a master's degree in graphic arts, and of course, a year of studying abroad in Spain followed. This time, I wanted to further my knowledge in book illustration and audio-visual animation, two domains that are quite different than what I had studied. 
Regarding audio-visual animation, I learned the history of animation, and basically, how to do stop motion animation. I gained more in-depth skills when I had to collaborate with my classmates on various projects, and it was not at all easy to present my work in two languages. But challenge accepted and completed.
But the most blowing away experience was when I had the chance to participate in a workshop led by the amazing Spanish illustrator Roger Olmos. 
I was able to learn and see how professionals are doing their job: their work process, where they get inspiration from, how they think, with whom they speak, and even how they got their first job. Basically, everything a creative needs to know about this path.
I will never forget this experience because Roger encouraged us to find and pursue our own, unique style of illustrating, regardless of the technique we are using, because it all comes down to being true to yourself.  And his advice helped me mature, gain confidence in my work, and learn how to perfect it in the future. 
So in the later years, back home, I was looking for ways to harmonize and put into practice the wonderful experiences I had abroad with the reality back in Romania. Little did I know how Pixelgrade would fulfill my vision.
---
Getting the green light at Pixelgrade
I've heard of the Pixelgrade crew for quite some time, when Ilinca started her job there. I got the chance to hang out with her, even visit the workplace, and with each interaction, I got more impressed with these guys.
I've known Pixelgrade for a long time and when my friend, Ilinca, started working there, I thought: Wow, how lucky she must be!
Firstly, because of the imaginative and stimulating way of arranging their house, and secondly, for their approach to design and the workplace culture. I couldn't imagine such a modern and open-minded company in Iasi, and yet here it was.
Back then, I was working as a graphic designer for a company in Iasi, where I had the chance to master Photoshop and Illustrator tools, and later on, I worked briefly as a media designer for a Danish agency.
There I felt my creativity was limited solely to the clients' needs, making me feel trapped and unable to speak my mind. These two experiences, as useful as they were, made me unhappy in terms of finding my voice and going after a career that spoke to me and to my desires.
Besides, I am more of an introvert and sometimes, I feel out of place or I find it challenging to clearly express my true intentions. On top of that, I am an artist, a woman and I constantly seek balance between my identity and today's demands.
So with this in mind, I was looking for a different path for my life and I wanted something more rewarding, to work with inspiring people, and luckily, I didn't have to wait long.
I was making plans to move to another country, and all of a sudden, Oana messaged me for an interview at Pixelgrade and that's how I landed my dream job here.
When I was imagining all kinds of plans for my professional journey, I unexpectedly received a message from Oana inviting me over to discuss my future alongside Pixelgrade. So here I was again, in the Pixelgrade house, with a more experienced Oana, that had already been working with the team for several years.
The recruitment process is not a walk in the park because there are a few stages to complete before being accepted on board the team. 
For instance, after the interview with Oana, I met with George, the CEO and designer, and I presented him with my portfolio and offered him details about my background. Later on, he gave me a few assignments, and I will mention the one where I had to make some social media materials, playing with the Pixelgrade brand.
It was a real pleasure to work on them, because I enjoy the brand elements and I could leave my imagination roam freely while I would play with the assigned features. 
After finishing the design tasks, I had to take a psychological test, delivered by their therapist, that would determine my professional, emotional and social skills and how well I would fit in the team. Yes, they have a holistic approach about the new member to join their squad, and I found that to be refreshing and professional.
So, after completing the interviews and tests, I met the whole crew and the rest is history. During my first day, I couldn't believe I'd managed to land my dream job, here, as a marketing designer.
---
Working as a marketing designer at Pixelgrade
From day one, my colleagues were considerate about how I felt, and managed to make my transition smoother. For instance, Oana informed me since the beginning about what to expect here, and offered some details about my new colleagues, all in order to make me feel more comfortable.
What I like most about working here is the chance to grow professionally and the supporting, patient people around you.
Moreover, for the past four months that I've been working here, I've had various duties: from familiarizing with the company's tools and values to creating visuals for their social media channels or the blog. Not to mention that I get the chance to practice my illustration skills and draw posters to hang in the office, where I include certain inside jokes or even 'realistic' portraits of my colleagues.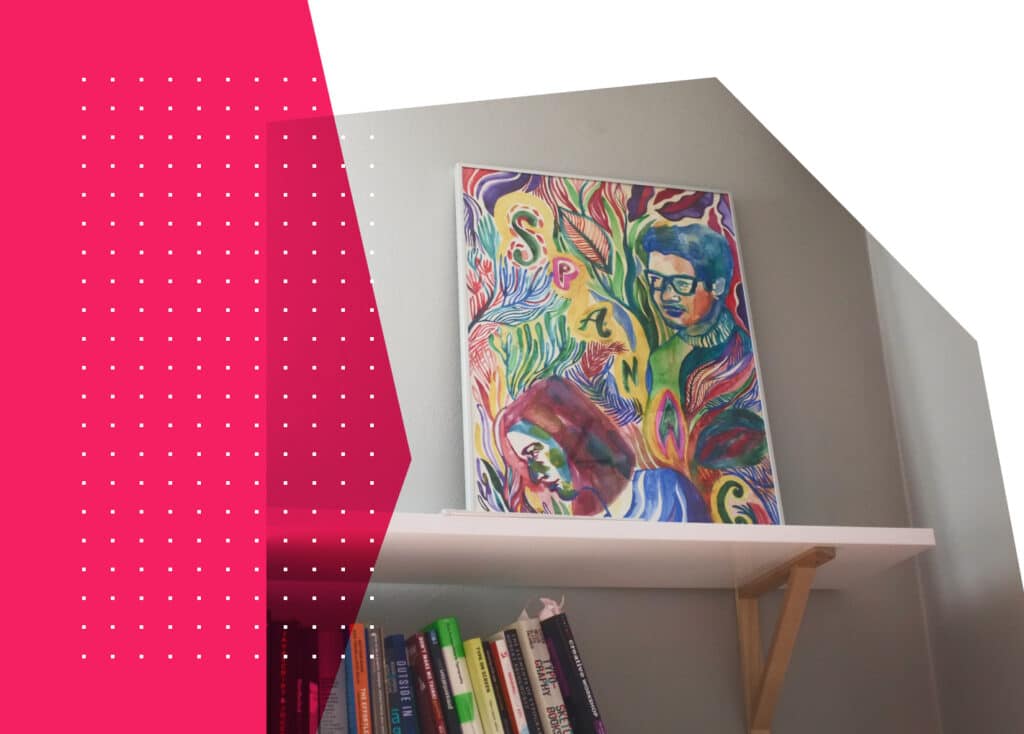 It's really incredible to work in a supportive and accepting environment, and everyone has been patient even if I was a bit slow at first. They've really made my transition here a pleasant one. 
Furthermore, I find it extremely stimulating and rewarding to work with professionals that are experts in their field and that encourage you to dig deeper and expand your horizons. For instance, let's take George. He is the CEO of the company and an experienced, talented designer, and the one that created almost all of the WordPress themes.
I work with him a lot, and he always gives me feedback and insights in graphic design in a very calm and friendly manner. And from experience, I know that not many people have that patience to take you through the ABCs of using certain tools, or to gently inform you of best practices.  And, I've also had the chance to learn and integrate into my practices and day-to-day tasks, new design tools like Figma – an interface design application that runs in the browser.
---
Dealing with challenging times 
However, like with anything in this world, it's not just fun and games, and I've struggled a bit from the beginning. To be more precise, it was a bit awkward to be working in a place where there were mainly men.
This industry, truly favours men, and as a woman, I must admit, I felt a bit uneasy. Luckily, I had nothing to worry about because the guys here are awesome, welcoming and I felt at ease to be working with them. 
Sometimes, after work, the guys would play games on the Play Station, and they would welcome me to join, even if I'm not an experienced player. We all had fun and bonded as a team. Now, I must confess that I truly feel like one of them and from the beginning, they've succeeded in making me feel comfortable being the only girl in the gang.
Still, the biggest challenge I had to face was meeting the tight deadline for an ebook that I was supposed to create, putting all the pieces together. The e-book was written by our mate, Vlad and it's called "WordPress website performance in this day and age" and is really popular around our community because you can find many useful tips and tactics to improve your site's performance and make it shine in the digital world.
It was published a few weeks ago and it already hit 400 downloads. So the stakes were high when I got assigned on the project.
The challenge I was facing, was mostly caused by the short deadline and my poor decision to work in Figma, a tool that is not very friendly with interactive pdfs, and that is unable to set hyperlinks in the text. The better choice would have been to work using Indesign, but because I got so used with Figma, I stayed loyal to it, falsely believing I would finish the e-book in time. 
Everything did not go smoothly and there were struggles, and towards the end, when I had to save the ebook, the size was super big. Left with no choice, I had to ask help from the boys.
Andrei had to see my sad eyes every time I turned to him for guidance. Vlad also spent a lot of time thinking of a different way to resize the file in Figma or in other way. Fortunately, it turned out that Acrobat DC was the solution to my problem and that's how I managed to finish the mission. 
With guidance and cooperation, we've all managed to deliver our work on time and so far, the hard-work we put in is paying off, as so many readers replied and were grateful of the e-Book we published.
Also, even if Figma was a new tool I had learned to integrate into my work with a bit of skepticism, now, I love using it, and I cannot imagine my life without it. And my reasons are pretty straightforward: Figma has an easy and intuitive interface that simplifies your design work.
It's similar to Sketch with the big difference that it lets you collaborate with your colleagues in real-time. Plus, it's free and you can use it directly from your browser or instal it on your computer.
---
The learning process and my growth as a designer
As a graphic designer, it is a must to be aware of the never-ending trends instead of new ones.
Ever since I landed here, I got the chance to learn and expand my perspective about design. Here, George played a fundamental role, guiding me and explaining some basic practices where it was due, while also introducing me to solid, steady trends, like: asymmetry, the focus put on spacing, proximity, just to name a few.
For instance, while I was working on a visual for Instagram, playing with some layouts and elements, George drew my attention regarding asymmetry. You see, focusing on symmetry and how to balance each element from a composition was something I was used to.
But George pointed out that our brand aims at being more dynamic, warmer and closer to the audience, and how asymmetry tick a core value.
A reason, he mentioned, was that this concept or this construct is very common in nature, thus closer to individuals. He continued explaining that everything in nature doesn't follow a certain pattern or is orderly created, it's all asymmetrical and it's simply beautiful. 
With this in mind, I started to make sense of it all, and I understood that it is not a simple technique to pull off, but when done well, it results in beautiful and eye-catching designs.
Additionally, with each day I spend here, I become more and more aware of the importance of keeping up-to-date with timeless elements in design, like alignment, repetition, spacing, and so on. The more you know, the better you become. 
At Pixelgrade, I got the boost and support to further and perfect my skills as a creator by reading books, taking new courses like the Flawless Typography Checklist. Here, everyone is constantly interested in new ways of improving or optimize their way of work, and they stay up-to-speed with news in their field or they keep in touch with their peers. 
I've come to understand that anyone who calls themselves a designer, must be curious by nature, and thirsty for knowledge. Ideally, traveling or visiting new places are a source of inspiration, and if you cannot afford this, there are a lot of websites or various sources you can browse to access portfolios and expand your visual culture.
I'll share with you some resources I've enjoyed and I've found useful throughout my career.
---
What the future has in stall
Looking back, I couldn't feel happier about my journey here because in such a short time, I've managed to grow professionally, overcome fears, and learn tons of new things, like familiarising and confidently using tools like Figma, AfterEffects and Premiere. And it feels like I am full of experiences.
Working here, I keep making new discoveries about myself, one of them is that I really needed a warm, art-oriented, friendly environment in order to be inspired in my creative process, and having supportive mates by my side is of great help. I can be myself and that allows me to look for my best version.
And for the near future, I wish to master these programs and deepen my understanding of this inspiring creative industry that has become a part of my life.
All in all, I am grateful I've found a nest where I feel comfortable, and at the same time, one that brings up new challenges, so that every day is not the same. Even the writing of this article was possible through the help of my colleague, Ioana, that has guided me and put all the pieces together so that my story gets heard.
Thank you, Pixelgrade and I'm super excited for what the future has in stall for us.