How many of you creatives, or small business owners out there, have felt overwhelmed by the myriad of tasks you had to handle or solve on your own?
For the past eight years, I've been a part of the creative industries, working or interacting with designers, copywriters, photographers, marketers, interior designers, etc. I, myself having been a freelancer for six years.
And, as an active community builder, by constantly collaborating with entrepreneurs on various events, or by having in-person meetings, I've noticed some recurring pains and struggles they face: being in charge of everything, or not delegating, thinking that you must do everything yourself. 
Thus, it became clear to me that these problems can be solved with the right mindset and approach.
As a result, I've decided to put together this article where I point out issues creatives face on their entrepreneurial journey, coming up with solutions and providing healthy practices on the matter.
I'm interested in determining creatives to genuinely engage with their customers in order for their audience to interact better with the brands, making them memorable and trustworthy. 
All of these ideas will be explained and justified as follows.
Frequent blockers for creative entrepreneurs
I've noticed around the community I lead how starting a business is not necessarily something premeditated. Some realise they have a certain talent and they start working on their skills. Then, they come to the point where they feel it's a good time to take the leap and kick-off a business.
At this stage, managing and dealing with all the aspects a business entails, leaves room for mistakes and bad practices. This in turn, can demoralise and frustrate creatives of all kinds. 
Take the following two examples, for instance, and how easily they can affect the wellbeing of a company managed by creatives.
#1 — You are a one-man show
Being a solopreneur can be an isolating experience because you are the one running the show. This implies you are in charge of aspects like identifying a system to help you keep a steady income, staying in touch with your clients. And you cannot overlook having a website or at least some online presence that requires you to keep things updated and running smoothly.
Taking care of so many aspects on your own will get lonely and it will make it quite difficult to embrace such an overwhelming lifestyle. 
---
#2 — You are in charge with everything
As individuals, we are wired with the desire to control everything. The reason? Because we are under the false impression that by having everything in check, we'll effortlessly eliminate feelings of anxiety or fear.
True as it may be, but as the head of a firm, this attempt to handle every aspect, automatically means being rigid and unwilling to step outside your role.
This can sometimes lead to burnout because you can devote up to 10-12 hours per day every week. And dealing with various tasks for prolonged periods of time, while finding balance in your life becomes hard to achieve.
I've met with creatives that were at the point of a meltdown because they got so caught up with their projects, getting stuck with the financial part, that they couldn't see the light at the end of the tunnel.
Their creativity and talent were put down in favour of managing areas they were unfamiliar with, like accounting or customer support.
As a result, it's ill-advised to try and cover all parts of your business, even if it sounds sexy or close to perfection. Try and be pragmatic about what is in your power and what's not.
Now that we've acknowledged all of these struggles and how they contaminate our decision-making, it's time to explore some solutions to ease our work and eliminate the mentioned headaches.
---
---
Uncomplicated ideas to simplify your work
The solutions I put together were decided based on the idea of overcoming the challenges mentioned earlier, and to increase the chances of doing great business on your terms, without compromising your work or values.
#1 — Collaboration is key
From experience, I've noticed that, at a certain point, creatives should partner with anyone who can take care of areas which are unfamiliar to them causing them anxiety and stress. 
For example, if you feel helpless and inexperienced about managing the financial part, hire someone( like an accountant) to handle this area. Or if you wish to promote your latest photography portfolio, get in touch with friends or connections that could spread the word.
The key is to delegate and outsource anything that is not essential. Focus on what you love most.
As a community builder, I've first-handedly contributed to the welfare of creatives. When they needed a hand to publicize their latest event, or when they needed some encouragement to keep going, I would happily pitch in or play the part, as long as my help was requested.
When you dare to voice your concerns and ask for help, you'll be surprised on the support you receive.
Additionally, when you try to do everything, something is bound to slip through the cracks. So, hand off tasks to others when you either don't have the skills or the time to do them well. Then, center your energy where you can make the most impact.
---
#2 — View your customers as brand ambassadors
Yes, customers are far more than random people willing to pay for your products or services. They are human beings who have desires, needs, and values which can and should be addressed. Think of them as complex creatures with whom you ought to create strong liaisons in the long run.
Let's say that as a consumer, you have decided to hire a photographer for a special event. After browsing through their portfolio and falling in love with the pictures, you notice that a client commented that this person was late at an event. What's your next move? I imagine, one reaction could be to start distrusting them and move on with your search.
What I'm trying to say is that feedback is crucial and it can change everything. 
Satisfied, happy clients are the key to a successful business. If you have a solid reputation and people brag about your services, there are higher chances for your leads to transform into clients. If you learn how to expand and maintain this connection, you enter a new realm of possibilities. 
---
Now that we've dared look at the vulnerabilities and struggles that being a creative entrepreneur involves, and after we've considered some essential alternatives for them, it's time to dig even deeper. Are you with me?
It's time to expand our perspective about the way we engage with our audience. To be more precise, a while back I wrote an article about why you need to engage with your audience and create a community, aiming to point out that as a creative you cannot hide behind your work and hope people will knock at your door. 
If you wish to be successful and develop an enduring bond with them, your clients are the answer. And the reason is because they can make or break your firm.
With this in mind, next I will focus on ways you can interact and grow your relationship with your audience in order to get endorsed and strengthen your reputation.
And I'll explore, more in-depth, the importance of relationship building and management with your audience.
---
How exactly can creatives take the leap and do more with their current customers?
True engagement with your clients means forming authentic relationships. And in today's ecosystem, there are numerous opportunities to sow the seeds of a great connection.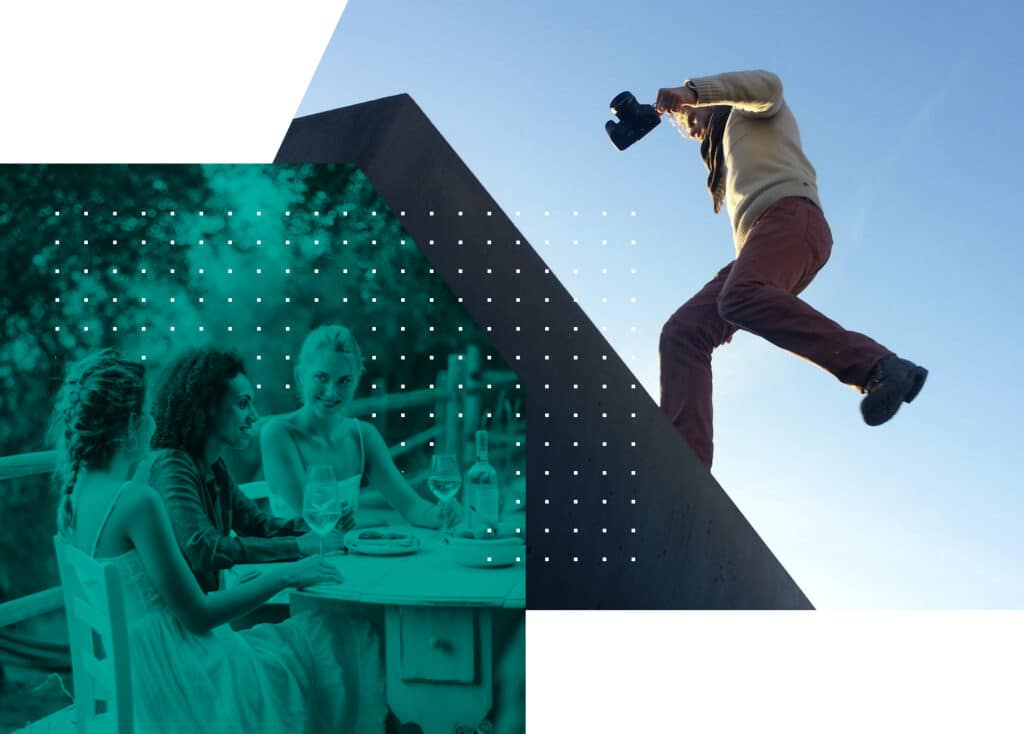 As a result, I will provide some ideas you can implement today to help you transform your clients in brand ambassadors.
#1 — Under promise, over deliver
What I've noticed, in terms of strengthening professional connection, is the after-effect a client gets after purchasing a product or service. Have you ever noticed how thrilled you get when you buy something, and you get a little more than you thought? It can actually make your day. 
With this in mind, in terms of how you interact with your clients, give a little more than what they'd expect. For instance, offer something for free like a card, or simply include a little extra on the side.
Why?
Because showing gratitude, proving that you are truly honest in your intentions, will make people tick. This kind of attitude is an opportunity to influence perception and to direct it towards authentic interactions. This also includes showing parts of yourself and what you stand for because at the end of the day, people are attracted to honesty and authenticity.
Bottom line is to give before you get, and do it for an extended period of time, and this will open one of the best business opportunities ever. Give it a try and see where it gets you.
---
#2 — Go the extra mile
If you can lend your clients a hand by offering a few additional tips which would bring value to them, do that. It won't matter the nature of it: maybe you're a copywriter, and you noticed some flaws or inconsistencies on their social media channels. Don't be shy and let them know.
Or perhaps you're a photographer, and you are booked for a particular photo session, but the photo on their Facebook or Instagram page is inconsistent. 
Simply inform them, help out and make a difference. Maybe you are a designer who can fine-tune some materials for a more coherent visual approach — do that, let them know and fix it.
Believe it or not, but the smallest impact you may have on someone's life, can have unimaginable reactions. And the reason is because a kind deed rarely goes unrewarded.
People will remember and they will spread the word about your kind intervention. Never underestimate the power of doing good and how it will be shared across various channels.
---
#3 — Make relevant recommendations
Be the one that has an answer to your client's problems or the answer to what they want to achieve. 
Depending on the industry your customers are from, think if you can recommend better alternatives for some things that could offer them improved outcomes. For instance, maybe their websites look and work poorly and you know freelancers who can improve their digital experiences.
Put your best connections on the table and ask for nothing in return. Try it and see where your good deed takes you. 
---
Furthermore, if you are digging for a more detailed approach to customer interaction and involvement, consider the following practical tips.
#4 — Ask for real feedback
The most efficient way to better yourself is to seek feedback because it promotes personal and professional growth. And one reason is that it creates a clear picture of the situation you are facing, helping you adopt new knowledge and avoid repetitive mistakes.
For instance, kindly invite your customers to give you feedback on multiple areas of your business. For instance info related on the work you create, how you deliver it, your approach on answering emails, your social media activity, your fees, etc. Every piece of information you receive is a golden mine.
Besides the reality check you get, it is also a great way to have a grasp of both the expectations and the intentions they have. In this fashion, you can specifically tailor your approach and business strategy to meet your clients' demands and necessities.
Nothing will make a loyal customer feel better than asking for their input and proving them how much you value it.
---
#5 — Run interviews
When you interview your clients you enhance your bond with them. You gain valuable insights about who they are, what their values are, what struggles they might face, why they chose you, and the list goes on. 
This way, the structure of your interview should be based on your intentions and on what you wish to achieve. And it is mandatory to have a plan and clear objectives to help you shape the interview questions.
If possible, run them in-person because nothing beats the power of 1:1, offline conversations, where you get the full picture of your customers.
You'll have access to the way they talk, the words and the tone-of-voice they use, the non-verbal gestures, and everything will give you priceless observations and information.
Very important when conducting the questions is to show them that you care about how you can improve your collaboration in the long run. By trying to find other pains and discover ways to solve them through your work, you'll gain valuable points right there. 
Plus, another tip to not overlook is to work more with the same customers than to always try to find and retain new ones. Why? Because loyal individuals are the ones that matter, worthy of your true attention and on top of that, they actually make up a higher percentage of the sales.
---
#6 — Create a rewarding system
When you offer discounts, or offer special buying opportunities to your consumers, you show them how much you value and appreciate them. Consequently, they will keep coming through your door. Once they trust you and feel gratified, they will have no problem spreading the word about your business.
To be more specific, think about what you can offer if they choose to promote you and bring new customers on board. It doesn't have to be a big prize — a holiday, or a flat fee — to show your respect and gratitude for their involvement. 
You can start with small, yet meaningful actions, such as: expanding your services for the same amount of money on a particular project. Or, send them a gift, a handwritten letter, write down a public thank-you message, etc. 
But, show your care and recognition in a visible, authentic manner because the human touch is something so rare these days. Plus, it can be a differentiating aspect about your business, that'll sticks in people's heads, recommending you in the future.
---
All things considered, here are the main advantages of working closely with your consumers to turn them into your brand ambassadors:
It positively impacts your growth as a creative — getting real, yet authentic feedback from real people who spend their money on your work is a brilliant way to level up your game and become a better version of yourself.
You expand your professional network — entering other adjacent circles of interest increases your chances to find like-minded people. This way, you can develop healthy professional liaisons both in the short and the long run.
It helps you feel less alone — as a creative entrepreneur, there are dozens of moments of solitude which are hard to navigate. By belonging in a tribe with others who share similar values, you can recharge your batteries and keep the wheels spinning.
---
You can be strategic by all means and start experimenting all the above tactics in a way that defines you. However, what I know for a fact, after nurturing communities within creative industries and running ambassadorship programs, is that honesty and transparency take you far. 
People's gut feeling will accurately indicate if you're in the arena with good intentions and willing to do the hard work or not. It's up to you, but there's only one answer to make it shine, and you know it.
---