---
I had the pleasure to chat via e-mail with one of our emblematic customers. In fact, we consider Steve almost a friend since we succeeded to create such strong bonds. I loved finding out more about the story behind the scenes and hopefully you will too have plenty of things to learn from this interview.
Q: Who's Steve and what's the story behind CanScorpionsSmoke.com?
Steve: I'm a UK based artist who writes and consults on creativity and the human condition. If I'm not in my little studio at home I'm working with individuals, groups or organisations to help them (re)discover their own creative spirit.
Q: Where did the passion for creativity come from?
Steve: I was an incredibly creative kid at primary school. My teachers really supported me and used to encourage me to write and illustrate stories and read them to the younger kids.
However, when I moved up to secondary school at age 11 it all changed. The focus was on academic achievement which I wasn't particularly good at and my creativity got lost somewhere around that time. I left school with poor grades and decided that I wasn't particularly creative or clever. It was only later in life (in my mid 30s) that things started to change.
I had some really supportive bosses at work (in a big corporate) who, like my primary school teachers, encouraged me. They sponsored me on a number of things including an MSc in human culture and change. It was here that I discovered the creative spirit once more, writing my dissertation on spontaneity. (I started my blog around this time too) I soon left the corporate world and took the rather scary step of setting up my own business. I have never looked back.
On a number of occasions, I've considered paying a web designer to do my blog but both Patch and Felt have given me the tools to get the site looking exactly as I want it to.
Q: What made you pay it forward to other folks?
Steve: At one level, everything I do is for me. My writing is simply me making sense of the world. My art is simply me exploring who I am. But I have found that through openly sharing all of this with others that it is a resource for them too and may help inspire them to nurture their own creative spirit and bring more adventure and play into their lives.
And at the same time it introduces me to loads of amazing people who, in turn, inspire me so it is a symbiotic thing. So many of us had a similar experience to me and leave behind our creative spirit. But as George Bernard Shaw once said "We don't stop playing because we grow old, we grow old because we stop playing." I hope my little blog helps us stay young in some way.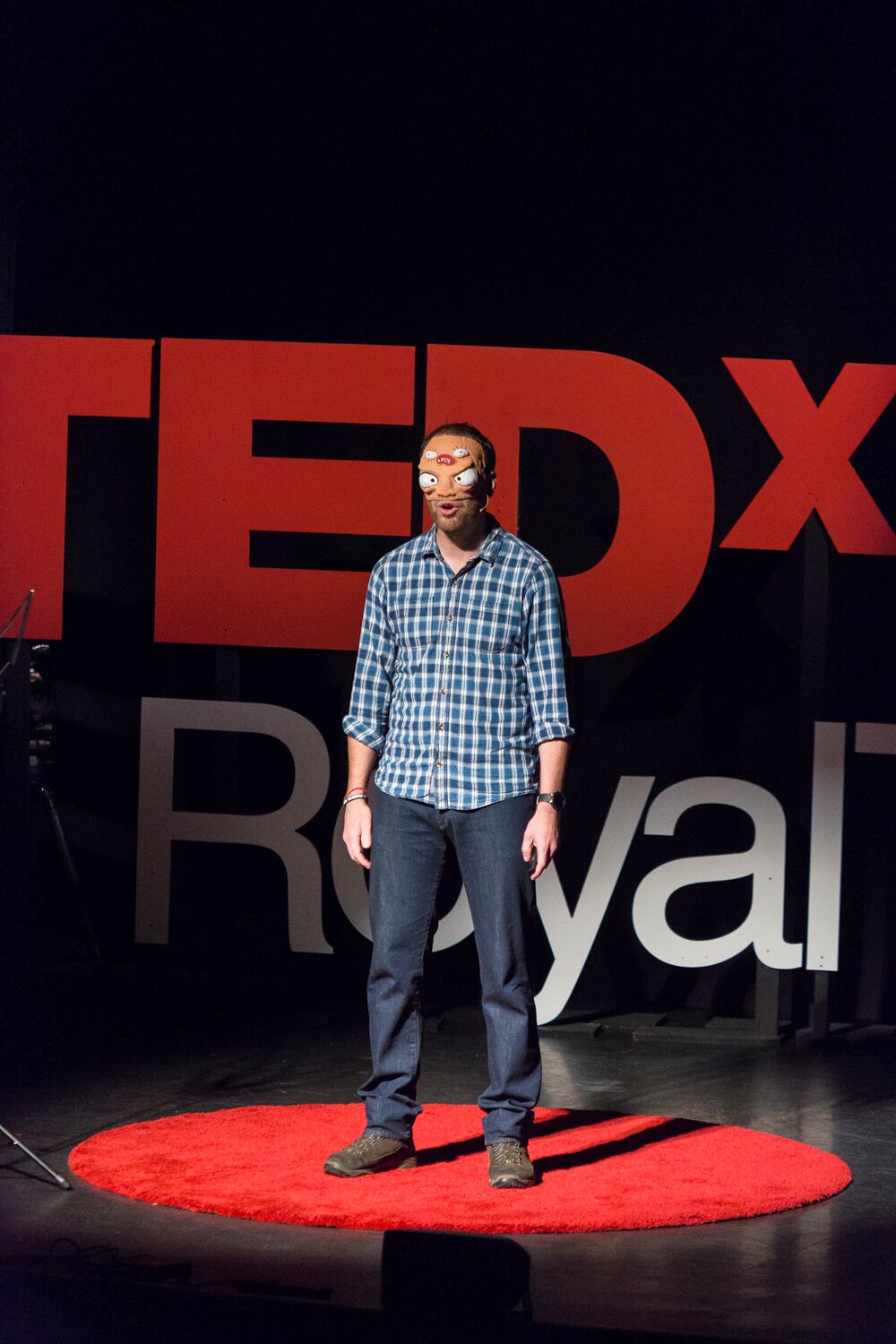 Q: What influenced you to start a blog in the first place?
Steve: When I finished my MSc in 2011 I found that I still had so much that I wanted to write about but had no more assignments to encourage me to do it.
The blog was my way of writing stuff and seeing what people thought of it and it evolved from there. As I look back at some of the early posts it seems like a different person has written them. This is great as it shows me that the blog has been a very important and helpful way of honing my writing and influencing what I am interested in.
I get e-mails from people telling me that they enjoyed getting "lost" on my site!
Q: How does the current digital crib help you on a professional level?
Steve: The blog has never been about generating work, simply sharing my current thinking, the big questions I have in my head. And this is lovely because it means that I pay very little attention to branding, products, services (etc) and focus all of my effort on content. But, somewhat paradoxically, this has connected me with loads of really interesting people who are of a similar mindset which has led to all sorts of things.
The blog has also been really helpful with the academic work I do (I'm visiting faculty on a few MSc programmes) as there is always a relevant piece of writing I can send on to students as a bit of pre-reading or follow-up reading.
Q: How do stand out and nurture a community around your blog?
Steve: My philosophy is simply to only ever write stuff that I'm interested in and then give it away to whoever wants it and a brand has emerged around this that has a following.
Most people read the blog because they too are interested in challenging the status quo either in their own lives or in their organisations and they tend to forward on posts to others who have similar interests. So, in this sense the community has grown organically and occasionally I'll get people coming to workshops or events because they've been readers of the blog for many years.
It started to feel like the blog/theme was a partnership rather than the usual supplier/client relationship.
Q: Why did you switch themes and change the look-and-feel of your blog?
Steve: I used the Patch theme for many years and loved it but felt that it didn't have the flexibility that I needed. I wanted to be able to display content in a number of different ways such as recent blogs, popular blogs, events (etc) and felt looked like it could do all of this exactly how I needed. The amount of customisable options in Felt is incredible. There isn't a single thing I've not been able to do.
On a number of occasions I've considered paying a web designer to do my blog but both Patch and Felt have given me the tools to get the site looking exactly as I want it to.
Q: How does the current theme help you achieve your goals?
Steve: The ability to segregate posts on the front page is perfect. That and the chance to have a number of differently functioning sections on one page. It allows those who want the latest posts to find them easily, those who want to browse older posts, those who want to find out about workshops (etc).
And people arriving at the blog for the first time have a treasure trove of stuff to explore. I get e-mails from people telling me that they enjoyed getting "lost" on my site!
I'm here to help you create a fabulous blog
I'll be by your side while you browse our WordPress themes
Browse our themes
Q: You're a true believer in our work. What convinced you to choose us?
Steve: Firstly it was because I liked the look of the Patch theme but then I discovered how supportive and responsive Pixelgrade were. It started to feel like the blog/theme was a partnership rather than the usual supplier/client relationship.
So, when I wanted to change the look and feel of my site I was delighted to hear that Felt was coming. It feels like we're all in this together which is so rare these days.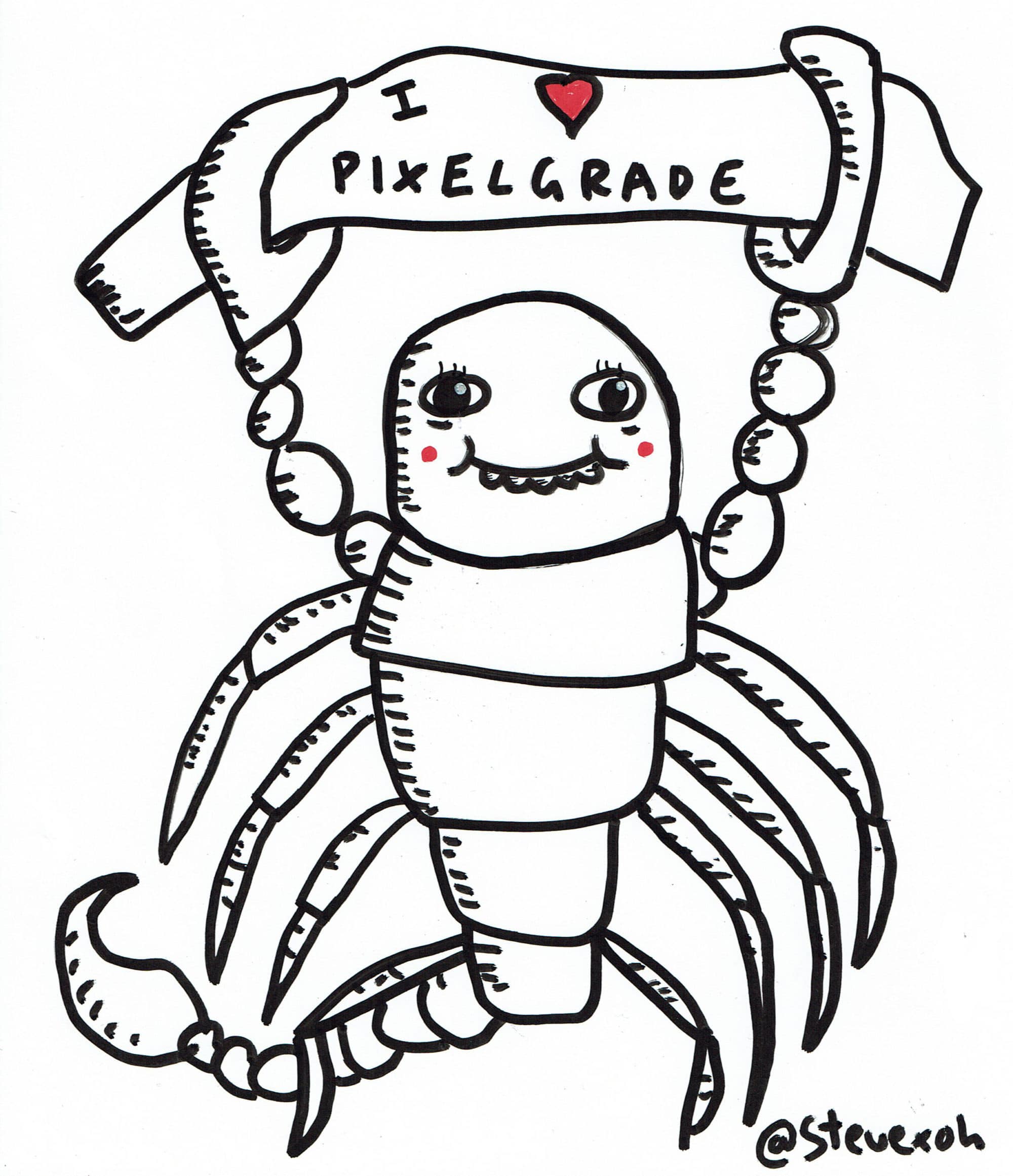 Q: How would you define the experience of collaborating with our crew?
Steve: It is an absolute joy. It feels like a partnership where I am writing content to showcase the theme and the Pixelgrade crew are developing a theme to showcase my content.
---
I asked Steve two kind favours: one was to draw something that he thinks it defines our collaboration (that's how we got the lovely visual from above), and the second was to leave a message if there is something he would like to have known earlier. Stay awesome, mate! 👏
A blog is like a fingerprint — it is uniquely yours. Ignore all the advice about what to do, how to do it and just do whatever you want to do, whenever you want to do it. And those people who are most genuinely interested in what you do will discover it.