All your purchases come with an invoice that's automatically generated. You can find your past invoices by logging in to your Pixelgrade account and navigating to the Order History section in your dashboard.
Downloading your invoices
Next to each invoice, you will see a View Invoice button that opens your invoice in PDF format. You can download and print it as you would with any PDF file.
Paying outstanding invoices
If some of your payment fails, you will see Pay Now button next to the invoice listed in the Order History area. To pay it, click the Pay Now button.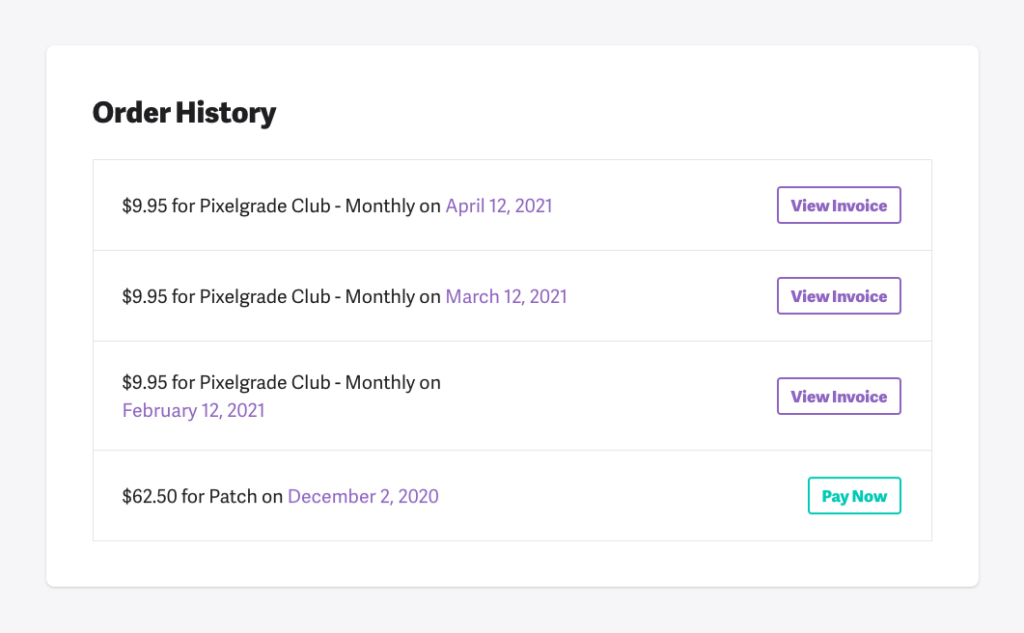 Changing invoice details
If you spotted a mistake with one of your invoices or need to edit specific fields (like billing address, phone number, VAT, etc.), email us at [email protected], and we'll help out with any changes.
FAQ
Why is the VAT listed on my invoice?
In order to fully understand how this one works, please check our Terms & Conditions section. You will easily understand that we're using a universal pricing scheme. In just a few words, this assures you that you will always pay the advertised price: no more, no less. The VAT is already lifted off, so you don't need to do anything regarding this aspect.
It is a strong recommendation from the European Union as well because the majority of our customers are individuals, not companies.
We're huge fans of transparency, which means you're in good hands, no worries about that.
Updated on April 16, 2021