We want to help you start with the right foot in order to fully enjoy our WordPress theme. This is why you need to make sure you have a solid foundation for what's next by installing the theme and the right plugins. We covered the basics to help you get ready and make the most out of this WordPress gem. The order of the following section is important, so please refer to it accordingly.
Install and Activate the Theme
One of the perks of WordPress in general and Noto in particular, is that you can start playing around with it in no time.
Log into you WordPress Dashboard and navigate to Appearance → Themes.
Click Add New button at the top of the page.
Search for "Noto" from the top right search field.
Find the theme and click Install Now.
Once the theme has been installed, click the Activate link.
Install and Connect Jetpack
Jetpack is a famous plugin developed by Automattic, the company behind WordPress.com. A huge numbers of hosting providers and WordPress authors recommend installing it from day one.
Here's how you can do that in Noto:
Log into your WordPress Dashboard
Go to Appearance → About Noto → click on the Recommended Actions tab then click on Install and Activate
In order to use its features, you just need to click the "Connect to WordPress.com" button, login with your WordPress.com account (or create one) and click "Authorize Jetpack".
Adding a Post-it Note
In the Free version of Noto, you can add a post-it note style area on your Home Page. You can use it to introduce yourself and invite your visitors to learn more about who you are or what kind of creative work you are providing. 
To add it follow these steps:
Go to your WordPress Dashboard and click on

Customize

in the

Appearance

tab.

In the menu that appeared on the left, go to the

Theme Options

and then to the

 Post-it Note

 section.

Add a Title and a Note Content.
In the Note Content area, you can use HTML code to link to a different page, blog post or anything else.
In the PRO version, you can also add widgets on your Home Page, Below Posts and in the Footer area. Upgrade now to get all the features.
Adding Your Logo & Profile Photo
The logo is a crucial part of the branding process. Is what makes you‐you, and a significant element to be recognized for by the right people. Because of its huge relevance, we offer you two options to play with: you can add a graphic symbol (such as an image) or a text version (logotype). You choose a font, and we help you fine‐tune the logo after its personality.
Before you start
In order to properly make things happen with the font, we highly suggest you take into consideration these factors:
File Formats


You should be aware that a logo looks best in a

.png

or

.svg

format with a transparent background. If your logo file doesn't have a transparent background, it's likely that your logo will partly cover the background image.

Logo Size


We encourage you to have a larger image for your logo. Try to use a high dimension of the logo, and we'll do the rest by scaling it. This way the logo will adapt to any screen size (both desktop and mobile).
Adding a Logo Image
Now that you know what's better to do when setting up your logo, here's what you have to do in order to upload it on your WordPress site:
Open the

Customizer

under

Appearance

and click on

Site Identity.

In the new panel that opens out click the Select Logo button to open the

Media Manager.

Select an image that's already in your

Media Library

, or upload a new one.

When you finish just click on Set as Logo and you'll see the logo in the preview window.

To activate the logo on your site, click Save & Publish button.
It couldn't be easier than that, and you've already made an important step in order to personalize your upcoming website.
Using a Text Version
If you don't have any graphic symbol that stands for your business, we recommend you to choose the text option instead.
Adding a Profile Photo
You can also add a profile Photo to let people know who you are. Here's an example: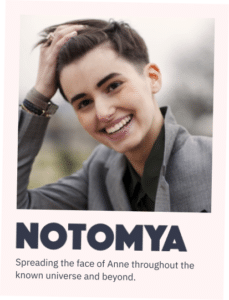 To add it, just follow the steps detailed in the "Adding a Logo Image" section and instead of clicking on Select Logo, click on Select Photo. We recommend using a square photo.
—
Now you are ready to build a stunning website with Noto. Make the most out of our WordPress theme, and don't hesitate to aim for more. There's always a way to improve everything.
Need More? Upgrade to Noto
PRO
If you are looking for more flexibility, customizations options, and to benefit from premium support, check out the comparison table.