Creating a Multi-Language Website
It's good to know that having a multi-language website involves a bit of effort, but there are also great perks that pay off. For example, you can increase your search traffic up to 47% by making your website available in more than one language. Not bad, right?
If your website can be a good source of information for users that don't know the main language, it's a loss not to make it accessible for them too. If you invest a lot of time and energy to write valuable content, then you should also try to make it available as it can be. In the end, you want to share.
You should know that changing the website language from the Dashboard area is not enough. Your website's structure is formed of different parts of posts, pages, menus or widgets. The content of those sections can be added directly to your language. However, there are strings attached, both from the theme and plugins, that you need to translate.
Let's take the following scenario: you have a blog, and at the end of each article you can have a Read more call to action. Those specific words should be translated into your native language in order to facilitate access.
The .PO file includes the original texts and the translations in two columns. The .MO file incorporates the exact same contents as PO file. Keep in mind that the two files differ in their format. While a PO file is easy for humans to read, MO files are compiled and very easy for computers to read. Nonetheless, WordPress gets translations from the .MO files.
How to translate your website using the Weglot plugin
Install the Weglot plugin by going to Plugins → Add New →  Search for "Weglot"→ Click Install Now and then Activate 
The next step is to register for a new account and get your API key. You can also find the registration link by going to Weglot in your WordPress dashboard and click the link found in the API section (screenshot here)
Add the API key from your Weglot account to the plugin's settings in your WordPress dashboard (screenshot here)
Next, choose the Original and Destination language(s) and hit Save. You'll unlock several options on how you want the language button's design and position, and any URLs you want to leave out from being translated.
Configure the language switcher: by default, Weglot adds a floating language switcher in the bottom right corner, as shown here, but you also have four other display options:

In a WordPress menu

As a WordPress widget
With a shortcode
In your source code
To add the Weglot language switcher in the menu you must go to Appearance → Menus and add the Weglot switcher menu item: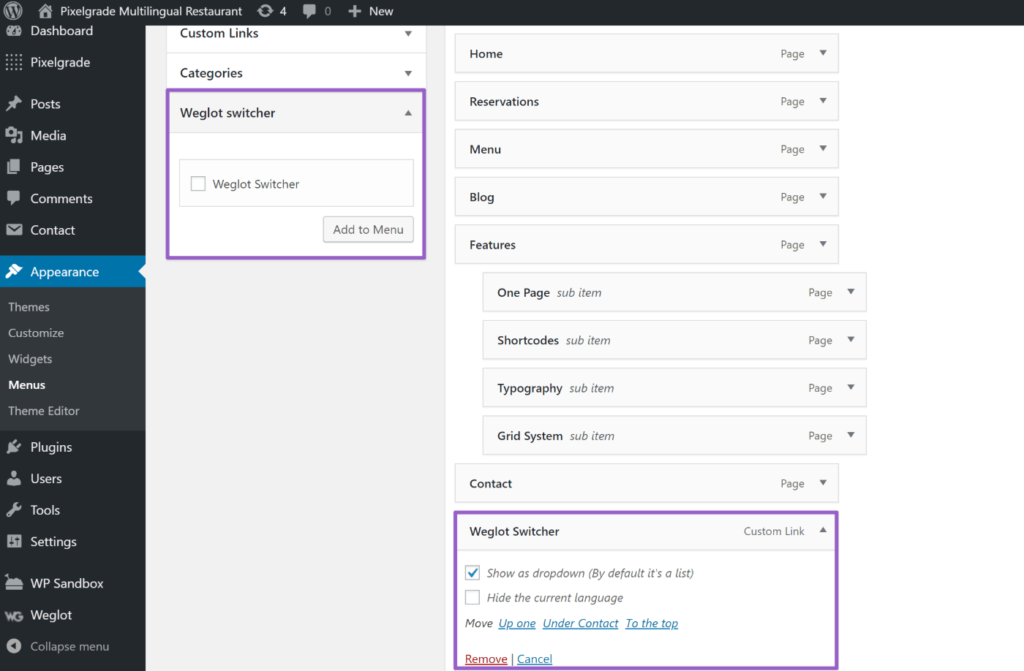 This way you'll get a nice drop-down menu language switcher effect like this: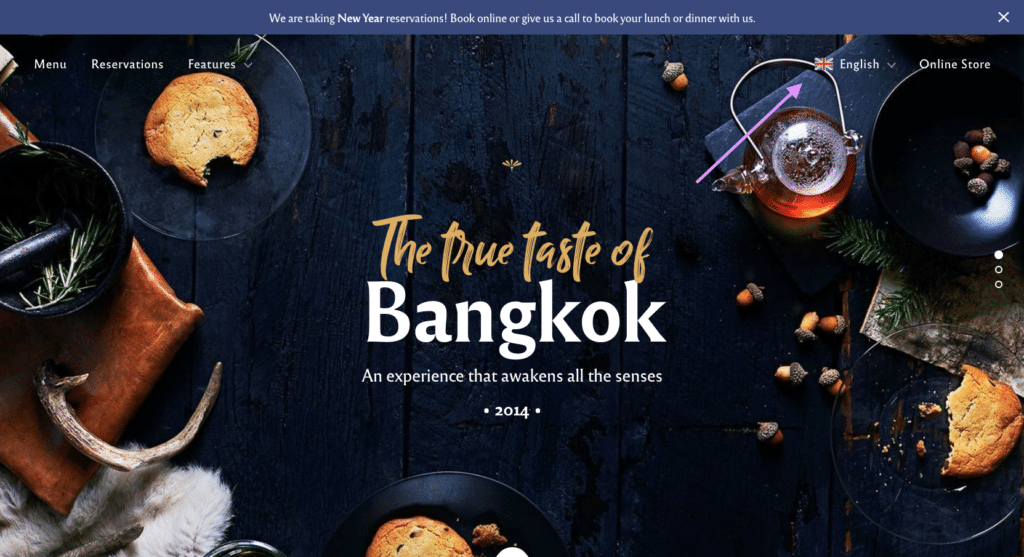 For all the other ways you can add the language switcher, check out this document.
How to edit website translations from Weglot
Weglot automatically translates your website once you chose a destination language in settings. There are two ways to edit those translations:
1. Using the Visual editor – go to your Weglot Dashboard and click "Visual editor". To edit the text, you can hover over it and click the green pencil icon. Example below:
2. Use the backend translations list interface – from your Weglot Dashboard click on "Translations" and you'll see a side-by-side list of the original text and the translated version. Use the navigation and search options to find specific content. Example below: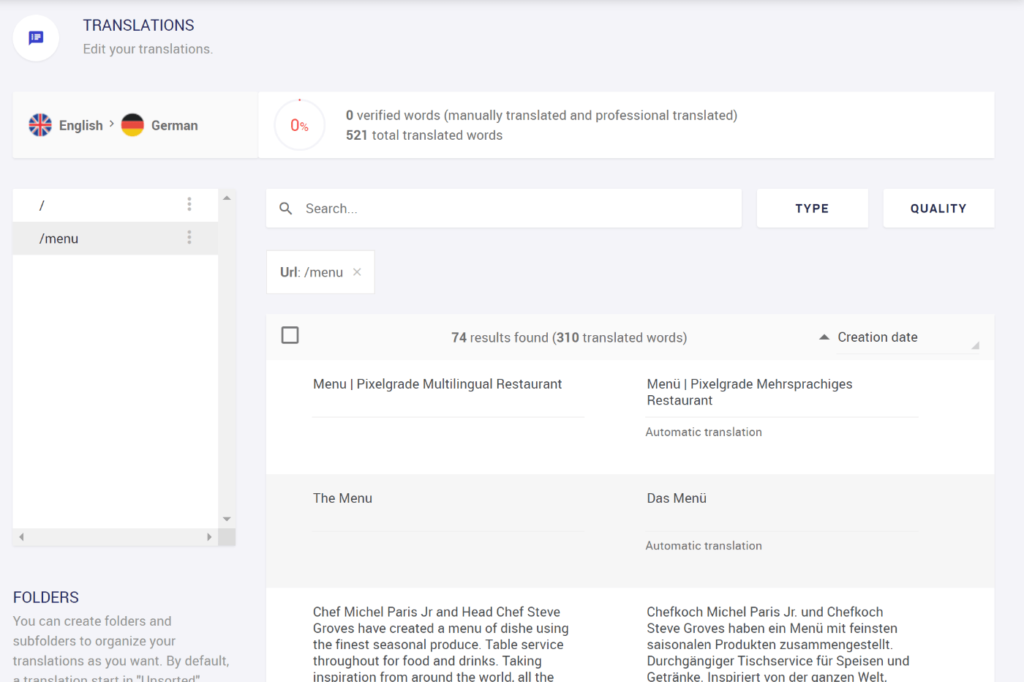 How to translate your website using the WPML plugin
Install and activate the core WPML plugins;
Configure WPML (see the Getting Started Guide) by selecting your default language, a set of active languages, and a language selector.
Translate all the elements of your website:

Content of your pages, posts and other custom elements (eg. projects);
Menus;
Widgets;
Each language needs its own pair of files. In order to do this, please follow these steps for each language you want to have your website translated to:

Go to this link;
Select the theme that you are using;
Click on the language you would like to translate your website;
You can suggest a new translation for any of the English original strings, seen on the left. Just click on Details button from the end of the line and add your suggestion;
Once you finished your translation, go to the bottom of the page and select to Export all current as Portable Object Message Catalog (.po);
You need to export one more file, the Machine Object Message (.mo), the same way you did on step 6;
Go to this link;
Find the WP Locale for the language you want to translate your website into.
Rename both PO and MO files this way: themename-locale.po and themename-locale.mo. For example, if the theme is called Julia and you want to translate it in French, your files will be called julia-fr_FR.po and julia-fr_FR.mo;
Upload the translation files, through FTP:

The theme translation files need to be added to wp-content/languages/themes folder;
The plugins translation files need be added to wp-content/languages/plugins folder.
The plugins for creating the PO/MO files. You can find some more details here.

Anything that doesn't fall inside posts, pages or taxonomy goes into String Translation. This includes the site's tagline, general texts in Admin screens, widget titles and many other texts. You can find some further info about this right here.
FAQs
Are your themes compatible with Weglot and WPML?
Yes, all our themes are compatible with Weglot and WPML – and here is the official list of WPML certified themes.
Updated on October 18, 2019