Use the Food Menu block to display a list of food or drink items available at your venue. Whether you want to create a new menu or change it on a daily basis, it's all very simple to manage and suitable for all your needs. Make your audience drooling every time they visit your website.
The block is optimized to add specific structured data to your website and help you rank it more appropriately in search results (SEO) by using rich snippets. There is no need for breaking the user experience with the old-style PDF files which are super annoying.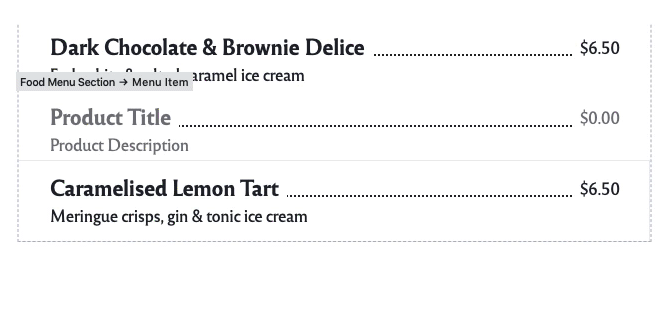 Add a Food Menu Block
To add a Food Menu block to your content click the ⊕ inserter button inside the editor and search for "Food Menu". Alternatively, you can just type /food and press enter.

To help you get started, the Food Menu block includes some sample content that you can use to configure your menu.
Add Menu Sections
You can organize your menu into sections like Starters, Main Course or Desserts. To create a section click the ⊕ Add Menu Section button from the bottom area of the block.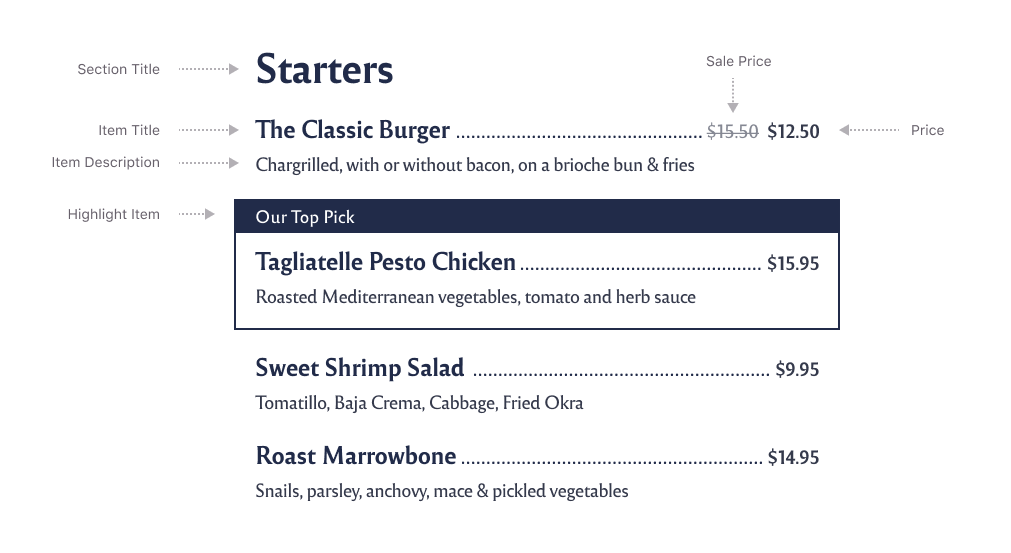 Add Menu Items
To add a menu item click the ⊕ Add Menu Item button corresponding to its section. Using the inline text editor enter details for the Title, Price and Description.
Highlight a Menu Item
If you want to highlight some of the menu items and make them stand out, click on a Menu item and from the right sidebar check the Highlight item option. You can change the label text inline, straight from the block content. It is a great way to highlight what makes you special in the culinary world.

If you do not see the sidebar, click the "cog" icon next to the Publish button.
Set a Sale Price
Click on a Menu item and from the right sidebar click the On sale toggle. You can change the sale price inline, straight from the block content.

Set Pricing Variants
The "price" field is flexible enough so you can enter pricing variants whenever you need to split the quantity (eg. glass/bottle or full/half servings).

Customize the Design
The menu inherits the fonts and colors styles of your site to make sure everything is consistent with your brand.
To access the available block options, click on the parent block container (outside the menu sections) and then from the right sidebar choose whether to display your menu in one or two columns layout. Note that the number of columns depends on the width of your browser and most likely it will set on a single column on mobile devices.
If you want to build complex menus, you can use the Columns block and insert multiple Food Menu blocks inside.
Updated on May 6, 2022