Given that mobile users can spread the word about website content using the built-in system functions, the sharing buttons are still a good reminder for all users to disseminate the content that they find helpful.
Some social service providers supply official sharing code snippets, but they also add a load of unnecessary code for what should be a simple set of links. On top of that, it quietly extracts personal data from all your visitors, compromising user privacy—​​something that we all should reconsider these days. Thankfully, there's a lot of valuable information in this area, and people are starting to acknowledge the importance of it.
We set out to build a straightforward, performance, and privacy-focused Sharing System that's simple to use and proved to work. We use the same system on the Pixelgrade.com site, and it's now available for your own use. ​​Once again, we put skin in the game by using our products and testing everything before making it available to everyone.
You will be able to place the button that opens the Sharing System on any page using a custom-made block, and the design will automatically match your site color palette.
Add the Sharing System to your content
To add a Sharing System block to your content, click the ⊕ inserter button inside the editor and search for "Sharing System." Alternatively, you can just type /sharing and choose the Sharing System block.

Customize the sharing options
Once the Sharing System block is added to your website, you can customize the sharing options visible when people click on it. By default, the sharing options will show up like in the image below: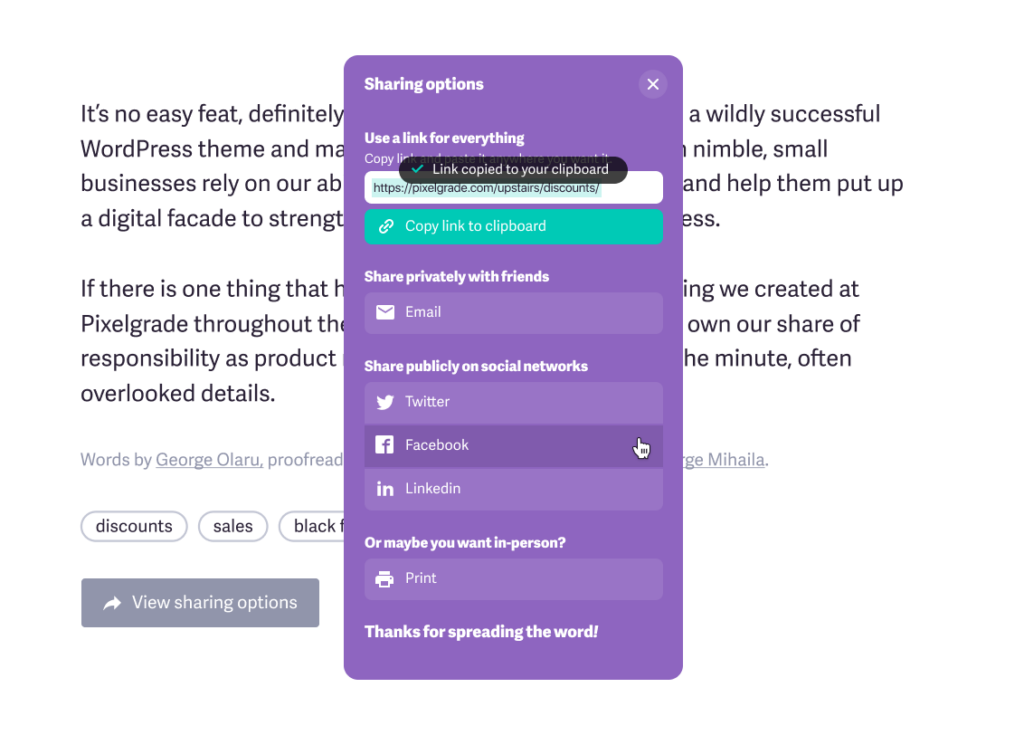 To change the settings, click the block and navigate to the Display settings from the right panel. There you can enable or disable the sharing options available to your visitors.
Let's take each one by one:
Social Icons: enables various social platforms where users can share with a click. Among them are: Facebook, Linkedin, Pinterest, Whatsapp, and Twitter;
Copy link: adds the possibility to copy the article or page link to the clipboard and paste it anywhere;
Share privately: enables the option of sharing the article via email or messenger app on mobile;
Print: adds the option to print the current page or blog post and share the content in-person.
Now all you have to do is decide which pages or blog posts need this sharing system and what are the ways and places your visitors want to share about you. ​​And hey, don't forget that the ultimate goal is to learn something out of it. Therefore, if some of your content gets highly shared, you might consider questioning what drove people to push the button.
Updated on May 6, 2022