Projects allow you to create, manage, and showcase your portfolio using Border. Each project can contain text, images, and videos, which means that you'll be able to showcase your work in the format that fits best.
Adding a new project
To add a new project to your website, from your WordPress Dashboard, navigate to Projects → Add New. Once you're there, you can add the title in the top bar and your project's details in the text area below.
Adding images
To enrich your project with images, click on Add Image under the Project Gallery section. After you click it, a modal window will show up (the Media Uploader). Here you can drag-and-drop images from your computer or add already uploaded images to the project.
Note: In the same modal window, you can reorder images by simple drag-and-drop.
Here's a video that shows how to add a new project with details and images:
Adding videos to a project
Every image from the project slider can behave as a holder of a YouTube or Vimeo video.
To add a video, from the edit gallery modal window, click on an image, and in the right sidebar, you will see an optional Video URL input field. Paste your YouTube or Vimeo link in that box.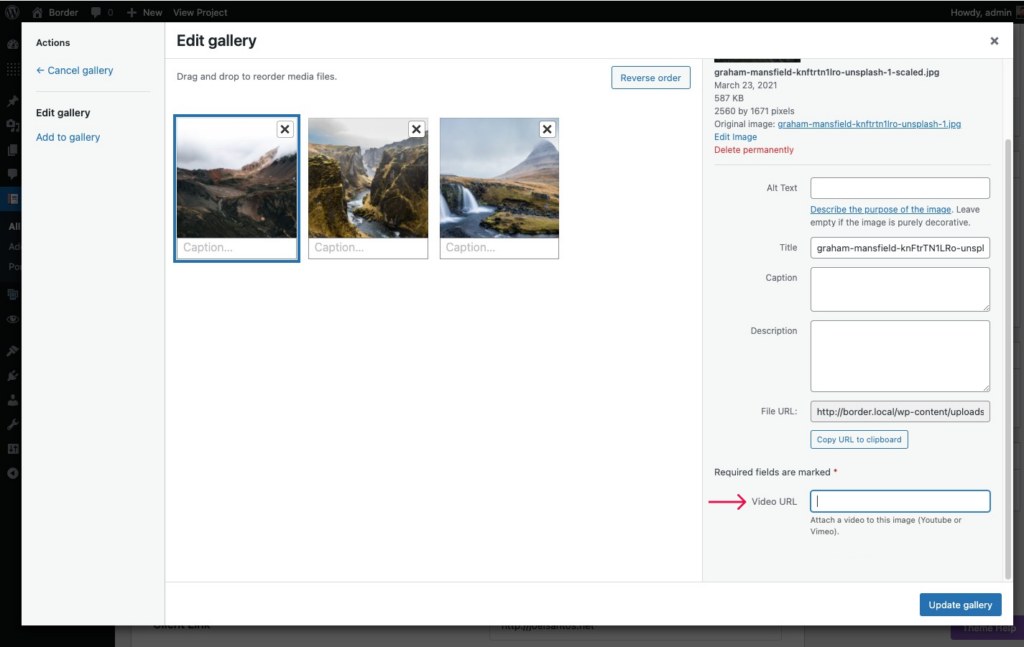 You can also Enable Video Autoplay via the checkbox underneath.
Projects specific options
When creating and editing a project, under the editor panel and the Project Gallery, you have a series of settings that allow you to control the slideshow (each project displays its gallery in the form of a slider) and some information like client name or client link.
Image Scaling — Allows you to control how we will layout the images in the given screen space of the slider. The Fill setting will stretch and crop your images to fill the space. The Fit option will shrink your images the completely fit in space without any cropping, but with empty spaces;
Slider Height Ratio — It helps you set the height ratio for the slider;
Slider Transition — Allows you to choose whether the slides will move or fade when going to the next or previous slide;
Slider Autoplay — Allows you to set the slider to start automatically when the page loads. Once activated, you have the option of changing the Autoplay Delay Between Slides (in milliseconds);
Exclude From Archives — You have the option of not displaying this particular project in the portfolio archives (main, categories, etc.).
That is all about creating projects. We hope you enjoy the tools we have designed to help you beautifully showcase your awesome creations.
Additional reading:
Updated on March 24, 2021