Hi, I'm Paul, the human behind this issue of Upstairs. I'm a Designer, Podcaster, Streamer, Speaker and Solopreneur hustling day by day within the WordPress ecosystem. I work with niche agencies and am proud to be an associate for both Beaver Builder & WP Remote.
---
Inertia
1993, I'm rhythm guitarist in 4-piece rock band Inertia (my first band). I'm 15. After months of meticulous weekly band practices we landed our first gig. We're one of the support acts for a gig at Aston Fields Working Men's Club, Bromsgrove. It's a big deal – well, for us it is anyway.
All the bands arrive at the venue a few hours before the doors open to sound check and setup. Myself, Dan, Rich and Ben, drinking our white cider from lemonade cans that we sneaked in, gather to listen to the other bands sound check. For their checklist one of the other bands is playing their best song for soundcheck – Smells Like Teen Spirit by Nirvana. It sounds awesome, and loud! We're up next.
We hit the stage, pick up our instruments and rock out our own best song – Smells Like Teen Spirit, by Nirvana.
We realise that something is wrong. Very wrong. For some reason, our sound is awful – but usually it seemed we sounded so good at practice. We leave the stage to some raised eyebrows, frowns and sniggers from the other bands looking on.
We gather, a little crestfallen. This is a disaster, and it's going to be humiliating. We're not exactly the coolest kids in School and it's looking like soon we'll be the laughing stock. Hundreds of tickets have been sold around the local high schools.
A fluffy bearded member of one of the other bands walks over to us – he has a friendly, and sympathetic expression. His name is Bob.
"Where's your bassist? The bassist is always late right?"
We look at each other with confusion.
"What do you mean?" Our lead singer Dan replies.
So, it turns out that in a rock band you need at least one guitarist (we have 2), and a bass guitar player. Well, this is news to us, we're pretty new to this.
Suddenly the crisis makes sense – we don't have a bass player, and we're about to perform to a live audience.
Bob helps us out, he offers to lend us his bass guitar – we thank Bob, and offer him some "lemonade" as a way of thanks. He provides a quick summary as to how a bass guitar works and advises to just stick to the top string and hit the note to match the chord, and we'll make it through the night in one piece.
Emergency meeting, somebody needs to be the bass player. Well, that's simple. Ben is the lead guitarist and can actually play pretty well. I'm unanimously demoted to bass player. It's actually a good move for me – turns out bass is an easier instrument to play than guitar after a few "lemonades".
The gig goes well, hundreds of people turn up in party mood and Inertia put on their best sounding setlist to date – sure, our drummer can't keep time, but with our new sound thanks to Bob's kindness and bass guitar, we get through the gig and for that night, feel like legends.
This is one of my early and prominent memories of finding myself in a tricky situation, needing to think fast and be prepared to adapt and try new things in a high pressure scenario. On this occasion it worked out great, an act of kindness from Bob turned a disaster, to a win – and a learning experience too!
Inertia stayed together for many years after and became one of the popular bands on the local young rock music scene.
But, these things don't always work out. Or at least, it's not always so black and white. And sometimes, the stakes are higher.
The pitch
Fast forward to 2008, after a few years working in dot-coms, arts, design agencies and freelancing I co-found my first web design agency – The Dickiebirds Studio – named after the nursery rhyme "Two Little Dickiebirds" with the other partner's name being Peter. We just set up as a Sole Trader under my name legally, so we're not officially a company, we're 4 freelancers as a collective and all the business goes through my accounts.
We're a whitelabel website design and build team – we help other web agencies that have scaling pains. Those agencies hire us to outsource work during their periods of growth.
We're doing pretty well, we're charging enough to just about get by but we're not exactly rolling in cash. But we're thrilled to be actually running our first agency, gaining clients and being independent. We're even working indirectly with some pretty high profile brands – Disney, Simon & Shustler, Paramount Picture through some of the agencies that hire us.
Just like in the rock band, we're a team of four. Myself, Peter, Tomek and Greg. As an all-rounder, I'm neither the strongest designer nor the strongest developer in the team. So just like in Inertia in 1993, I'm "demoted" to project manager. It's my job to manage the clients, and the team workload.
So here's the thing. Nobody taught me client management, project management or sales, but I've always been ready to dive in and give things a shot – just like taking on the role of bass player. It's worked out great before, and I'm positive it's going to be just fine this time too.
We're supplementing the agency work with a few direct client jobs. A local online community business directory, an online teen magazine and we even manage to give a little back by building a website for a UK charity helping post-war conflict communities build literacy schools for displaced children in Western Africa.
It feels like we're really getting somewhere with the business. Our schedule is completely full with agency outsource work and a slowly growing portfolio of our own clients. And we're doing real grown up business things like giving back to the community through helping a charity. Our confidence is high, we're happy.
Opportunity knocks. An offer to pitch for a big web application. Our typical website project budget at this time is around £2000. This application is significantly bigger than what we are used to by orders of magnitude. This is way out of our comfort zone.
While we don't really think we have any solid chance to win this job, we decide to give it a shot.
On advice of one of the partner agencies we work with, they recommend a budget of almost £100k. For us, this is eye-watering – we surely can't charge this much for a web application? So we pitch lower – around the £50k mark. For us, that's huge money – 25x our typical website budget.
Long story short, we won the job! It'll become apparent why we were chosen, later on – but for now, we're feeling pretty great!
I walk into the studio the day after a presentation in London to the prospective client, to the team playing the Rocky theme tune in honour of my winning pitch. We feel like legends. Sure, we probably under-quoted the work, and quite a few extras were put into the spec during the pitch – but it's £50k! We dub this the super project.
What could possibly go wrong for that amount of money, right?
We're a proper web agency now. Yesterday we were a team helping agencies with growing pains. Today we are the agency with the need to scale. We've made it.
Scaling an Agency? Easy Peasy…! Right?
We have a problem, we need to scale. Our schedule was already completely full, and we don't want to lose those clients and associated revenue. My business partner Peter is one of the most resourceful people I know and is originally from Poland. He tells me that due to the strong economy in the UK, developers in Poland generally are charging less than their UK counterparts and he feels we can partner with freelancers from his homeland to help us with our "growing pains". It's a good plan.
We source a team of talented developers in Poland, and begin outsourcing the agency work agencies were outsourcing to us, to the team in Poland. We call this group of developers The "Dickiebirds sub-team" – pretty cool right, we have a sub-team!
Things are going really well. Firstly, we're really getting the hang of this business thing now, and confidence is sky high. It seems like we will be able to get the work done in Poland at 50% the amount we're charging to the agencies we work for – it's like a license to print money.
And secondly, our super project – the £50k one was going great too. We were delivering on time, the client was happy and looking to recommend us to bigger and better clients still.
The Truth
OK, so the last two things I just told you, are not exactly true. In fact, completely untrue.
The "Dickiebirds sub-team" are looking after the workload of what was our entire client portfolio prior to us winning the super project. It's not going well. I've severely underestimated the skill of delegation and outsourcing. We've had to swap sub-team members out a few times where we've been let down, or we've mis-managed. Projects are late, and stress is starting to creep in.
With the setbacks we've ended up eating into our profit margins to pay twice, sometimes three times to different freelancers to get the work done properly – and even then, it's not up to the standard our agency clients had come to expect.
We lose some clients, and with others we're forced to give the money back where projects have completely failed – and yet we can't get the money back from the freelancers. This is disheartening. Our reputation is taking a beating. And our pipeline of work is drying up. You're only as good as your last performance so they say.
As for the super project? Well if it sounded bad what was going on with our sub team, well that's nothing compared to the disaster unfolding with the largest most riskiest project we had taken on to date. But, at least we're getting paid for it though right?
Wrong
Well, we received our deposit payment (about £7k), but other payments are being held back, and actually it's not our fault. Every time we hit one of our milestones, we run into the CEO of the company / client. Every time we attempt to get paid, a new drama appears from the CEO.
I realise that this individual is deliberately putting barriers and distractions in place to withhold milestone payments to us. Months later I learned he is an "installed" CEO with a strong reason to cut costs during the final financial quarter (for which he has a heavy bonus incentive).
Later I also found out that he had fired key senior members of his own development team, again to cut costs to meet his financial target for his bonus. As a result, his own team's side of the project is completely failing, and his strategy appears to be to offload as much of this responsibility and blame on to us – unbeknown to me of course at this time.
So where are we at this point? Well, all our income is going straight to the sub team in an attempt to finish our agency projects. The super project was supposed to be the income stream to pay for the core team, but we're not getting paid. We're also for the most part not getting paid for our agency work as it's either sub standard, or late. We're completely broke. Well, I'm especially broke – all the finances go through my accounts, and I've prioritised whatever money I did have to go to the other team members.
The email
Then, I received an email from the super project CEO. It's a fairly typical email from this person.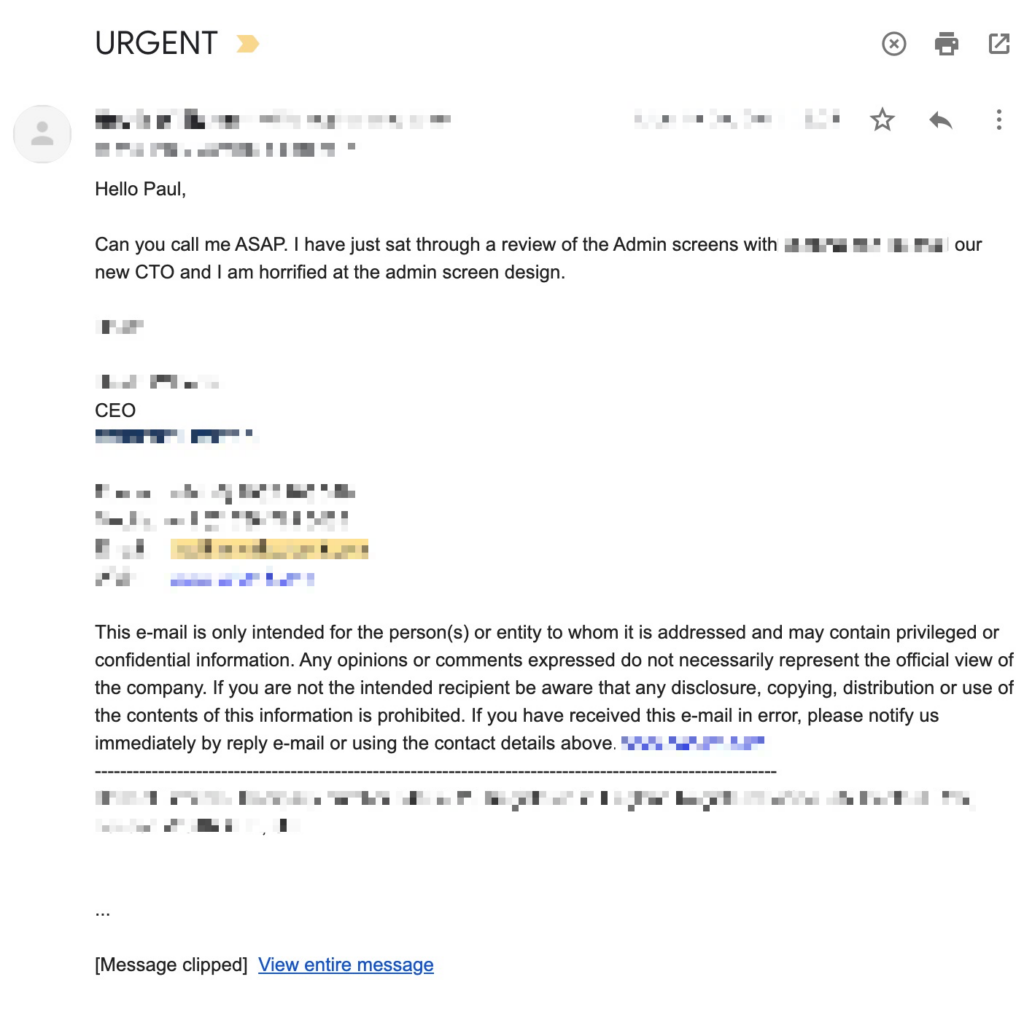 I'm broken, we're not even designing the admin screens – they are looking at their existing admin screens, but the bullying campaign is becoming relentless and he's trying to use us as a distraction and undermine our actual work, to distract from his own failings. I should mention, the previous CTO was signed off with mental illness later citing bullying from the CEO of this company. Quite a pattern is emerging.
Overwhelm
I'm now £8k overdrawn. I know for some businesses, big deal right? Well, for me, it's a big deal. It's all in my name, I'm close to personal and business bankruptcy.
How has everything gone so wrong?
All I can think is…
Failure…
Stress…
Anxiety…
Regret…
Exhaustion…
And… the worst…
Loneliness.
I've stopped going to the studio now, I'm working from home. I can't face trying to get through this in front of the rest of the team and them seeing me falter and crumble – I feel ashamed. I start to notice a constant twitch on my eyelid, I'm not sleeping, and I'm probably not a great person to be around for my wife at the time.
I have a young daughter, but I'm blind to her wonder and I'm missing out on experiencing her grow. When people talk to me, I'm looking past them. I'm not calling my friends, I don't want anybody to ask "how is your business going?" – I don't want to have to lie, and I don't want to tell the truth. I just want to internalise everything. I don't know what I want. It's just pain.
12 words
I'm at home, staring at my laptop. My doorbell rings, there is a delivery.
It's an Airmail package – meaning, it's come from overseas. This is strange.
I welcome the distraction and intrigue, so open the package. And take out what is inside.
What I see forces me to sit. Almost fall. My legs have turned to jelly.
It turns out that at least one of our clients was happy. The artefact I pulled from this package is one of my most treasured possessions. Nowadays, it gives me strength whenever I need it. It reminds me that there is great value in what I do – in what we all do.
It's a gift, a photo frame. And there is a short handwritten message.
Dear Paul,
Liberia is in your debt, thanks for all your help.
This is what they sent to me.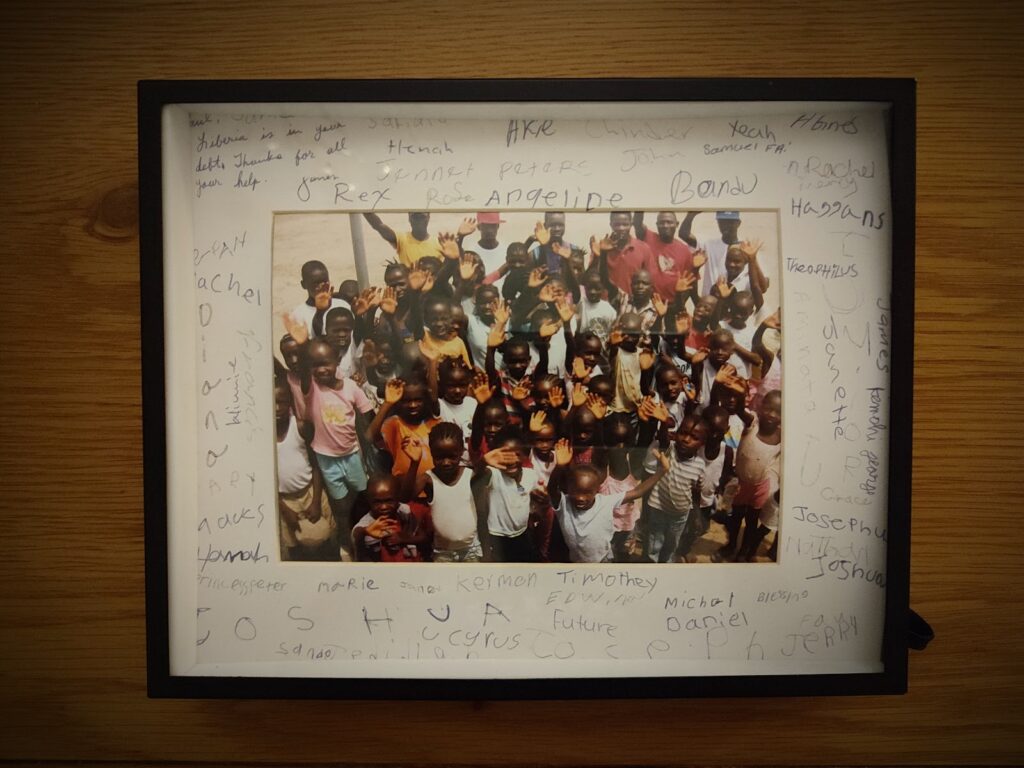 It was the charity in Western Africa. It turns out that the little website we made for them, for almost no money, made a real difference to a lot of kids' lives. The children wanted to thank me.
Suddenly, after a nice cup of tea, quite a lot of tears, I was re-energised. The work we do is valuable. It was time to act. But first, another little cry, but what an amazing cry…OK… to work!
Tooling down
I called the bully CEO, nervous, yet confident in my agenda. "Hi [name redacted], we are tooling down. You need your product, you want your bonuses, you won't get either. And I hung up."
He didn't call back, in fact, I never heard from him again. For a few days I hear nothing, but I don't care – I've redirected all the team's energy back to the agency work to salvage our relationships as best I can.
I received a call from the new CTO. He tells me not to worry about the CEO – he's gone! He tells me immediately he has authorization to transfer 50% of the money we are owed if I will come to London for a meeting with the group deputy chairperson to sort things out. I accept.
OK, well there are a lot of details thereafter that are not really so important, but in brief, the CEO was fired. He was under investigation from the group that owned the company after complaints from team members for bullying, complaints from their most important clients, my own company and other contractors. Unfortunately he did get his bonus before all this happened, these people always get the money, and move on. No matter.
Launch
We finished the project, it was a success.
But it did come at a cost. My energy for Dickiebirds faded soon after the project. The experience had tainted the vision and hopes I had for the venture. A year or so after the project ended, I wrapped up Dickiebirds.
I did however have drive, energy and love for creative work – I just wanted to do it on my own, as a solopreneur. It is around this time when I discovered the WordPress community, and WordPress changed from being just free software I used to something far more powerful.
Unfinished business
Some years later, myself and Peter re-formed The Dickiebirds Studio, this time as a real registered company. And for a few years we had good success at this – we combined our skills learned in the years between. However, with the COVID-19 pandemic the company began to falter, and ultimately I realised at the end of 2020 that it was no longer viable – so I closed it.
Even though it wasn't to be, I always feel now that Dickiebirds had unfished business, and we gave it the second chance it deserved to see itself to a natural conclusion.
Finding our feet
These days, my old business partner Peter is a senior UX lead for a major car manufacturer – he absolutely loves his job, gets paid well, and has a good life balance with the work he thrives in, and a loving family.
As for me, I returned to what I always loved the most – being a solopreneur. These days, I work for a few niche design agencies building out websites and consulting, look after around 70 websites on care plans and at the time of writing I work for Beaver Builder & Blogvault on a freelance basis. I even have an income stream for something I really enjoy – podcasting and live streaming (about WordPress, Solopreneur life). I enjoy sharing my experiences of mental health challenges, web design / UX techniques, and solopreneur life.
I know what I do is valuable, and I strive to do the work that makes a difference, and that I enjoy. I have a loving family who have supported me through the ups and the downs, and 12 animals including dogs, cats, chickens and rabbits to keep me company too.
I'm happy to give back, I'm grateful for the opportunity life has provided, and I know… I know that I can get past challenges with the strength those amazing kids from Liberia gifted to me.
They really have no idea what they did.
All of you probably have your own Package from Liberia – if not, one day you will – just keep moving forward, don't give up.
I've actually told this story on stage, a few times now. Please forgive me if the exact details differ a little – on stage, it's quite scary. If you'd like to see it, it's on my website homepage at paullacey.digital entitled "How giving back to community gave me strength to move forward". When I gave that particular talk, I was still a Dickiebirds. So the ending is different this time around.
At this talk, I ended with a poem – kindly written for me by my mother in law, Carole. Somebody who has also been there for me, and my family through the hardest of times. I asked her to write me something for my first telling of this story.
Here's the poem, I hope you enjoy, and find some strength moving forward in life.
A poem by Carole Griffin, 2019
Life teaches us how to measure our days,
And we see our own lives in so many ways.
Try not to compare with others, or chase
Those rainbows above; life is not a race.
Instead, use the colours to structure a path,
It may twist and turn, but make it one that will last.
The red of riches beyond the measure of money,
The sweetness of orange like freshly farmed honey,
The yellow of sunshine that shines in your heart,
The blue of the sky when the winters depart,
If a sign leads towards a sense of unease,
Look to indigo and find yourself within these:
Sincerity, wisdom, value, dignity too,
Believe that all these exist within you.
---

Remember: no matter what happens, what you do has great value.
—Paul
Contributors of this story: Paul Lacey wrote this gem, Oana Filip provided feedback and edited it, Andrei Ungurianu put it all together, George Olaru designed it, Răzvan Onofrei was in charge of the development.