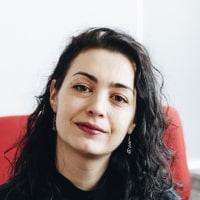 Hey, I'm Irina! Whenever I read a new Upstairs story, I have the distinct feeling that there is someone out there who thinks and feels like me in some regards, which until then I thought to be just a peculiarity of mine. Sometimes I feel weak or not good enough for so many reasons. When I read that creatives like me face similar doubts or that their paths are not that different than mine, I don't feel weak anymore, but inspired and…just normal.
Find me on my website and LinkedIn
My superpower skill
I would say empathy and communicating well with what others call "difficult people." I came to understand that I have a natural talent to put myself into other people's shoes and understand what they mean or want to say, even (or especially) when they don't know how to say it. Although a natural skill, I have also cultivated it through various soft skills training, workshops, and a lot of reading about human psychology and neuroscience.
What influenced my career
I have never actually asked myself this; not seriously, anyway. I believe it started with my grandmother, who cultivated a spirit of independence and the taste of freedom in me; hence I always yearned to be my own boss. Then a girl I occasionally met on a summer holiday, Ana, right before my BAC exam, who talked to me about this international student organisation, AIESEC, with such enthusiasm, that I decided, then and there, to give up the upcoming career as an architect (for which I had been preparing for the past two years) and sign in for the Economy Faculty instead, so I could join this organisation.
Then there was Ioana, my mentor in the communication department in AIESEC (now a brand strategist with awards in her portfolio), who encouraged me to write and be creative and inspired me in my career. Ultimately, but not least, Alexandru, my former colleague from the local video studio where I worked, who encouraged and cheer-led me to start on my own as a communication consultant and copywriter. And here I am, still standing on my own, seven years later.
On top of all these people I am grateful to (and deserve the mentioning), there has always been my best friend Irina, who saw me through all the difficulties and happy moments, held my hand and got my back, believed in me, listened and gave me the advice I needed and still helps me navigate the troubled waters of entrepreneurship and life in general. She was the one who first encouraged me to further explore my drawing skills and dare to express myself artistically, and let others see this other side of me. Who knows? Maybe it will become part of my career, as well.
Favorite way of slowing down to enjoy the moment
Having a chill, genuine and heartfelt conversation with my friends over a cup of coffee or a walk in the park; play the piano; read fiction somewhere in the middle of nature, playing with my cats, doing some home crafting.
The last time you talked about a mistake you made
Just yesterday, on a walk with Irina, while re-evaluating my career paths and criticising myself for my lack of direction, ambition, and "success." I ended up admitting that this kind of approach and self-directed speech is a mistake, as it does not do me any good; quite the contrary.
Working with different people
I got to work and have meaningful conversations with many people of different cultures during my international study and work experiences. This kind of interaction is the most precious thing I got to take away from all these endeavours. It fuelled my curiosity and broadened my understanding of the world. I learned to be less judgemental and see people within a larger spectrum of nuances, not only in the terms I was used to from my limited encounters. For instance, I learned that people who otherwise I would have labeled as too shy, lazy, or selfish were just respectful for the time of others or obedient in front of authority because their culture taught them so.
One professional tip that you learned the hard way
Always set clear the expectations of both sides of collaboration, right from the start. I learned to ask candidly what the client's expectations are (in terms of time, results, delivery, and work process) and state, just as candidly, what, how, and when I can do and deliver.
Also, put everything in writing, so whenever there is a misunderstanding, you can go back to the written proof of what was communicated.