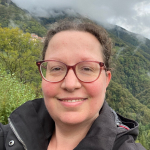 Hi, I'm Marta, the human being behind this issue of Upstairs. I am a translator by profession and a nomad soul by nature. I believe that traveling alone is one of the best ways to get to know yourself better. This is the story of the most life-changing trip I took so far.
---
Putting the puzzle together
Even though I can find small signals that showed me that my entire life led to a particular trip, the journey began in the Spring of 2012. That's when I started taking sailing lessons on a small lake close to home. I always dreamed of sailing, probably because I grew up with a father who did not talk about anything but travels, dreams, and old sailing stories from the '70. And since my life was relatively stable, I decided it was time to pursue that dream.
This is how I first met Mike, my sailing instructor, and a good looking man who was well aware of his attractiveness. I later discovered that he became central in making me open my eyes and look at my life for what it was: a golden, boring box that kept me trapped. I was 32, and my freelance business as a translator was finally going well. I was in a 10-year relationship with Frank, the last 4 of which we lived together, and we were starting to think about having a baby.
I kept going on with the same life for a few more months, but things started to shift inside me. I questioned everything: what I had, who I was, why I lived that life, and, above all, if Frank was the man I wanted to spend my life with.
The weeks passed, and I kept learning to sail with Mike until one day in November of the same year. He got a diagnosis of stage-4 cancer and a life expectation of three months. I cannot even imagine how it felt for him, but I can tell you how it impacted me. After the initial shock, I've started asking myself: "What would you do if the doctors would tell you that you have three months left to live? Would you be happy and satisfied with your life so far?"
On the 1st of June 2014, I left my home country, Switzerland. I took my motorcycle, a Yamaha Ténéré XT 660 Z, with the idea of heading towards Japan, without having first visited Scandinavia. I planned to cross Russia up until Vladivostok all by myself.
Some promises last forever
Mike was indeed a great traveler due to his previous career as a captain of commercial ships along the most dangerous routes. Therefore, I started sharing with him the preparations for my trip. It became our gateway to thinking about something different from death, chemotherapy, and other painful things that were going on. It was our unique way to face the fact that sooner or later, he would die. I did not want to think that a man I started loving could not be in my life for too long.
One of my main goals for this trip was to visit Lake Baikal. I'm not sure why, but this has always been a place I wanted to see. You know, one of those things you say yourself: "I have to see that before dying." At some point along the way, Mike had a great idea—I would ride my motorcycle to Lake Baikal, and he would reach me there by flight with his brother and some friends for a horseback riding tour on the coast.
It did not happen.
Mike died on the 14th of February 2014, well beyond the initial prognosis, but too soon to witness my departure and reach me at Lake Baikal. That's when I felt I had to get to the destination at all costs. For myself, for his memory, for us.
The events that revealed a different me
Before departing, I had withdrawn from the contract of my rented apartment in Switzerland, put my few belongings in some boxes, and already rented a small place in Japan. I planned to stay there for up to 12 months before coming back home.
As you can imagine, a 15.500 km long trip through seven countries comes with a few challenges. The biggest I had to face was the bad weather conditions in the Scandinavian region. I was ready to experience rain, but not 20 days in a row. Moreover, the two snowstorms I walked through did not boost my motivation. I needed to keep going and don't give up, even though everything hurt.
I started to feel very tired and to think that I can not make it to Lake Baikal after all. Being a resilient and stubborn person, I didn't stop and kept riding on. Although I was trying to ignore the fatigue, somewhere inside myself, I knew I had to change something if I want to reach the destination. Otherwise, I would burn out and drop this journey way too soon.
I kept feeling worse with each kilometer and finally broke down in Tomsk, a small city 250 km North of Novosibirsk, the capital of Siberia, almost the middle point of Russia (or at least this is what it seems if you look at the map). At this point, I had ridden 10.000 km and had not yet reached Lake Baikal. Turning the motorcycle around was never an option.
I remember feeling that fear was taking over and that I was losing all my patience. Something within me refused with all power to get to the destination. That whisper told me that getting to Lake Baikal would have been devastating, so it kept fighting back to make me end the itinerary. Getting there was the equivalent of accepting Mike's death and letting him go, forever. I was not sure I was ready.
The turning point
On the 18th of July 2014, I arrived in Tomsk. I do not know how, but for some reasons, the family who hosted me there for five days understood right away that I was in a crisis, without the need of asking, talking or explaining anything. They fed me, took me to visit the city, and gave me space and time to figure out what to do next. They have been simply amazing.
I found them on Couchsurfing, an online community that offers free accommodation among members. They are a quite chaotic and cheerful family of five with a significant difference between the first son, already a teenager at that time, and the twins I did not have the chance to meet because they were on holiday at their grandparents' house.
During these days, I remembered something I used to say before my departure to calm those around me who were worried—"Well, don't worry. In case I feel I can't do it anymore, I can always step on the Trans-Siberian Railway and get to Vladivostok in this way." And so I did.
It was a difficult decision to make for so many reasons. I knew a lot of people back home who were waiting to see me fail. It's widespread for us women when we do something we are not supposed to do, only "because we are women." I had to leave my pride and ego behind. I decided that it was far more critical to keep my promise, continue the journey, and get to Lake Baikal and Japan.
With the fantastic help from this family and their friends, I managed to find a carrier that took my motorcycle and brought it directly to Vladivostok. Then they helped me figure out what bus I needed to take to the closest railway station, from where I can reach Lake Baikal by train.
Lake Baikal, I made it
On the 30th of July, I arrived at Lake Baikal, more specifically on Olkhon Island. It's the third-largest lake island in the world, and definitely the most mystical place I had visited so far. Just being there was a huge victory—I kept my promise. It took me some time to acknowledge I made it, and that my earlier decision to separate from my motorcycle, which by then I had named Nikita, had been a good one.
I found a very otherworldly spot where I was free to dedicate my time and energy to offer a personal and last goodbye to Mike. Looking at the lake's blue waters in the absolute silence of nature, I started to think about him. I felt he was there with me. I felt he was happy for me. I felt I was burying him again without having to share this moment with anyone else.
One day, my eye caught something on the side. I turned my head, and there it was—a sailing boat.
Japan helped me heal
After another ten days of traveling, on the 14th of August 2014, I arrived in Vladivostok. For the second time on this trip, I realized I made it.
I kept all my promises, but most of all, I had been truthful to myself.
At the end of this journey, I understood this was what I had lost in my relationship with Frank. I had put myself aside too many times, and, in the end, I felt lost. I did not know what I wanted, who I was, and, above all, why I was living the life I had.
After spending two weeks in Vladivostok, I took the 2-days ferry to Japan. I still remember how it felt to see Japan from the sea for the first time. How it felt to ride my motorcycle on the "wrong" side of the road with many signs I was not even able to read. I began rebuilding myself, piece by piece. I started healing and accepting Mike's premature departure (he was 49) and the end of my relationship with Frank.
My experience in Japan has been remarkable. I've met incredible people from all over the world, and we had a lot of fun. In the end, I managed to get a visa to stay longer. After the first six months in Fukuoka, I had the privilege to spend three more at a Zen Buddhist temple near Oita before flying back home (I shipped Nikita back from there).
A few months before my departure, I started to keep a journal, something I still do today. I have always loved stories. During my trip, I had many things I wanted to write down—names of places and people I did not want to forget, things that happened to me, stories of other people's lives.
After returning to Switzerland in May 2015, I realized that this experience had given me another great present besides making peace with Mike's death. I finally understood that I want to be a writer. I did not know how to make it happen or when would be the right time, but this was not that important back then.
Writing even just a couple of words in my diary is good enough to keep dreaming.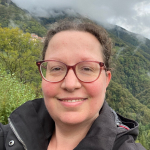 I wish you the same,
—Marta
Contributors of this story: Marta Brambilla wrote this gem, Oana Filip edited it, Andrei Ungurianu put it all together, George Olaru designed it, Răzvan Onofrei was in charge with the development.