We're proud to say that our customers keep our wheels spinning in the long run. They succeed to make the most out of our WordPress themes by using them in style. Their stories are ours too, and we're grateful for that.
The following interview highlights the power of great content. Sinziana is doing a great job with Patch, a blogging WordPress theme available on our shop. I'm thrilled to see how she shapes the digital world through meaningful storytelling.
---
Q: What's the story behind the scenes aka your digital crib?
Sinziana: FAAIN has a long story, even though I launched the blog just beginning this year. I was thinking for a few years now about creating a website, a kind of online diary or catalog of beautiful and one of a kind things I discovered online, where I could share with the visitors the experiences and stories associated with them and their creators.
I didn't have a very clear idea back then (not that I have it now to be honest) of how FAAIN should be or develop further, but I am just enjoying the journey for the moment.
Q: What do you like most about blogging and storytelling?
Sinziana: I think what I enjoy the most is the feeling I have after finishing a new post and reading and re-reading it with the excitement and anticipation of knowing that someone else is going to read it too, maybe together with a coffee or a glass of wine in the evening and enjoying the discoveries on the blog, the same way I did.
I wish my readers have the joy and hopeful feelings I get when I write about "beautiful businesses" as I like to call them, about real people who follow their passion and create unique items you cannot really find everywhere else and who try to tell their story also, but through their art, design and craftsmanship.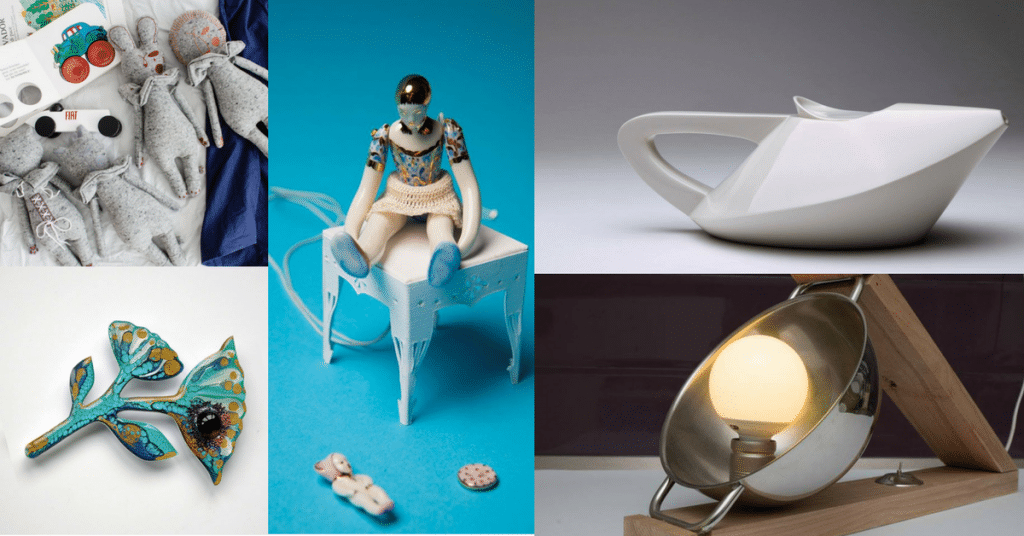 Q: How do you succeed to stand out from the messy www world?
Sinziana: Well, now is yet to be seen whether I will stand out from the crowd or not with my writing, I just left the station, so to say, but I think Patch will definitely help me stand out.
Patch is like a chic outfit with black gloves and a sexy hat you would wear in a train while everybody else is wearing jeans.
In my articles I try to be genuine and capture the feeling I get when talking to the designers and artists I am interviewing, because most of the time I do not have the chance to meet them in person, however that feeling is pretty easy to be written down in a post, because there is a type of chemistry we have and it comes pretty naturally. I think the blog will stand out because of them, not necessarily because of me, I am just trying to be the messenger here.
Q: How would you present your blog to someone (in a real conversation)?
Sinziana: That's not so easy sometimes: as they say, if you don't know how to explain your idea or to pitch it, then you don't know what you're doing. Well, it's true, I don't know what I am doing and where is this going to lead, I have some ideas I am trying to figure out and I am open to the opportunities this blogging adventure will bring.
To keep it short, FAAIN is about personal and unique and personal experiences, a place for aesthetics and design, for stories and passion.
Q: Name a bottleneck that would have prevented you from buying Patch?
Sinziana: I don't really enjoy the more or less technical aspects associated with having a blog, like setting up the theme, taking care of hosting, security certificates, site speed and backup, installing widgets, plugins, customizing and stuff so this could have been an issue for me.
With Patch things seemed somehow simple to do and knowing that there are additional services which one might choose when buying the theme gave me some confidence that I'll have someone to help me out if needed.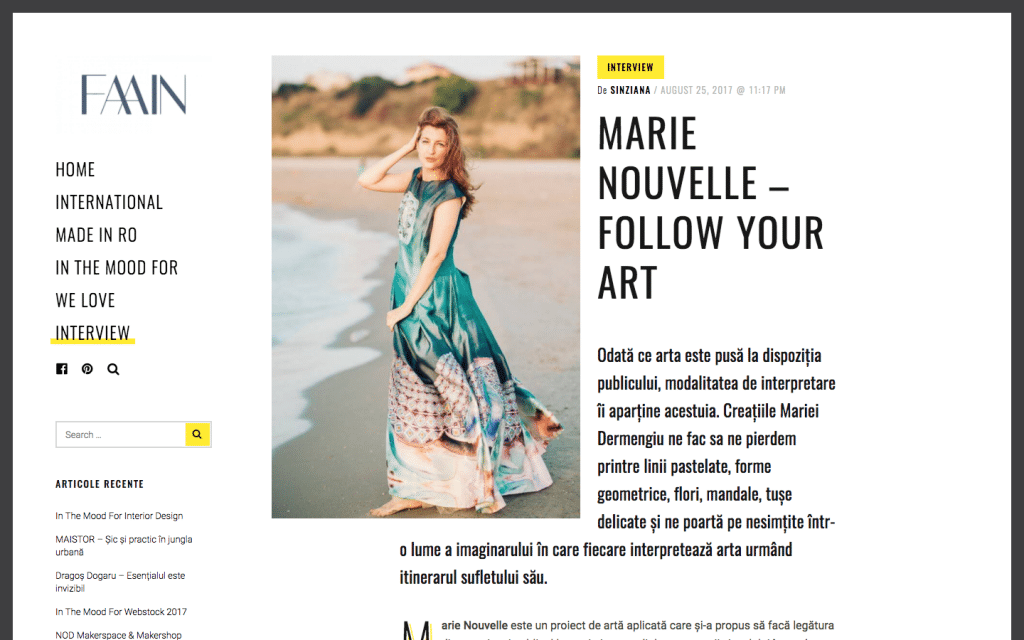 Q: What specific feature did you like most at Patch?
Sinziana: The thing I like most about Patch is the "surprise factor" due to the algorithm that shapes the layout of the content. After writing a post I am testing some of the formatting features and I don't know how the text and the images will look like so I am very curious when previewing the changes to see the results. I love the fact that I can play with Patch while writing.
Q: What makes this theme a hit?
Sinziana: I think that the simple and clean visual approach along with the flexible layouts that adapt to your content are the top features of this theme. The post formats, the awesome display on mobile and the digital magazine feeling given by Patch are definitely contributing to an unique reading and writing experience.
Q: Why would you recommend it to someone else?
Sinziana: Well, actually I wouldn't recommend it to anyone else, I want to keep Patch only for me ❤️. Now, getting serious, I would recommend it to those who like writing and playing, who usually prefer simplicity and clean design over crowded themes, who want to stand out effortlessly (as they say, beautiful things do not ask for attention) and who have creative nature.
Q: How would you describe your experience with our crew?
Sinziana: I am the type of girl who doesn't ask for help, even when needing it, however with your team that wasn't such a hard thing to do, the communication was smooth and friendly so I reached out to your Support team whenever I needed help with the theme. I like the fact that you are building a community around Pixelgrade and I am happy that this happens in my own town and that I am now a part of it.