How to add an Instagram Feed Widget?
Visual content is the new hit in the digital world, so no wonder why Instagram is getting so much traction these days. Focusing on this particular channel might be a good strategy in the long run. It allows you to connect in a powerful way with your community. In this article, we walk you through the main steps of adding an Instagram feed widget on your website.
Step 1 – How to start?
There are dozens of options which can make the trick, but we've tested the Instagram Feed plugin and we're happy with the results, so we'll stick with this one.
Here's what you have to do:
Log in to your Dashboard, go to Plugins and click on Add new
Type the name of the plugin (Instagram Feed) directly in the search box from the top right corner
Once you found it click on Install Now, and then on Activate
On the side menu of your Dashboard (under Settings) you now have a button named Instagram Feed. To properly set up the plugin you need to go through the main tabs: Configure / Customize / Display your Feed / Support.
Start with Configure and click on "Log in and get my Access Token and User ID" button to get the information you need to fill the above boxes. Just copy-paste the Access Token number and the User ID, click on Save Changes and you can move further. Check out this short video to get it right without losing valuable time.
Step #2 – How to customize it?
This plugin gives you plenty of freedom to adjust it to your needs. To play around with several options you need to go to Dashboard, click on Instagram Feed (under Settings), and click again on Customize tab. As you can see in the following screenshot you have a bunch of items to consider: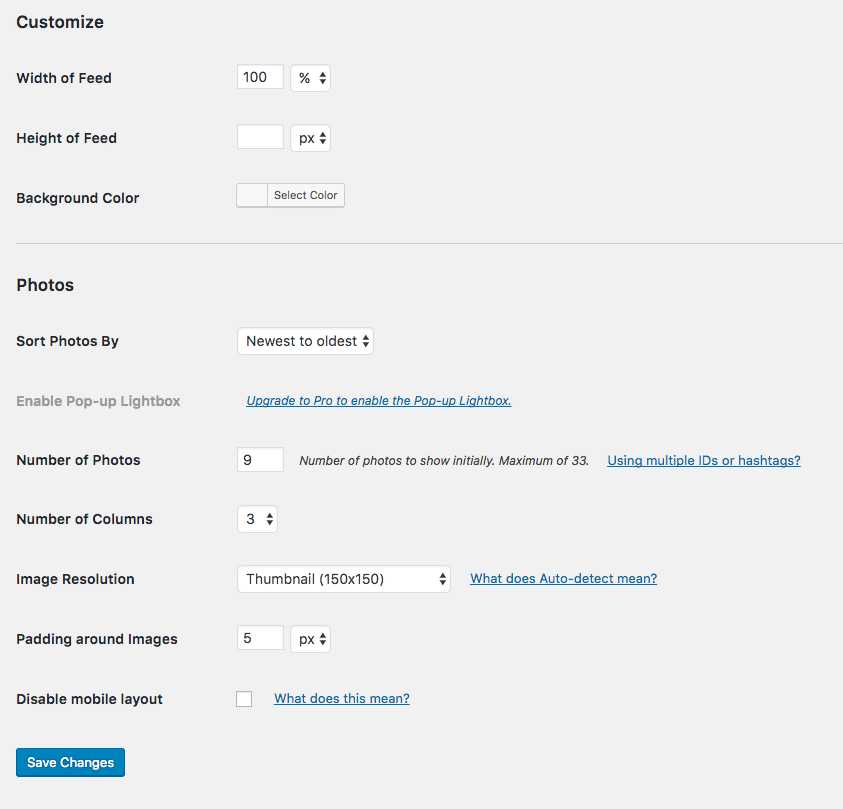 Step #3 – How to display the Instagram feed?
You can easily display the Instagram feed wherever you want across your website: inside a page, a post or in the Footer area. After choosing the right place, just go back to Dashboard, and click on Instagram Feed. Now go to the Display your Feed tab and copy this shortcode:
[instagram-feed]
Depending on the destination of the Instagram feed you just need to paste it. For instance, if you plan to display it in the footer, here's what you need to do:
Go to Dashboard → Appearance, and click on Widgets;
Drag-and-drop the Text widget beneath the Footer area section and fill out the form (you can write Instagram on the title field and paste the shortcode on the content field;
Click Save, and you're done since your Instagram feed is now showcased in the footer.
Updated on December 27, 2017