How to use the HubSpot WordPress plugin to grow your online business
When you installed one of our themes, you may have noticed that we recommended the HubSpot plugin. Have you wondered what it does? Or how it can help your website and your business?
Below is a quick guide to the HubSpot plugin and how it can help your business grow. If you haven't already, sign up for a free HubSpot account or check out their guide to installing the HubSpot WordPress plugin.
What is the HubSpot WordPress plugin?
HubSpot is a leading CRM (Customer Relationship Management) and marketing platform — giving you everything you need to turn your website visitors into leads, leads into customers, and customers into raving fans.
They've brought much of their free functionality to WordPress and are helping over 250,000 WordPress users connect with their website visitors and grow their online businesses.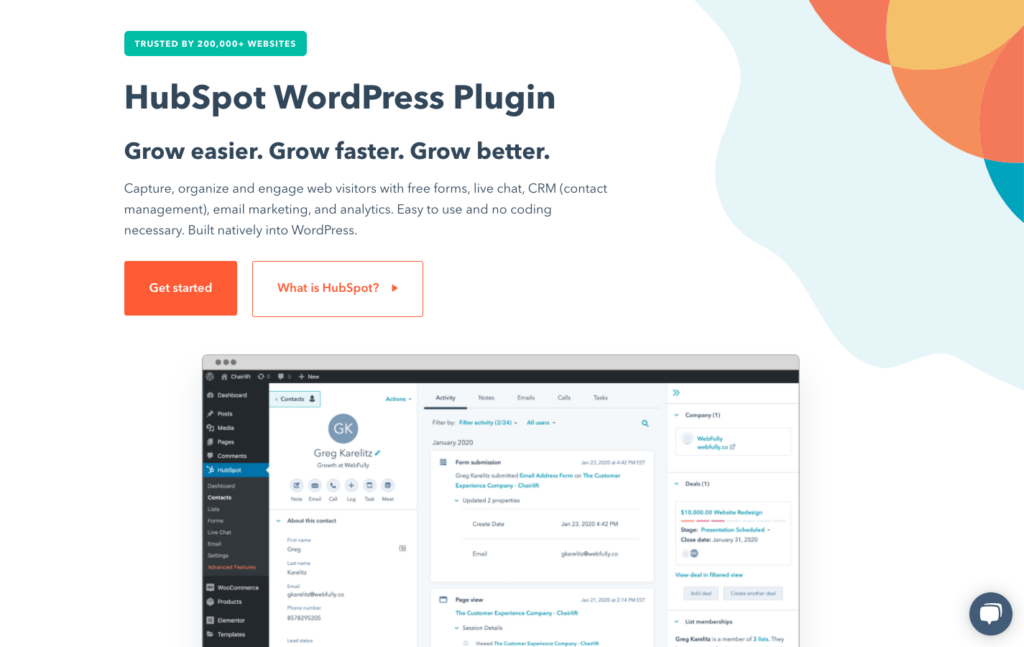 Capture leads with the HubSpot plugin
The HubSpot plugin comes with its own forms, pop-ups, live chat, and chatbot functionality. You can create and launch these free tools directly from your WordPress dashboard. Additionally, HubSpot syncs with many of the top WordPress forms tools — allowing your website visitors to connect with you in the way they most prefer.
All submissions are synced to the free HubSpot CRM, meaning you and your team can respond to your leads from a shared inbox, launch marketing campaigns to follow up, or even connect via chat on-the-go through HubSpot's mobile app.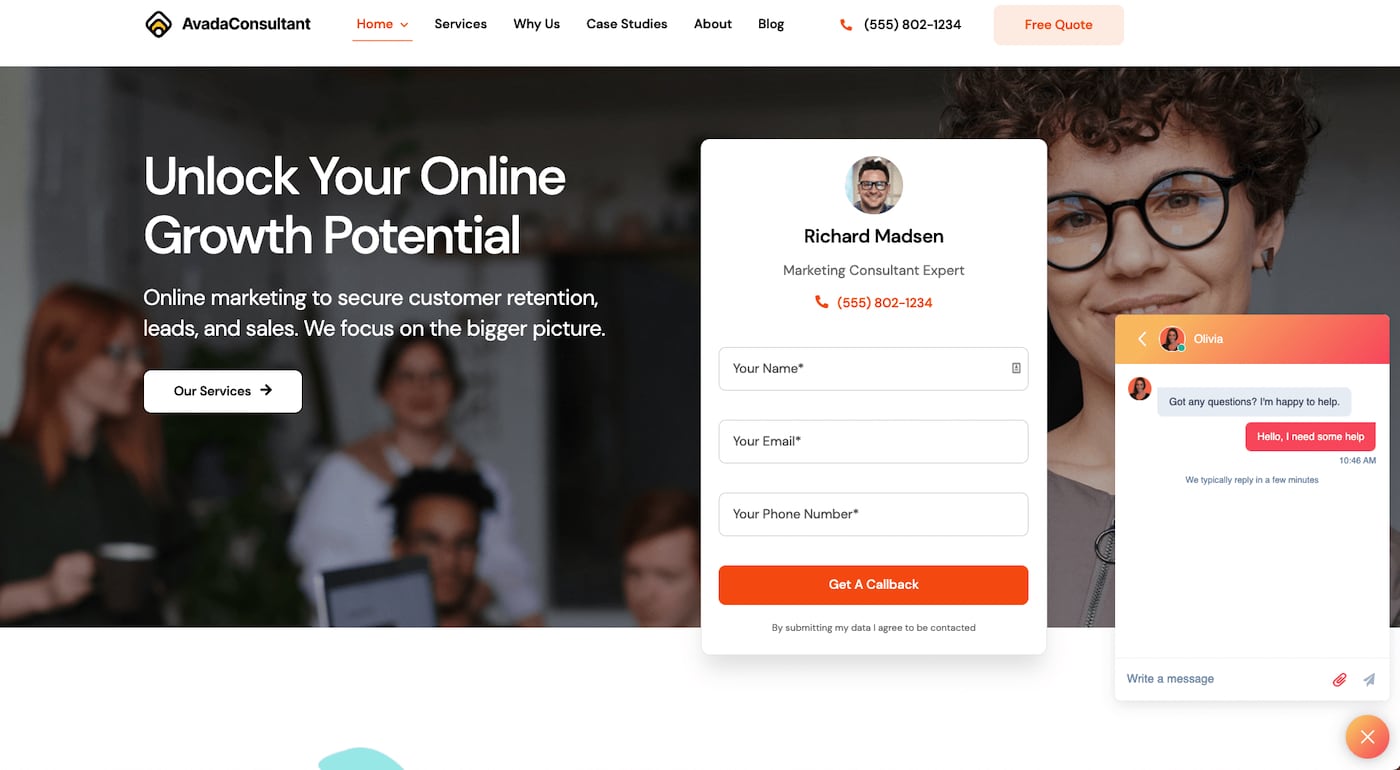 Manage your contacts and see how they're interacting with your website
At the core of HubSpot is its free CRM — which is accessible from your WordPress dashboard.
This stores all the information your business has about a contact in one central location, ensuring everyone on your team is able to access information whenever they need it.
What's unique about HubSpot's plugin is the ability to see exactly how a contact in your CRM has interacted with your website. HubSpot adds a special tracking code to the website, allowing you to see what pages your contacts have visited, what forms they've filled in, the conversations they've had on live chat, and much more.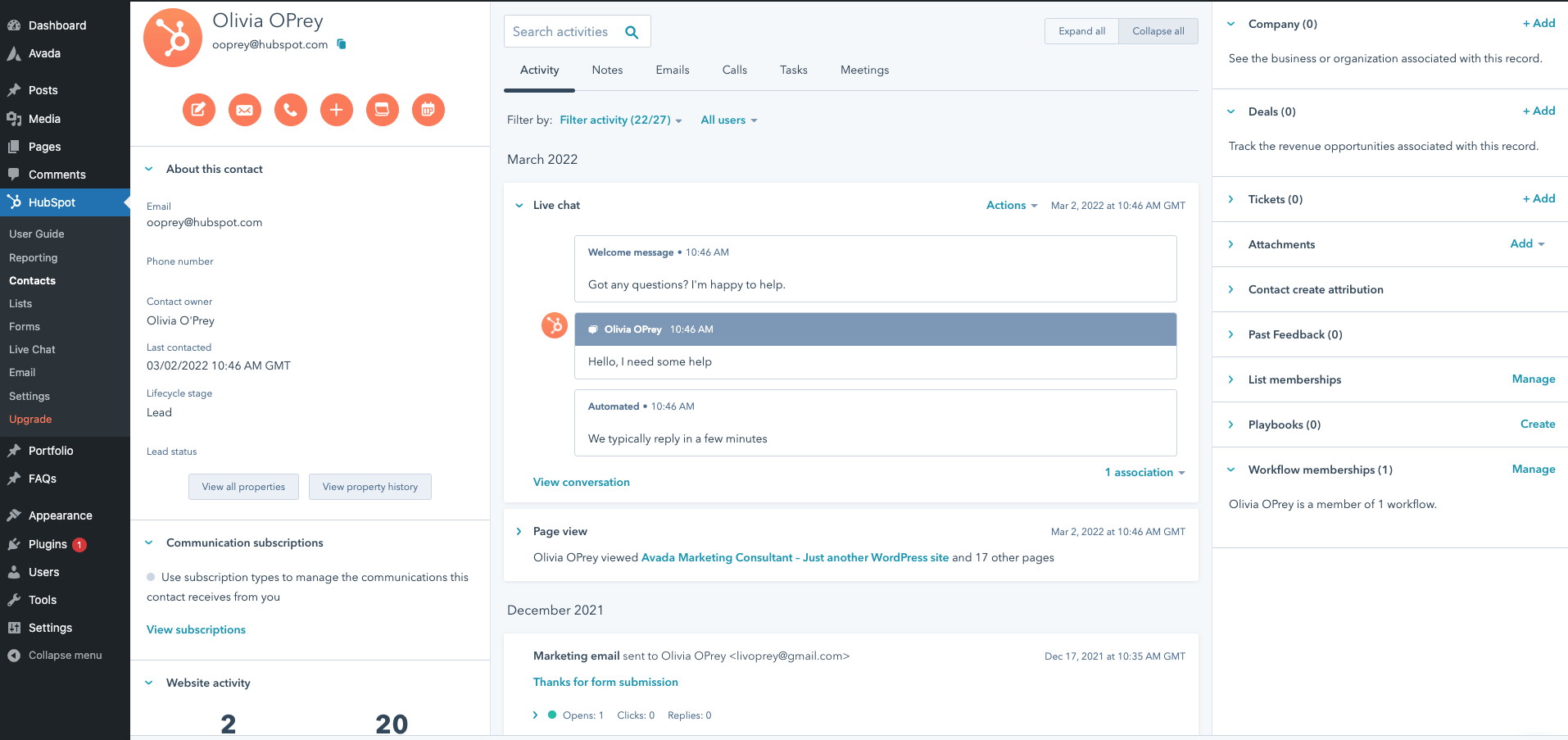 Nurture leads into customers and customers into fans with the HubSpot plugin
HubSpot's CRM stores all the information about a company's contacts in one place and allows businesses to segment those contacts into lists. This allows for targeted, personalized marketing campaigns that convert.
Examples of useful lists include:
Leads who have visited a specific page on the website (such as a pricing page) but haven't converted to a customer
Leads who filled in a specific form on a website
Customers who have purchased a specific product
Customers who have responded to a survey email
Once a business has started segmenting its contacts into lists, they're able to benefit from HubSpot's free email marketing tools.
From within the WordPress dashboard, businesses can set up email communications to their contacts. This could be in the form of a regular newsletter, one-off emails announcing promotions, or customized emails that help convert leads to customers or customers to raving fans.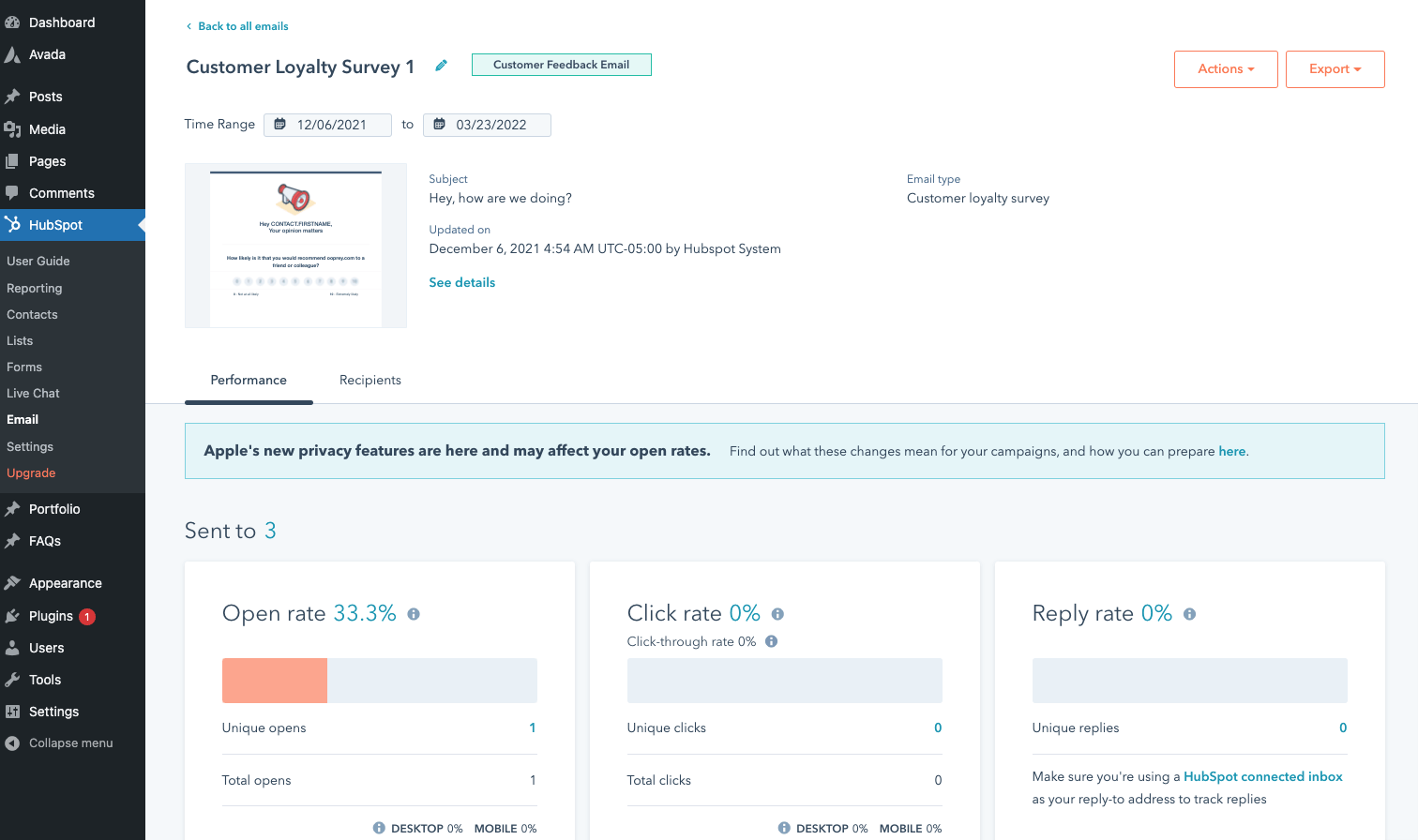 Summary of the HubSpot Plugin
HubSpot's plugin is great for businesses that are looking to grow online. It offers a range of free functionality, and users can upgrade if they want to unlock even more features.
Updated on March 25, 2022