Sharing your content is no longer a nice-to-have since people are spending a lot of valuable time in this area. From requesting recommendations of any kinds to asking for help and inviting to events, social channels require a certain strategy and way of doing things.
In this article, we will walk you through how you can get the share buttons that are relevant to your business goals and overall plans regarding digital marketing.
Step 1 – AddThis Service for Sharing Buttons
We're offering a custom integrated solution with one of the most popular social sharing services out there: AddThis. We have chosen it due to its wide use, a large number of supported social services and options to customize. On top of that, you also get social sharing analytics (even integrated with your Google Analytics property), which means you can take better decision in terms of your audience.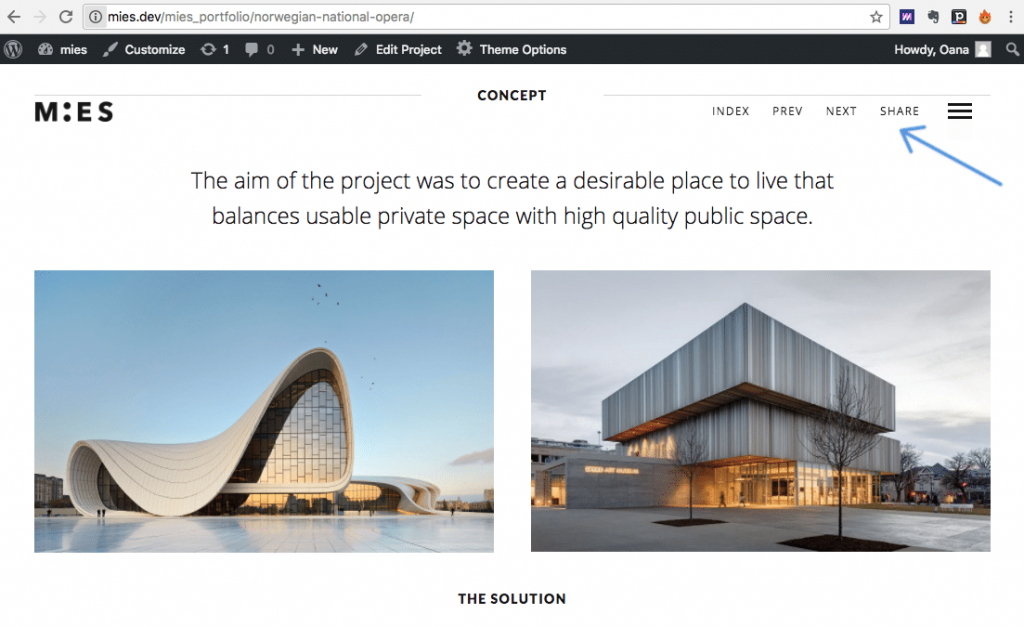 Please bare in mind that we don't have any commercial link or agreement with AddThis to promote their service, be it free or paid (they do have a Pro account type). All of the suggestions we made are based on one goal: to help our customers get the job done.
Next, we will share some hints about how we have envisioned the social sharing in Mies.
Step 2 – Showing the Share Links
Once you know which social channels are suitable for your particular needs, here's what you need to do next:
Log into WordPress Dashboard
Go to Theme Options (under Appearance) → click on Social and SEO and enter the IDs of your social accounts (screenshot)
Click on Save Changes (from the right side of the screen) and you are done for now.
The Share link is located in the top header navigation, replacing the Menu text on the scroll. This is only displayed in pages, posts, and projects. However, you can customize this even further.
For instance, on each page, in the Hero Area Settings, you have an option called Social Share. Simply select Disable from the drop-down, and the share link won't be shown on that particular page (nor the AddThis scripts).
You can also customize the text (Share in this case) by going to Theme Options→ Portfolio → Share and enter the name on the field. On the other hand, if you plan to get off of all the share links (even though we don't recommend it), you just need to leave the above field empty and we will not display the link or any AddThis scripts.
Step 3 – Configuring AddThis 
AddThis offers quite a large number of supported services, each identified with a specific, lowercase name that you can find in this list: http://www.addthis.com/services/list
From Theme Options → Social and SEO section you can enter as many different services as you want and they will show on your site. The catch is that you can also have a more button (the plus sign button) that will open up a popup where people can search for their particular service. So you don't have to add a large number of services to make sure you cover all your bases, just the most relevant ones.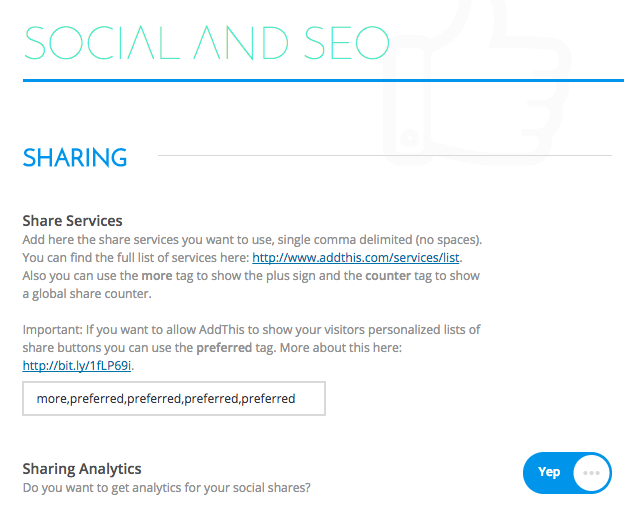 On top of this, another great thing about AddThis is the preferred button type that will display your visitors' favorite social services, saving the time of finding them. This feature allows you to cater to a much wider audience, since there are so many social services nowadays, from different geographic regions, in different languages, and so on.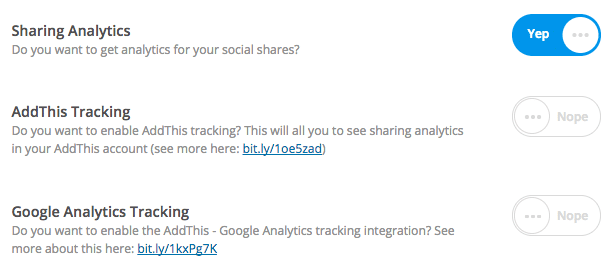 Last but not least, you can activate the Social Sharing Analytics to capture insightful data about your social activity. All you have to do is to go to Theme Options → Social and SEO. There, you will be presented with two secondary options allowing you the freedom of either using the custom AddThis Analytics (you will need to enter your AddThis username) or your Google Analytics account (you will need a Google Analytics Property ID).
Updated on August 25, 2020