Adding Share Buttons with AddThis
Encourage your visitors to spread your content across a large range of social networks and drive more traffic to your site. Configure the sharing buttons so they can easily share your projects and blog posts to their social profiles.
Step 1 – Configure AddThis Social Sharing
AddThis offers quite a large number of supported services, each identified by a specific, lowercase name that you can find on this particular list. Next, we will walk you through the process of adding these share buttons on your website. Here's what you need to do:
Log into WordPress Dashboard
Go to Appearance → Customize → Theme Options → Sharing, and fill in the Share Services' field (under it there are instructions on how you can easily add your favorite social channels). For instance, the + icon opens up a popup where people can search for their particular service. On the other hand, a preferred button type will try and display your visitor's favorite social services, saving him the time of finding them.
Click on Save & Publish and you're done for now.

Step 2 – Display the AddThis Social Sharing
The next step to make the most out of the social sharing is to display it in the right spot. People need to easily find them in order to engage and drive results.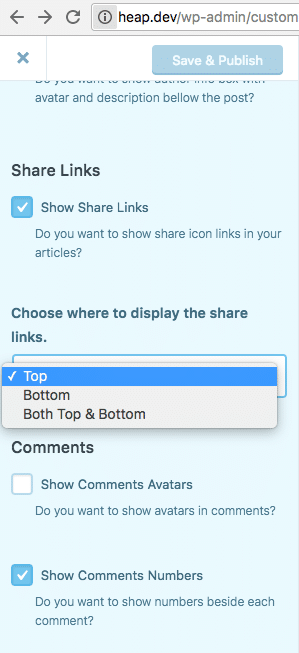 Here's what you need to do:
Go to Appearance → Layout → Content, scroll down till Share Links, and click Show Share Links.
Under this, you have a drop-down named Choose where to display the share links and click on the option that fits you best (Top, Bottom, Top and Bottom).
Click on Save & Publish and that's it.
Now you are ready to share your stories with the world and change it for the better. Bare in mind that you don't need to make use of all of them since too much distraction can make people feel confused. Stick to what works for you and your website's personality.
Additional Readings:
Updated on August 25, 2020