This article's goal is to give photographers and visual artists in general, a glimpse into how we believe building an online showcase should unravel. This is us giving a helping hand to those who value their art and aim to share it with the world.
---
We, the Pixelgrade crew, like to think that we do much more than delivering exquisite WordPress themes for our beloved clients. We work really hard in order to provide an unforgettable experience for those who are eager to raise the bar. Believe us, it's not just a way of saying, we take this to heart and strive to live by it.
We value your peace of mind just as much as you value your work.
If there is one thing that stuck with us from the start, is that you can't go general with creatives. No. Each of you has your own story to tell, your own unique perspective on this marvelous world around and inside us. Could we have made things harder for us? Probably not.
But we are not shaken in our determination to help you. And being a design focused team definitely, helps. That is Design with a capital D. Design beyond pretty pixels and eye‐watering animations (though, who can resist those?), design that asks the hard questions and digs deep for those basic principles, for those solutions that are dead simple (close to stupidity, but not quite).
Each time we embark ourselves on this path, we like to (and need to) narrow down on only some of you. Yeah, you! The one with a crave for the outdoors. Or you with hardly an empty spot on your passport. Sometimes it will be you, fashion‐loving‐model‐shooting lucky …man or woman.
Being so laser focused (right down to imagining certain personas that we can relate to — is that crazy?), allows us to tailor each theme to specific needs and expectations, so that you, the busy creative that you are, don't have to struggle with useless issues. You can just bathe in eye‐candy and forget about all the struggle that went into it. We don't mind.
---
What to look for in a portfolio theme?
We think the first thing you should seek is a cultural fit with the team behind a certain WordPress theme. You're in this for some time to come and you don't want to be traveling with the wrong people. Read about them, check out their public interactions with their existing customers, fire up a pre‐sale ticket to them. Get a feel about how you are treated as their would be partner.
Then find that theme that speaks to you, that feels like it was custom made for you and your work. Play around with their demo, check out their documentation. Is there anything that sounds suspicious or too complex? Ask away. Do you sense a reluctance in the way they approach your issue or a sense they are hiding something? Move away. There are plenty of fish in the water.
We recommend you stay clear of those that over promise, that gives you that "This sounds too good to be true! And look at that tiny price!". It usually is just that. Something's gotta give. There are no bargains, but overly priced products. Do yourself a favor and don't fall for that marketing crap: "look at our 100+ demos; look at how many ways you can use our theme; it's perfect for anything you want". It means they are net fishing, not fly fishing. Be a trout, not a shrimp.
---
Case study — "Border" might be your finest comrade
Talk is cheap, right? Here are some strong and to‐the‐point facts about how you could benefit from our work in order to emphasize yours.
#1 — What's Border?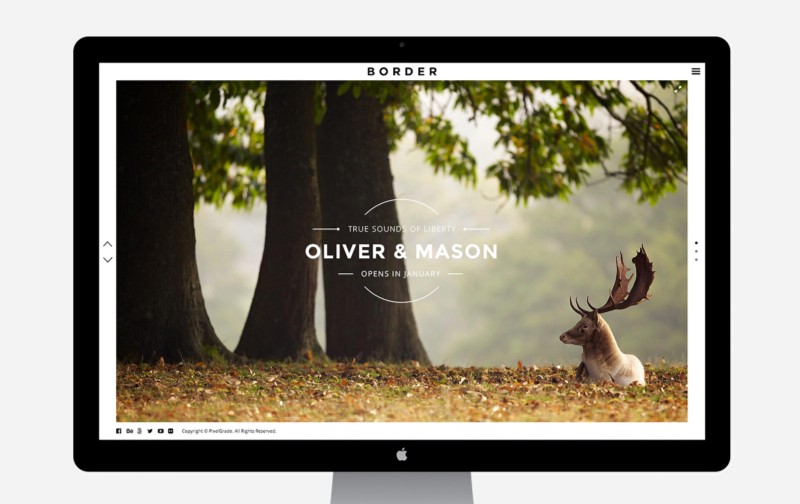 It's our response to all of you frame loving photographers out there. Besides being a unique (d'oh) photography WordPress theme, we've made it super easy for you to handle all those wonderful shots that crave for that full‐screen glory. And they should. Want to slap a title on it? Again, easy. Just type it in and look out for those fancy animations (we are suckers for those).
#2 — What people think about it?
There are plenty of people who give us feedback and we're grateful for their thoughts. No matter if they cheerleading us or they let us know about some drawbacks. In fact, we would appreciate hearing more of the latter kind, since this is the only way we can evolve and become better.
"It was really hard for me to choose the right WordPress theme for my portfolio website. Now I'm sure I chose the best! BORDER is just an amazing photography theme. What I like is definitely the speed and smooth transition when browsing. The next thing is support — guys behind PixelGrade project are great and they're really trying their best to help even future customers. Mostly it's the support what you pay for. And this one here is the best you can get!"
— Erik Svec (Photographer)
#3 — Pics or it didn't happen
Further, feel free to take a tour and admire some websites built with Border. Each of them is a boundless source of inspiration and empowerment as well.

---
All in all, we're happy to build useful and eye‐candy products, but we are far more driven by the fact that we help our clients spotlight on their creative projects.
In the end, it's all about bringing some joy to those who choose us from the crowd.